The Remix Summer Festival Guide: Your schedule & survival tips
What's the first thing that pops into your mind when the word 'summer' is mentioned? For us it's a white sandy New Zealand beach, a chilly bin of snacks, delicious cold drinks, and lots of sun. The second thing that pops to mind, of equal importance, is the insane amount of festivals there are to attend over the warm months ahead. To prep you for the madness, we've created a festival guide and just as important, a survival guide...
Safety first: Your survival guide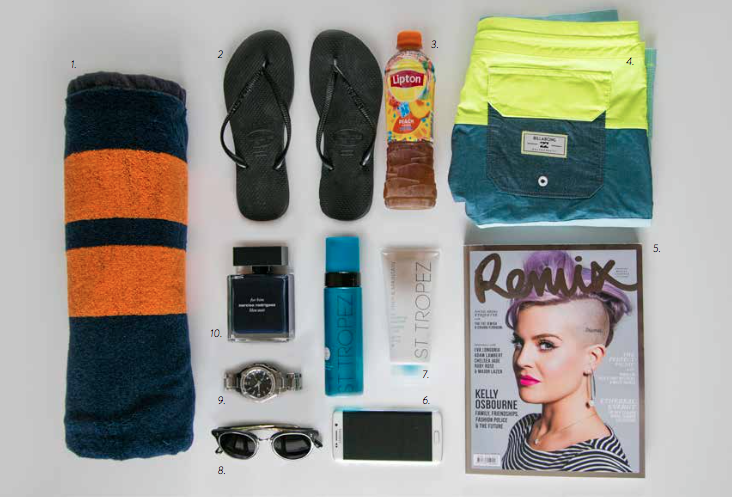 Must pack accessories for festivals, and pretty much any summer outing:
1. BARKERS towel
(just generally very handy)
2. HAVAIANAS footwear
(of upmost importance in summer)
3. LIPTON ICE TEA
(our favourite drink any time of year, but super good when paired with a scorcher of a day)
4. BILLABONG trunks
(to save the whole 'togs, togs, togs, undies' dilemma)
5. REMIX magazine
(obviously)
6. SAMSUNG GALAXY S6 mobile phone
(use Snapchat to give friends FOMO)
7. ST TROPEZ Self Tan Express & ST TROPEZ Prep & Maintain
(the tan without the trouble. A team favourite)
8. Sunglasses from SUNGLASS HUT
(another no-brainer)
9. G-SHOCK watch
(because your phone will go flat)
10. NARCISO RODRIGUEZ FOR HIM BLEU NOIR Eau De Toilette
(because delicious)
Festival chat:
Rhythm & Vines: 29th-31st December
The event that needs no introduction, Rhythm & Vines is one of New Zealand's biggest music festivals, the first place in the world to see the sun, and a Kiwi right of passage. R&V brings people together to experience some of the best local and international artists in a setting that is unlike anywhere else in the world.
Rhythm & Alps: 30th-31st December
Returning for the fifth year, Rhythm & Alps is back with a star-studded line-up, once again cementing this festival as one of New Zealand's finest. If you're looking for epic beats and a quintessential Kiwi experience in our stunning South Island, then this is where you need to be. Launching this year is the brand new GIMME SHELTER, which was created as a whole new show and viewing experience at Rhythm and Alps.
St. Jerome's Laneway Festival: 1st February 2016
If you're an Auckland local you'll know all about this one. St. Jerome's Laneway Festival held their first show on our shores back in 2010 and since then they've grown bigger and better by the year. The Laneway Festival has a real focus on quality music, carefully selecting local and international artists, both established and emerging, for an afternoon of eclectic sounds. Keep an eye out for the
Lipton Ice Tea
crew and their massive misting tent at this one – they're there to cool you down and keep you going with free samples!
Splore: 19th-21st February 2016
Over 17 years Splore has cemented itself as one of the most unique and inspiring New Zealand events, by embracing all aspects of the creative world. Splore 2016 will present seven different music and entertainment zones, with a wide range of music, performance, visual art, workshops, contemporary installations, delicious diverse cuisine, and forums for guests to enjoy. Each year has a different theme and 2016 is 'Summer Odyssey', which Splore-goers are encouraged to interpret however they like. Trust us when we tell you, they really get into the theme!
Auckland City Limits Music Festival: 19th March 2016
The new kid on the block is already making massive waves with their 2016 line-up.
Yes, KENDRICK LAMAR! This new one-day festival in Auckland will showcase 40 artists from both New Zealand and abroad. They're covering all bases with a broad range of music, as well as delicious food options, local artworks, an artisanal market, festival fashion stalls, a kids zone, and a new festival forum for exchanging cultural and innovative ideas.
Inspired by, and aligned with the world-class Austin City Limits Music in Austin, Texas, Auckland City Limits plans to fuse the best elements of Austin's premier festival with a New Zealand flavour and spirit, while maintaining the amazing atmosphere and kick you want to get out of a one-dayer. We're pretty amped to see how this one plays out!