The final architectural wonder has been unlocked at The Jewel, Changi Airport
Asia is a popular travel destination for Kiwis. It's not too far and not too pricey, and it gives you the luxury of being able to enjoy a whole new cultural experience while not having to be on a plane for too many hours.
One spot in particular that has been a go-to for New Zealand travellers recently has been the sweet and sophisticated, Singapore. The country boasts the decadence of a prosperous haven for innovation and modernism while at the same time being rich in cultural history. Singapore is one of Asia's hubs of design with their skyscrapers and architectural wonders animating the pure success and innovation of the country. As of yesterday they have released their newest architectural achievement to their endless portfolio of constructions: Canopy Park at the Jewel Changi Airport.
Changi airport has been hailed as 'the world's best airport' and the crown jewel of Asia's south pacific. Yesterday the Jewel Changi Airport opened its doors of the Canopy Park exhibiting 7 new attractions. Canopy Park resides in the top level of the Jewel and spreads over 14,000 sqm. The Jewel which opened its doors in mid-April has been met with great fandom of travellers and locals alike. Canopy Park is a picturesque location for all those jaw-dropping instagram shots. The Jewel complex features the world's tallest indoor waterfall, unique shopping and dining concepts, as well as airport and accommodation facilities.
The not-to-be-missed seven new attractions welcomed at Canopy Park are: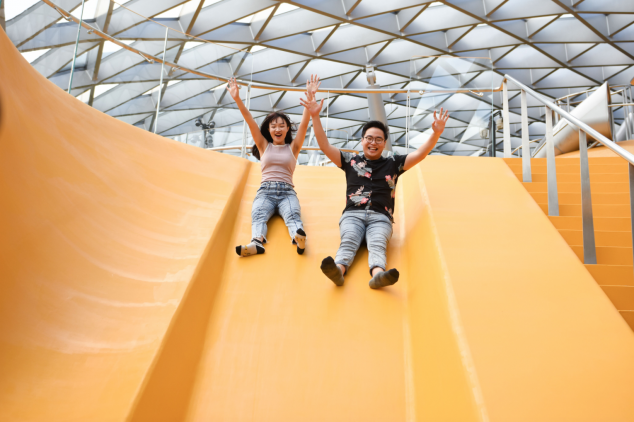 Discovery Slides
Enjoy an art sculpture and playscape all set within a stunning garden setting. The attraction features 4 integrated slides- two tube slides and two sliding surfaces. Visitors can also stand atop a 6.5m high platform and take in a spectacular view of the Shiseido Forest Valley. Visitors of all ages can use these slides so who said that only children can go on slides? Not me.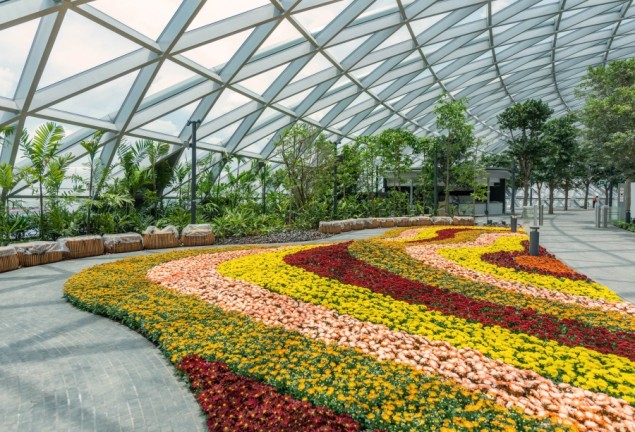 Petal Garden
Seasonal florals are on display year round in this delightful garden of all things flowers. Singapore is known as a 'city-in-a-garden' and this display pays homage to this local sentiment. Florals also make for a spectacular setting to grab that instagram-worthy picture.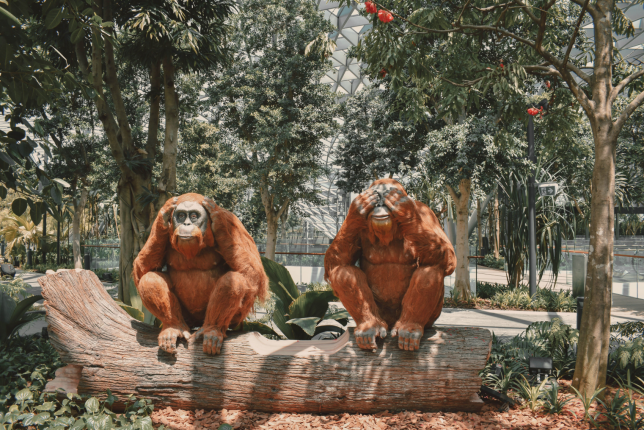 Topiary Walk
Have you ever wanted to be up close and personal with an Orangutan? Take a wander through the topiary walk, a jungle-scape complete with topiary animals including crocodiles, elephants and peacocks. Instagram lovers will flock to this whimsical wonderland to snap pictures with these realistic and cute animals.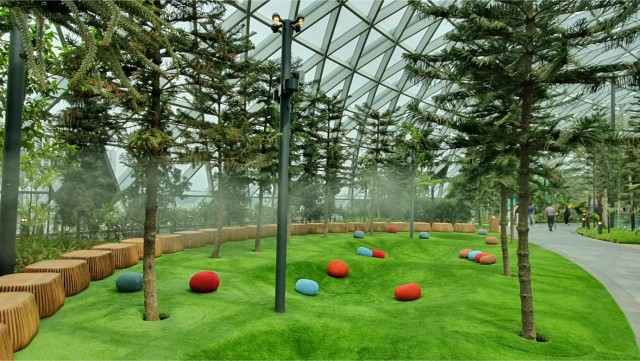 Foggy Bowls
A children's concave of imaginations is found in these foggy bowls. A play area that fuses science and natural phenomena to create fog flowing through these valleys to make you feel like you are flying high amongst clouds.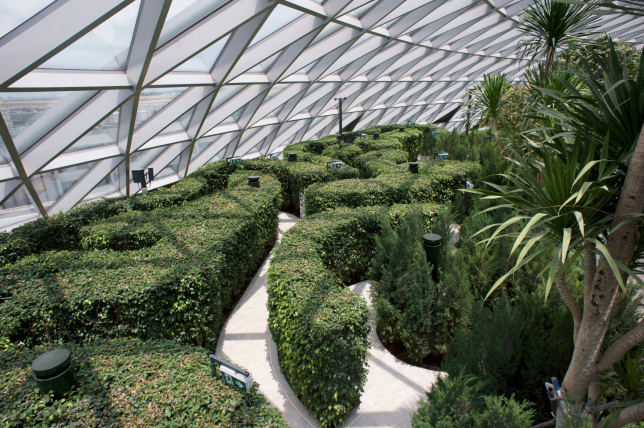 Hedge Maze
The Hedge Maze is one of two ticketed attractions that has you roaming in the country's largest indoor hedge maze. The explorative journey through the manicured hedges has you getting lost in a leafy tranquil labyrinth with the opportunity for visitors to also enjoy a birds eye view of the attraction at a circular elevated lookout platform.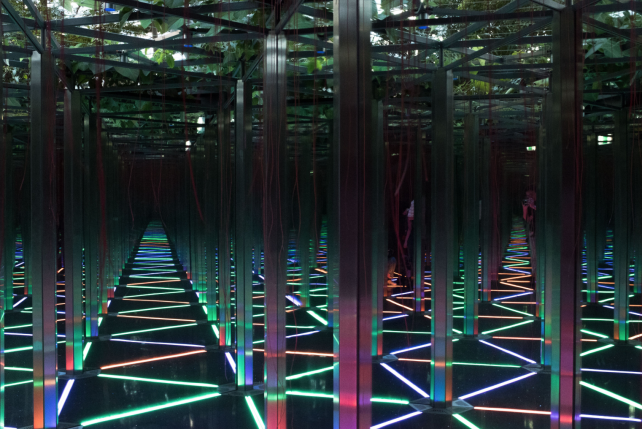 Mirror Maze
The world's very first mirror maze set within a lush garden setting. The fully immersive chamber has mirrors galore with mirrors lining the walls, ceiling and floor. The wonderful perplexity of mirrors ends with a final challenge to test any maze maven.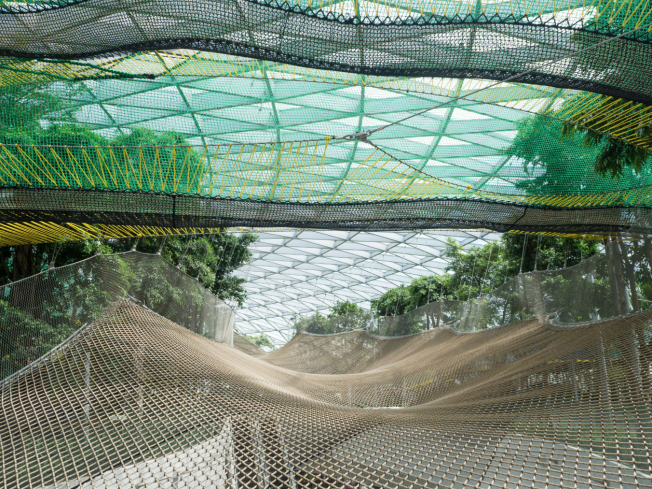 Manulife Sky Nets
Sky Nets give participants the option between two world-first indoor concepts of either a walking or bouncing net. The walking nets will give you a weightless feeling similar to walking on air while being above a complete void overhanging level one 5 storeys (25m tall) below you. The bouncing nets provide the more energetic visitor the buoyancy and weightlessness as they advance along the 250 metre long net. Visitors on the bouncing net can also perch themselves on top of an 8-metre high lookout to take in a view you would never expect at an international airport.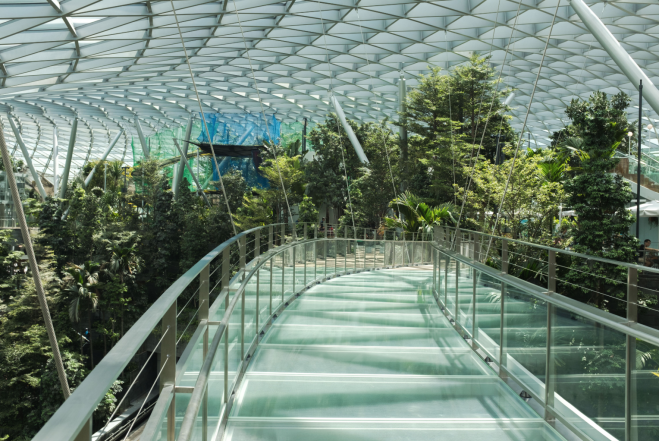 The Jewel Changi Airport have unlocked a magnificent opportunity to overlook all of their wonder on Canopy Bridge. A 50-metre long structure featuring glass panel flooring suspended 23 metres above the ground. The Canopy bridge provides entrancing views of the Shiseido Forest Valley and the world-first 40-metre high HSBC Rain Vortex. If you go all the way and are able to experience Jewel, the Canopy Bridge is definitely not to be missed. See all of what the Jewel has to offer at this exclusive vantage point that is unparalleled by any other viewing point.
If you find yourself with a layover in Singapore or are travelling to the luscious country soon then a trip to this Architectural phenomenon is a definite must-see. A location with endless world and country firsts aims to capture your attention from beginning to end and will immerse you in a truly magical natural indoor landscape.