Some of our favourite beauty buys from the latest issue of Remix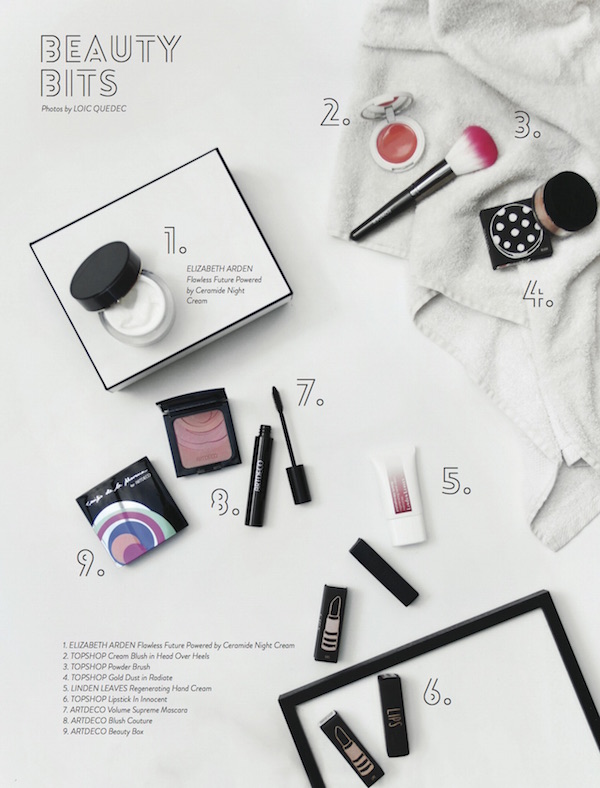 One of the perks of the job is that we get to try out lots of the newest beauty products as they're released. We featured our favourite new products in the Beauty Section of the latest
Remix
issue on page 140. Here a couple of our picks for you to check out...
Elizabeth Arden FLAWLESS FUTURE Night Cream
: If you want to wake up flawless, just like Beyonce, look no further. FLAWLESS FUTURE Night Cream supports skin's night time renewal process to help brighten and even skin tone, and ease the appearance of fine lines - the ultimate formula for a real beauty sleep.
Click here for more.
Topshop Cream Blush in Head Over Heels:
With Topshop Beauty now in Auckland, we've fallen in love with these quick, easy and inexpensive beauty bits. This lightweight cream-to-powder blush melts into the skin, giving a natural and quick, luminous finish.
Topshop Powder Brush:
Good quality brushes can often cost a fortune, so we love these fluffy powder brushes from Topshop. Ideal for use with pressed, mineral and loose powders, the powder brush helps create an evenly blended, airbrushed and flawless finish.
Topshop Gold Dust in Radiate:
Topshop Gold Dust is a loose powder highlighter, which brightens skin for a glowing and sensational velvety finish. Easy to blend and can be used on both face and body - the perfect match to your Topshop Powder Brush.
Linden Leaves Memories Regenerating Hand Cream:
Winter can make skin dry and rough, so it's especially important to have a good hand cream readily available. One of our favourites is this Linden Leaves Memories Regenerating Hand Cream. It's made with ultra-restorative plumping cocoa butter and evening primrose oil to deeply nourish and hydrate the skin and help reduce appearance of wrinkles, plus it smells delicious.
Click here for more.
Topshop lipstick in Innocent:
Topshop Innocent is a matte finish that both nourishes and moisturises lips with wear and is the perfect lipstick for those that need a subtle colour to help enhance an everyday look, without the hassle.
ARTDECO Volume Supreme Mascara:
ARTDECO's answer to all our lash prayers. Volume Supreme focuses on making lashes appear thicker with an intense curve and XXL volume. Thanks to the movable bristles of the volume kaleidoscopic brush, which are arranged staggered in serrated form, the mascara creates long, thick eyelashes after the first application.
Click here for more.
ARTDECO blush couture:
Another great blush, ARTDECO's Blush Couture has three different soft peach and rose shades, so you can easily pick a different look for any occasion and mix colours together for your own signature look.
Click here for more.
ARTDECO beauty box:
Star designer, Emilio de la Morena created this beautiful and limited edition Beauty Box exclusively for ARTDECO. The square box holds up to 6 eyeshadows and 1 blusher - or any beauty bit you have of simular size, with a handy mirror inside.
Click here for more.