The new face sheet masks you need to know about
A quintessential at-home pampering night isn't quite complete without a sheet mask. I am utterly obsessed with sheet masks, whether a mask is moisturising, brightening or illuminating I have either tried it or am about to. You can't beat a sheet mask experience at home, on a plane, in the car, in a hotel room, no matter where you are sheet masks are the perfect solution to instantly transforming your skin. Sheet masks have become exceedingly popular with the rise of everyone wanting radiant skin (hello highlighters and strobing). Thanks to skin product experts Dr. Lewinn's you will now have your sheet masks sorted this season as they have just launched their extensive range of redefined sheet masks. Here is a quick rundown of all the masks they've launched ranging from hydrating to brightening: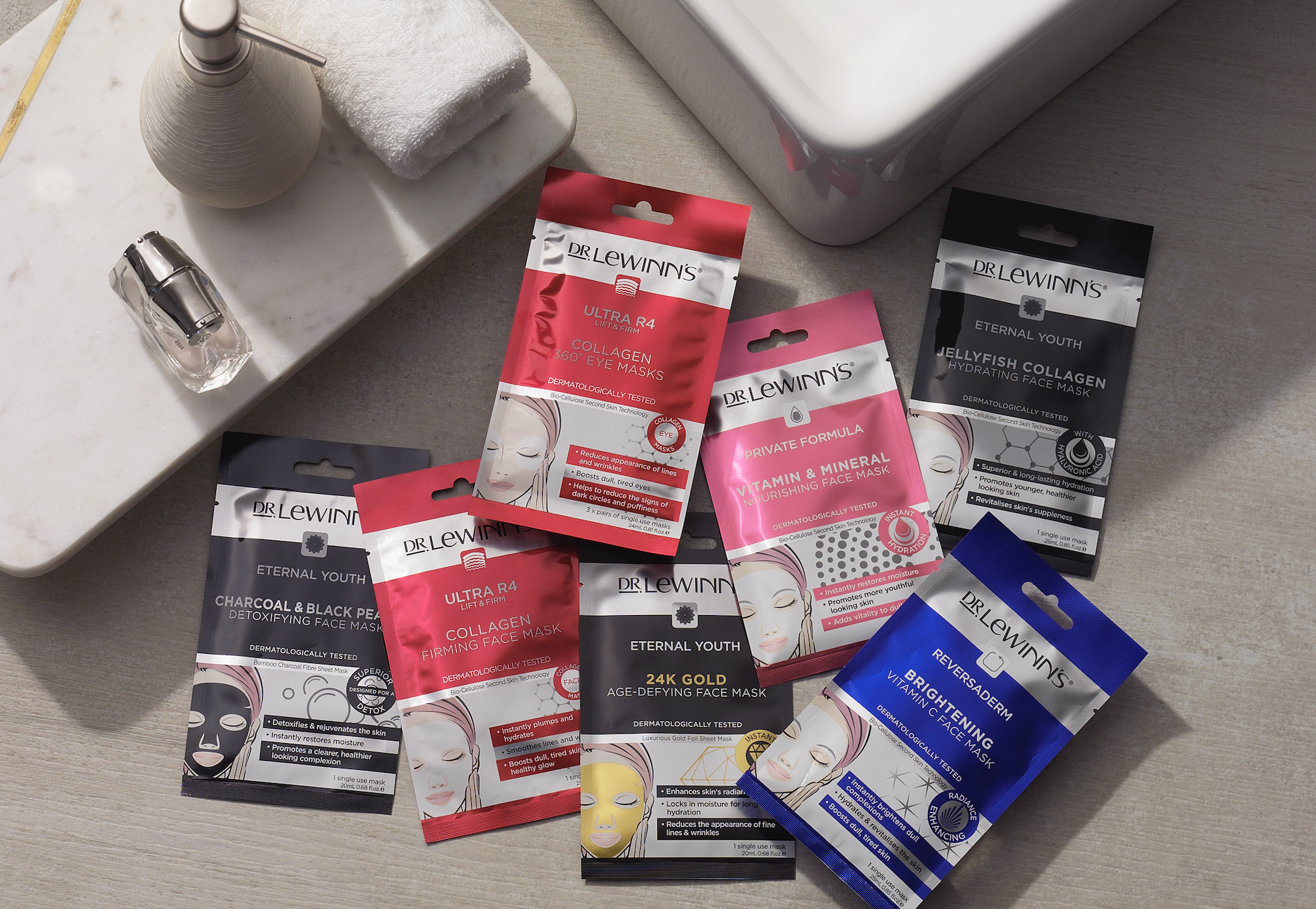 Jellyfish Collagen Hydrating Sheet Mask
The Jellyfish Collagen mask focuses on targeting your skin's hydration providing you with superior and long-lasting hydration. As winter often dries out skin, the addition of a highly potent serum containing jellyfish extract, which is rich in collagen protein, is going to help strengthen your skin's barrier against the effects of time and winter. Simultaneously, juveleven peptide and hyaluronic acid will boost your skin's moisture. A hydrating sheet mask is also perfect for giving your skin the extra moisture it needs this season, as the sheet gives more time for your skin to absorb all the hydration it needs.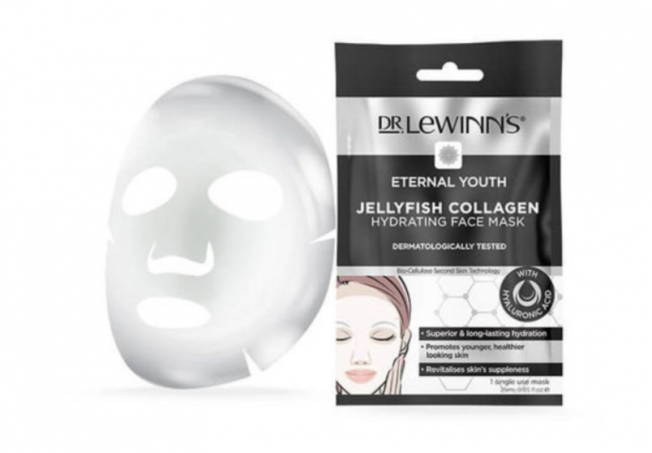 Charcoal & Black Pearl Detoxifying Sheet Mask
Charcoal is probably the most trending facial mask of the moment, everyone is addicted to this black mask craze. Detoxify and purify your skin with a treatment loaded with a highly potent serum containing Juveleven peptide, black pearl & moringa seed extract. What's even better is the charcoal mask not only detoxifies but additionally incorporates hyaluronic acid & aloe to provide an intense hydration to your complexion. Charcoal's benefits for your skin have been proven to transform your skin making for a truly skin-transforming experience.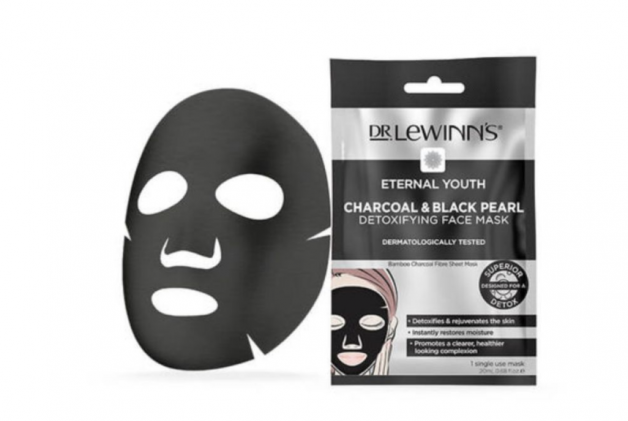 24K Gold Age Defying Sheet Mask
Okay, so who doesn't love some gold in their life? By far the most luxurious feeling a mask could give you is putting 24 Karats of gold foil on your face. The age defying mask instantly brightens and locks in moisture, minimising the appearance of fine lines and wrinkles while leaving the skin looking radiant and dewy for a more youthful looking complexion. Who doesn't like slowing down the effects of ageing while adding a beautiful glow? Give your skin the touch of luxury and elegance it's been lusting for this winter.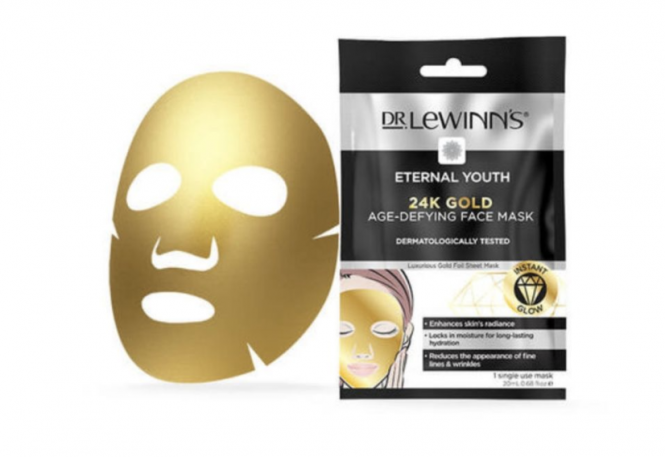 Vitamin & Mineral Nourishing Sheet Mask
The one benefit I love about sheet masks is that they harness serum filled with various vitamins and minerals that don't dry out the skin, but add vitality and life. This Dr. Lewinns mask pays homage to the original benefits of a mask, incorporating a highly potent serum of multi-vitamins and minerals that brings the fast effects of nourishing, hydrating and refreshing to the skin. Dr. Lewinns have also added a private formula to take your skin-woes to skin wows.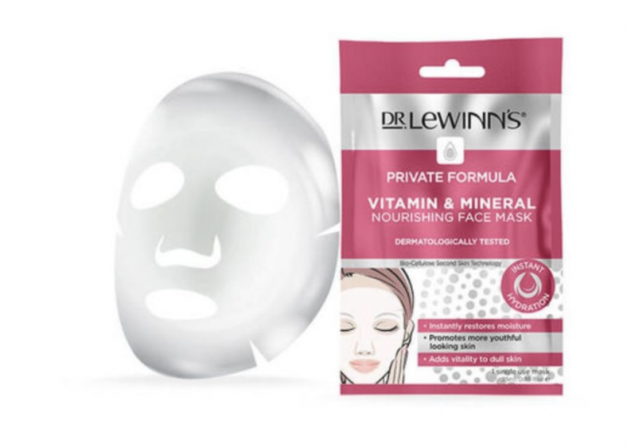 Brightening Vitamin C Sheet Mask
Often during winter your skin can look dull and sometimes tired, I know my skin sure does. Brightening masks give all the properties of instantly brightening the skin's complexion. Dr. Lewinns provides a highly potent serum including Vitamin C and B3 to instantly hydrate, revitalise and brighten dull skin and also includes the ingredients of lime pearl and nutgrass to gently exfoliate and even out your skin tone. Brightening masks are your trick to instant radiance, giving a glow to brighten your winter to give that summer feeling.
Help your skin out this winter and give yourself the gift of relaxation, pampering and rejuvenated skin. The range is now available at selected Unichem, Life and Independent pharmacies.