This woman is changing the way we think about skin
Making women feel the best version of themselves, for a living, must be extremely rewarding - and according to Romy Burgess, founder of The Beauty Elixir, it is. Her business isn't just a new facial experience, it's a ritual and an innervation that leaves clients walking out feeling revived and beautiful. Connecting with each client and tailoring her skills and services to satisfy the needs of every individual are firm to Romy's beliefs.
We caught up with Romy, where she revealed to us the tricks of her trade, her new bespoke beauty range, how she makes women feel their best, and how she nurtures her own well-being amongst her busy schedule...
What inspired you to start your business, The Beauty Elixir?
It's been a long time coming – over the past 10 years I've worked in and around the beauty industry, and have always known I needed to work for myself. As hard as that can be – it's what lights me up! That, and working one on one with each and every single beautiful client who walks through my door. Seriously, taking the knowledge that comes so naturally to me and being able to share that with others, and then see these women literally blossom, it's what makes my heart sing. I love it so much, connecting with my clients is literally my favourite thing in the world – whether that's one on one in a facial, nutrition consultation or lash & brow appointment, or through social media or packaging up products and connecting with women around the country who experience change in their skin simply through emails and creating skincare and self-care rituals… I can't get enough!
Could you tell us a little bit about what your business is and what you do?
I work with women to help them feel beautiful, inside and out. That's the short version. The long version is I spend my days creating healthy skin using the best, purest, natural and organic skincare and skin-food, crafting perfect brows and lashes, educating women about how to eat for optimal health and wellbeing and also creating 'skin alchemy' by blending together my own magic skin tonics – some people like to refer to them as magic potions! This part of what I do involves a LOT of research, (reading and self-testing) pure, organic plant oils (I'm an oil addict) and blending them together to make beautiful bespoke skincare products, which I sell in my skin and beauty studio on Jervois Road as well as online.
What would we experience if we were to be given a facial by you?
Total and pure bliss. The focus for me is to take you to a space of quiet inside yourself. Where you can reconnect to 'you' – the 'you' that is universal in each and every one of us. As a bonus, you'll leave with glowing skin that feels super refreshed from the pure plant oils, clays, superfoods and other magical skincare products I will use during your facial. The bonus (that each and every person gets), is a massage that starts at your fingertips and ends at your scalp – leaving out nowhere in between and leaving you melting into the bed.
What products do you use that you feel provide the best results for clients?
Oils! I'm a total oil addict, and seriously can't stop raving about them. There are so many, and they are all so fascinating – each has a different fatty acid makeup, which allows me to pick and choose which will work best with your skin. As well as that, my new Rooibos & Rose Hydrating Beauty Mist has been a total winner.
How did you decide what products you wanted to use within your business?
They have to pass a few tests – they must be cruelty-free, eco-friendly and eco-conscious, and have a little bit of their own magic. Also, they have to make my skin feel and look amazing, so I can whole-heartedly pass them on to my clients! I'm a terrible salesperson – if I don't LOVE something, I simply can't sell it. So, if I sell it, you know I love it.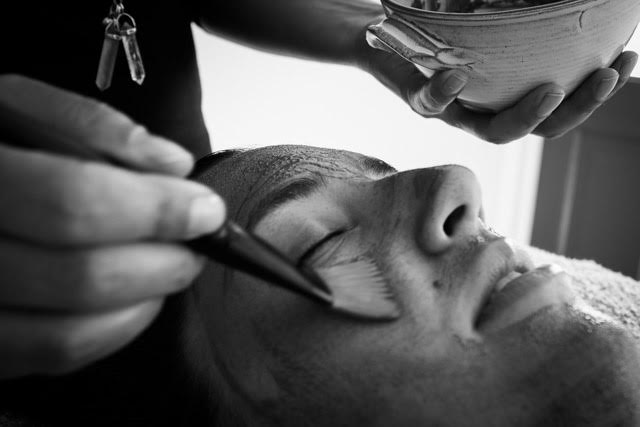 What do you do to wind down and take a step back from life's demands?
My days are pretty full to the brim with people, energy and giving, so on my days off I really like to lay low, spend time with my husband and by myself and maybe catch up with my sisters or girlfriends for a casual healthy brunch (Little Bird is my fave!) I try to have one day a week where I don't leave the house, don't look at my computer, and hardly speak to anyone. It's like magic! On a daily basis though my must haves are a 'tea meditation' every morning (it's a long-standing family ritual, where we make our cup of tea and enjoy it outside, enjoying nature, or back in bed if it's raining!), a diffuser with calming essential oils every night, morning yoga as much as I can (I usually just do this in my bedroom) and reducing 'screen time' as much as possible. Whenever I can I love to go for a facial or other treatment that connects me back to myself such as BodyTalk, chiropractor or a massage.
You are set to launch a bespoke beauty range, what will this include?
It already includes two oil cleansers and a hydrating mist, all of which I can't make fast enough! I also already have three serum blends, one is for anti-ageing, one is for sensitive and inflamed skin and the other is for breakout-prone skin – all of which receive rave reviews from my clients. I am working on an exfoliating scrub and now offer bespoke blends – serums blended in studio specific for the client's current skin requirements. So, if one of my pre-made serums doesn't quite fit the bill, I've got bottles of pure plant oils and extracts to mix together on the spot to create the perfect blend just for you.
What was your inspiration or motivation behind this new range?
I wanted to offer something that wasn't already on the market. There are so many beautiful facial oils out there now, but as a facialist and using so many different oils, and constantly upgrading and finding new oils that I just love, I wanted to be able to offer my clients up-to-the-minute ingredients! I'm constantly finding new oils, such as Camellia for example, which is a white-tea oil super high in antioxidants, but it's not in any of my 3 original blends, so in order to incorporate it into my offerings I decided to create bespoke blends for each person.
Finally, are there any other ventures or goals you have in mind?
I've actually just launched my first online program – for years I've wanted to help women feel better about themselves, and that's what I do in my day to day work. But I wanted to reach people further than in my direct vicinity, and also to combine my three passions – bespoke skincare, holistic nutrition and yoga & meditation. So I've created an eight-week online 'empowerment' program, called SKINSPIRATION, which I launched on the 1st of May, and I'll most likely run these every eight weeks (maybe every ten weeks so I get a little break in-between!). The aim of this program is to create and maintain healthy skin, beauty and vitality from the inside out and the outside in. Each participant gets a bespoke skincare pack from The Beauty Elixir, personalised nutrition and lifestyle goals, plus weekly goals, meal ideas, skin care tips – all with an emphasis on self-care, increasing self-love and, once again, reconnecting you to You.
Keen to check it out for yourself? Head here for more.