The rise of vegan eateries in Auckland
If you searched the restaurant scene in Auckland five years ago for vegan eateries or even vegan options, you would have found yourself with very limited choices.
Today, however, Auckland and even more rural areas of New Zealand are brimming with new solely-vegan establishments and a multitude of vegan-friendly options on their menus.
This growth of veganism is undeniable – it's clear this is not a trend or fad as many people claimed, veganism is here to stay. You might begin to wonder how and why veganism has grown exponentially in the last few years?
There are case studies and articles alike delving deep into the reasons why people turn to a vegan diet. In modern times, it's likely people are more aware of the effects of the dairy and meat industry on the fragile earth and look towards role models, such as 17-year-old activist Greta Thunberg, promoting veganism in the fight against climate change.
Others perhaps feel as though their bodies are better suited to the vegan lifestyle, feeling healthier and more energetic with this change in their daily eating habits. Whatever the reasons may be, it is a fact that veganism is happening, it's here to stay, and our food scene is responding.
Interestingly as of January this year, New Zealand jumped from fourth place into third in the most popular countries for vegan diets. Parallel to this change in consumer habits, we saw an increase in all-vegan food eateries opening up shop in Auckland City.
Take Jeremey Dixon and his wife Verity, who risked it all and in 2004, despite popular food culture at the time, opened Revive – an all-vegan cafe.
The couple were certainly ahead of the curve when it came to food trends. They have created a menu bursting with fresh and healthy salads, hot pots, raw treats, and smoothies for a range of consumers from gym-bunnies and university students to corporate workers and tradesmen.
Since their opening, Revive has expanded into two separate locations and have spread the word of veganism from their cafes on Wyndham Street and Lorne Street all across Auckland City.
As veganism becomes increasingly popular, consumers are going to have a lot more choice. In other words, eating vegan does not mean you have to stick to salads, fries, or side dishes any longer. This idea can be exhibited perfectly with new cultural
restaurants opening like Khu Khu
in Ponsonby. Khu Khu's main focus is mixing classic Thai street food with purely vegan ingredients.
Thai food traditionally contains a lot of animal-based products but the chefs at Khu Khu have found a way to preserve the taste of authentic Thai food while swapping ingredients out for vegan substitutes. Giving hope to once meat-eaters that flavours and recipes can be duplicated without forfeiting taste or familiarity.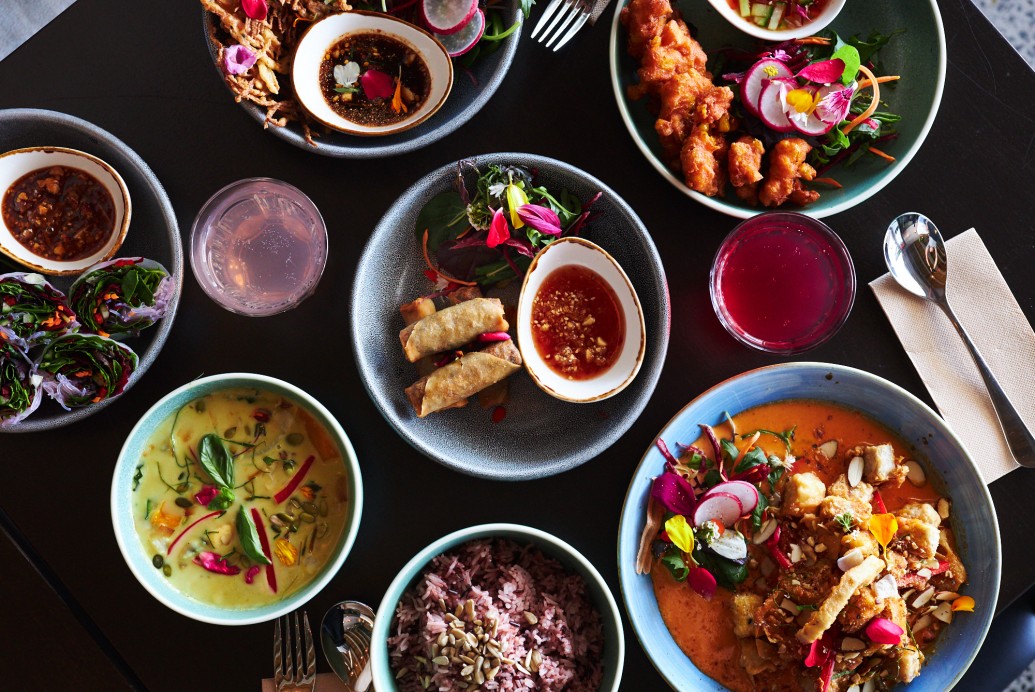 On Khu Khu's menu, you will find classics like kumara spring rolls, pad Thai, and Thai green curry – all extremely popular Thai choices when it comes to a traditional setting.
Interestingly with greater choice in the food market, the cheaper it's becoming to eat vegan. You might have noticed a series of 100% vegan fast-food joints opening up all around Auckland, mirroring or even beating traditional fast food prices.
Two of Auckland's most renowned vegan fast-food restaurants, Lord of the Fries and Wise Boys Burgers both prove that there is demand out there for all types of vegan eateries.
Lord of the Fries came to New Zealand in 2016 from our friends across the Tasman in Australia and since then, has rocked the fast-food industry in New Zealand. Now with four stores across both the North and South Island, Lord of the Fries confirms that hot dogs, sauces, and shakes can be just as tasty with all vegan ingredients.
Another success story stems from brothers, Tim and Luke – founders of Wise Boys Burgers. After vowing to create a food business that was as sustainable as possible, they went on to build their own food truck, travelling all across the North Island.
After three years of hard work on the road, the duo established such a solid fan base that they were able to open up a permanent restaurant at the heart of Grey Lynn in May 2019. Their mission, showing plant-based food can be delicious and a little bit indulgent, runs throughout their menu. Their Moroccan-spiced kumara patty and beetroot and black bean patty are set to please both vegans and the most stubborn of meat-eaters.
Today we are seeing many initiatives across the globe like "Meat-free Monday or "Veganuary", which are contributing massively to the vegan and vegetarian culture. There are also many restaurants within Auckland which, due to high demand, have added large vegan-friendly selections to their menus or implemented an additional veganised version of their original menus.