The Art of the Stay: Discover the Cordis Hotel's jaw-dropping art collection
Not many hotels can list 'prestigious art collection' under their guest amenities, but the Cordis Hotel isn't your average accommodation. Cordis guests are transported from their place of rest to a world of culture, catharsis and creativity via an immersive art experience, all on their way to breakfast. Delve into some of our favourite pieces that inhabit the Cordis for your viewing pleasure.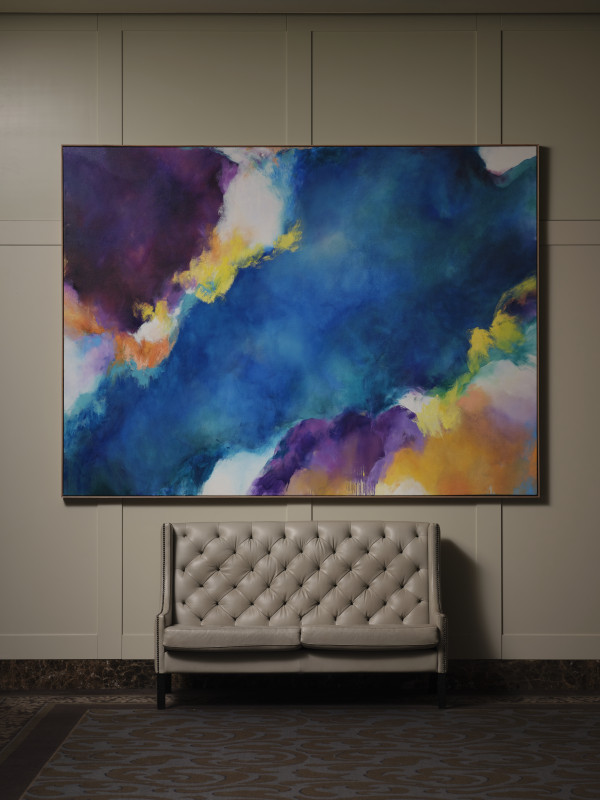 Phthalo Blue, 2021
Acrylic, alkyd and oil on canvas
Location: The Chandelier Lounge
Photographer: Sam Hartnett. Image courtesy of the artist and Trish Clark Gallery
Amanda Gruenwald
When moving from Wellington to Auckland, Amanda Gruenwald was struck by the clear, crystalline light that seemed to bounce, refract and coat everything it hit with a 'glimmering layer'. To evoke the intensity of this layer, each work plays with movement and an array of vibrant colours, eliciting for the viewer a sense of place that is both sensory and intuitive.
Fire 4, 2021
Photographic image mounted on LED lightbox
2400mm x 2800mm
Location: Lift lobby
Photographer: Sam Hartnett. Image courtesy of the artist and Robert Heald Gallery.
Jae Hoon Lee
In his progression of digitally collaged images, artist Jae Hoon Lee speaks to the subjective impulse of the traveler and encourages us to see the terrain as intrinsic to the traveler's own story. Calling into question the processes of visual perception, Lee's expert enhancement of landscape images captured around Aotearoa reveals the mutability of our experience as travelers.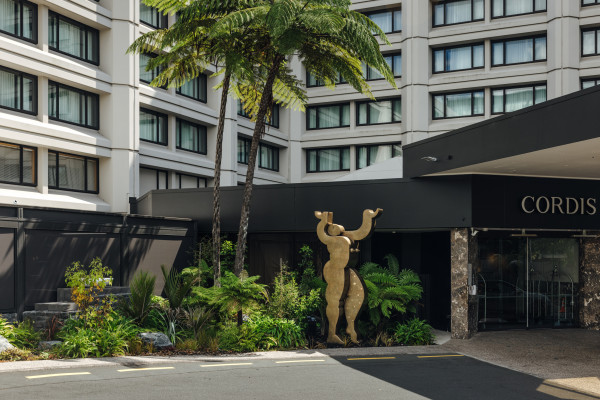 HOLDING UP THE SKY, IKA ROA, 2021
Cast bronze
Location: Forecourt, Symonds Street
Sanné Mestrom
For Cordis Auckland, Sanné Mestrom has created three new bronze sculptures that reflect on the role of Atua Wāhine – Māori goddesses – within Te Ao Māori. Drawing from creation mythology, each sculpture seeks to embody a transcendental form with real power, such that visitors and viewers might enjoy a personal experience within a shared public space.