Remembering Nipsey Hussle; A legacy
On March 31st 2019, the world lost another prominent figure in the music industry. 33 year old Ermias Asghedom, AKA Nipsey Hussle, was a Grammy-nominated rapper, entrepreneur, songwriter, philanthropist, and father, who was shot dead in South Los Angeles. You may not have known his name; he may not have been a celebrity on your radar. However, in most instances of a life lost too soon, death brings a level of global retrospect as fans, supporters and sympathisers alike pay their respects to another fallen star. It is another case of an inspiring life who has received its spotlight in death, with his achievements now being widely documented by a multitude of media outlets worldwide.
The rapper, who was the long-term partner of actress Lauren London and father to Emani and Kross, emerged from the West Coast hip-hop scene back in the mid-2000s with a string of mixtapes and prolific songwriting. With the support of rap moguls such as Jay-Z, Nipsey Hussle began to solidify his presence in the world of hip-hop heavyweights, releasing his critically acclaimed debut studio album Victory Lap last February. Victory Lap went on to become nominated for Best Rap Album at the 61st Annual Grammy Awards this year.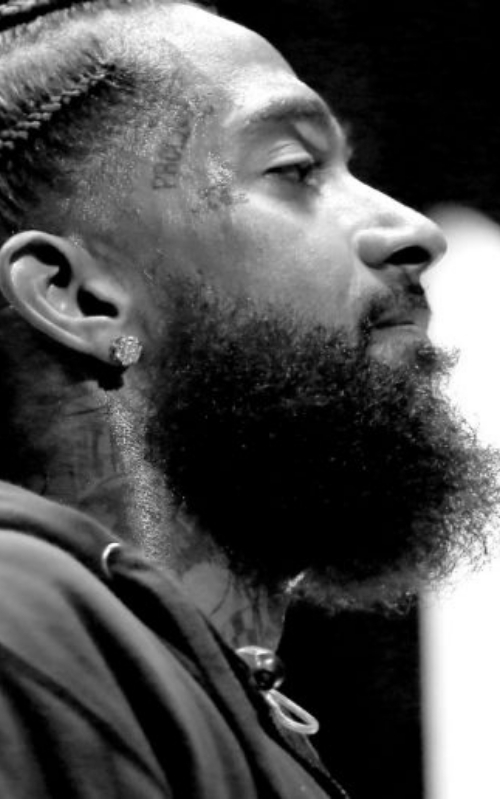 Amongst his rap achievements, Hussle was also widely respected for his philanthropy and activism. A signature theme across his music was his turbulent upbringing in the Crenshaw neighbourhood of South Los Angeles; a neighbourhood notorious for gang violence. Throughout his career the rapper was known to be candid about his past affiliation with gang culture, himself a past member of the Rollin 60s Crips. Yet his experiences became an integral force behind his career, fuelling not only his lyrics of overcoming poverty and gang culture, but also his desire to help his community. In March 2018 he played a crucial role in opening a STEM centre (Science, Technology, Engineering, and Mathematics) in Crenshaw. This centre is a vital addition to the Crenshaw community, helping children gain access to improved education and career fields which often lack cultural diversity.
"In our culture, there's a narrative that says, 'Follow the athletes, follow the entertainers'. "And that's cool but there should be something that says, 'Follow Elon Musk, follow [Mark] Zuckerberg.' I think that with me being influential as an artist and young and coming from the inner city, it makes sense for me to be one of the people that's waving that flag" - Nipsey Hussle to the Los Angeles Times, March 2018.
Drawing on the street hustle he used to get by as a teenager, Hussle began to cultivate a strong entrepreneurial mindset. Forbes recently covered his ascent in the real estate industry, including his noted decision to purchase the strip mall of West Slauson Avenue. His purchase was motivated by a drive to positively reinvest in his neighbourhood, buying back a block where he had partaken in illegal activities as an adolescent. After his first label deal with Epic Records went downhill in 2010, Hussle released his mixtape, Crenshaw, independently; and with an unusual marketing model. The self-proclaimed "scarcity model" focused on releasing the mixtape as a free online download and making only a thousand hard copies with a $100 price point. The price per unit was justified through a 'Proud to Pay' programme, in which the purchase of a mixtape entitled the buyer to an exclusive membership including a meet-and-greet, an autographed CD and tickets to a private show. All 1,000 CDs were sold in less than a day. It was a bold and controversial move that rebelled against the deteriorating music industry, while empowering his own independent label. Jay-Z bought 100 copies. Hussle went on to partner with his independent label, All Money In.
His clothing business, Marathon Clothing, opened its flagship store in June 2017 on West Slauson Avenue. The fashion line, initially inspired by the popularity of the Crenshaw shirt worn in his first music video, became another entrepreneurial effort for the artist. Recognising the high demand for the sweatshirt, Hussle began manufacturing the piece as merchandise, eventually leading to an entire line of apparel. Drawing on the demands of his fanbase, Hussle created a collection of sweatpants, T-shirts, outerwear, and accessories for men, women and children. Marathon Clothing features a core selection of signature graphics and logos, making the streetwear brand instantly identifiable. The flagship store was the location of his tragic death two days ago.
Nipsey Hussle was a beloved and respected figure within hip-hop culture and beyond. His integrity, drive, and work ethic saw him rise from unforgiving beginnings, to creating a self-made empire. His legacy will shine through his contributions to music and to the city of Los Angeles, and will continue to serve as inspiration for the next generation of West Coast artists.
RIP Nipsey Hussle.
Imagery sourced.