Jess Quinn chats to us about being limbitless
23-year-old Aucklander Jess Quinn lost her right leg to cancer at just 9-years-old, but the now 23-year-old stunner refuses to let her disability define her. Instead, Jess focuses on being as fit and strong as she can be. This positive outlook has caught the attention of over 78 thousand people on Instagram, Jess's followers are clearly inspired by her positive attitude, bubbly personality and willingness to give anything a go.
We sat down with Jess to talk about her journey so far, her website 'Limbitless', her favourite Les Mills classes and how she's going to achieve her goal of running 10k this year...
Tell us a little about yourself and your website, Limbitless. What inspired you to start it and share your incredible story?
I always try answer the 'tell us about yourself' question without starting with, 'I lost my leg to cancer when I was 9', as I don't want that to be what defines me but at the end of the day, it is a huge part of my story. After a rocky childhood and an even rockier adolescence, as I came to terms with everything, I recently set out on a mission to challenge our culture's way of breeding insecurities and help people find their true potential.
It began with a photoshoot I did with Jono Parker (photographer) & Courtenay Perham (stylist), which became known as 'Limbitless'. The original idea was to build my portfolio in order to send it out to agencies and brands while outlining my vision. I had no idea how much it would take off. I'm still figuring out where I want to go with it but my website - www.limbiltess.co.nz - has been created as an extension of my Instagram, taking the focus away from being solely about me and creating a place for people to draw inspiration and motivation. It's only recently that I've realised the effect my story seems to have on people, which is still mind blowing to me. But if I can use what I went through to help others in any way, then my journey is so worthwhile. I feel so privileged to be able to help people.
Your running blade is very impressive! How long did it take you to get used to running with it and how has it helped you achieve your fitness goals?

Ah I love it so much, it's my favourite accessory! It took probably about nine months to really get used to it and a lot of hard work in the studio, working on stability and control. This was pretty tough for me because I'm not the world's most patient person! The blade is helping me so much with my fitness goals, I have so much more movement on it and I can finally, after 15 years, do things I never thought I'd have the ability to do. It's helped so much with my confidence too. When I was growing up I used to hide my prosthetic out of shame and now I have a blade that doesn't even attempt to replicate the leg I used to have and I feel the most proud and confident in myself when I have it on, it's like, 'hi, this is me. You either like it or you don't', there's no hiding.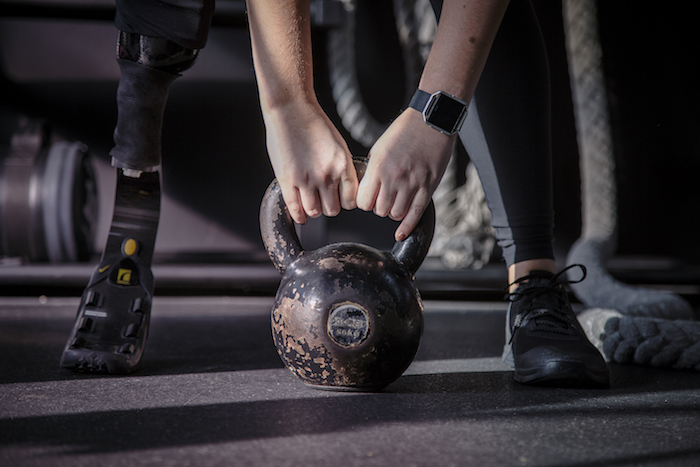 What does your weekly workout schedule look like, and how often do you change it up?

It's pretty busy depending on how my body is feeling. I've just begun with Coach Sunz at Les Mills Auckland City so I'm in the process of figuring out a new schedule but I absolutely love training with Sunz and I can see myself making huge progress with him, which is so exciting. After my first session I asked if we could do this all day, everyday (laughs). As well as this I try fit in a Group Fitness class at Les Mills whether it's their Ringside boxing or Les Mills BODYBALANCE, something to change things up. It's really important for me to focus on all different areas of exercise as it really good for my mobility.
Judging from your Instagram, working out is really a passion of yours! What's your favourite workout or class to do?
I love the boxing class at Les Mills, it's definitely not an easy workout but I completely push myself. It's fast paced yet you learn new skills on the way. Currently, I can't run due to shin splints so I find boxing keeps my feet moving and gives me a cardio burst.


You've have achieved an incredible amount so far. What goals have you set yourself for the future?

Currently the biggest goal I have my mind set on is running 10km by the end of the year. It's a huge goal considering I haven't run for 15 years but it's go big or go home for me. At this stage I'm only running 600m and progress has been slow and even harder than I thought, but I'm still confident that I will achieve it with the Les Mills team, my coach Sunz and running coach Lydia O'Donnel' backing me. I'm so lucky to have such amazing support.
You're clearly a huge inspiration to many people around the world! But who is your inspiration or role model, and why?

Ah I feel so lucky to be a role model for other people, I'm still wrapping my head around that. We'd be here for hours if I listed all my role models, I honestly have so many. To me, anyone who can set their mind to something and have the dedication to achieve it is so inspiring. From Olympic athletes to everyday people wanting to push their limits and better themselves.
From what we see on your social media account you love to inspire other people to reach their full potential and you are full of perseverance yourself! What advice would you give to athletes, or anyone for that matter, going through a tough time?

For sure! I think it's important to remember your only limit is you. Growing up I began to settle for things, I settled for the fact that I couldn't run or would never have the abilities that everyone else has but then one day I decided that that wasn't going to be good enough for me. Cancer took my leg, it's not taking my life. So from that point I let the only thing that would limit me be my own belief. If I believe I can do something, I will find a way to do it. Take things one step at a time and realise that it's not going to be a smooth path to get to where you want to be but giving up definitely will not get you there. You may take longer than others, or in my case 15 years (and counting), but if you believe in yourself and compete only with yourself then you will get there.
Image credit: Stevie Oxton
Images taken at Les Mills Auckland City