Interview: The Inspired Unemployed's Jack Steele and Matt Ford on misconceptions, fashion & their viral videos
Meet Matt Ford & Jack Steele: just shy of two million followers in little over a year, they're the two young Aussie lads behind one of the most followed social accounts in Australia and New Zealand right now: The Inspired Unemployed.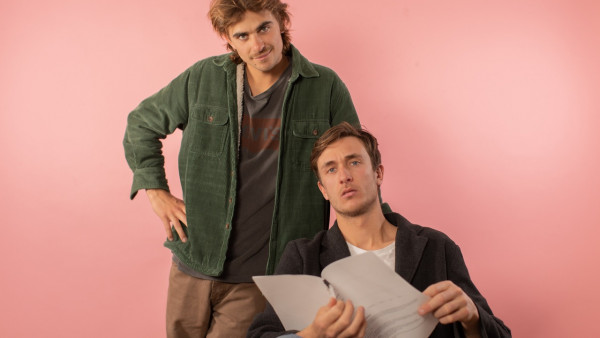 The Australians' relatable and hilarious skits can be found in every corner of the network realm with fans across YouTube, TikTok and Instagram. Remix caught up with the boys - who are currently still in New Zealand after a short stint turned into three months - to chat breaking into the fashion world, misconceptions and bucket list collaborations.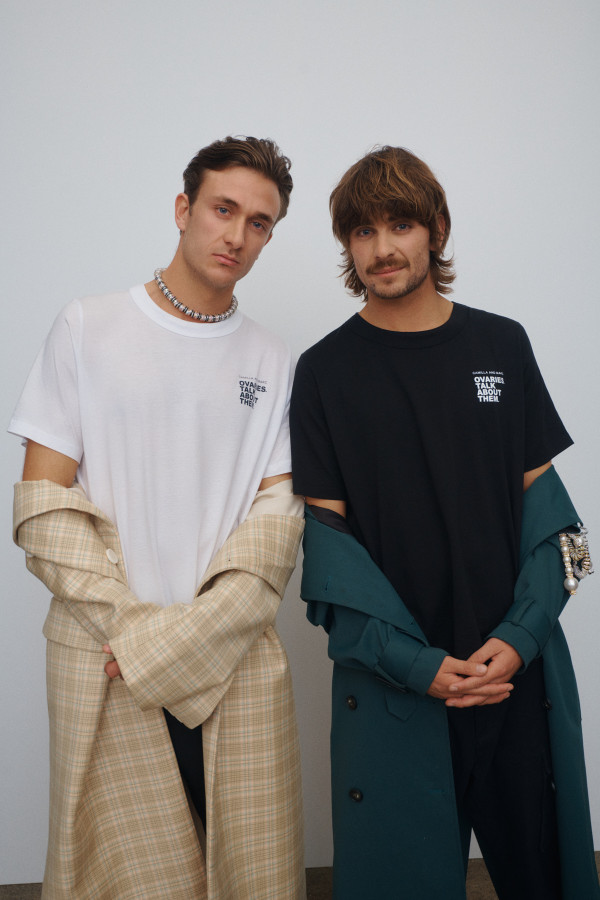 The Inspired Unemployed partnered with Camilla & Marc for the 'Ovaries. Talk about them.' campaign.
Firstly, a question we like to ask creatives right now – how do you think the events of the past year impacted you both?
Jack: We actually had a few epic brand campaigns booked overseas that we had planned to take trips for last year, but obviously COVID kept us home. We were disappointed at the time but in hindsight it worked in our favour as it forced us to find inspiration in the everyday things and gave us more time and space to create great content. We spent a lot of time filming videos in our lounge room instead of being on the road.
Matt: It also ended up being really rewarding to see how people reacted to the page. We had a lot of people tell us that our videos helped them have a laugh and lighten the mood throughout the lockdowns and the doom and gloom on the news.
Jack: Staying home also meant that we had more time to embrace opportunities on home soil and work with brands that we would have never dreamed of working with, which was great.
How did you two meet?
Matt: We met at school in Kiama and became best friends after school when we started going to festivals together. Jack is a year older than me, so we weren't in the same grade at school, but after school hung out and travelled together and that's when The Inspired Unemployed was born.
What inspired you to start The Inspired Unemployed?
Jack: We were in an AirBnb in Europe and we were snowed in with no wifi and nothing to do. We were both jobless and poor and thought 'f**k it, we have to do something with our time', so we started recording videos of ourselves doing skits. The name came about because we didn't have jobs at the time but we were really inspired to do something creative. It all just fell into place.
You gained a massive following very fast – what do you think it is that sets The Inspired Unemployed apart?
Matt: We're relatable, there's nothing fancy about us. We relate to the average person and take the piss out of ourselves for things that people recognise and find familiar in their own day-to-day lives.
Jack: We're everyday people and we talk about things that happen in everyday life, and that's pretty unusual on social media these days where there's plenty of unrealistic standards. From the feedback we get, it makes people feel good to be able to see and hear things on social media that entertain them, and also make them go "Haha, nailed it", because they've thought about it themselves at some point.
Matt: The Project New Zealand was actually our first big TV gig in the early days, so our Kiwi audience has really grown with us as we've gone along. The Project saw our videos and flew us over to have a yarn on TV which was an awesome experience. Hopefully they're reading this and we can get back over there with them soon.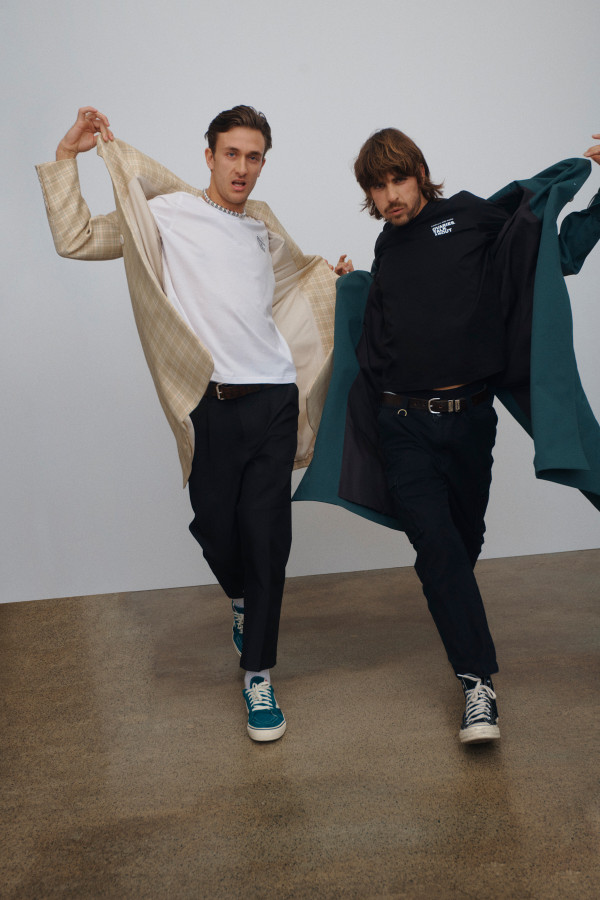 For two Aussie ex-tradies you've garnered quite a cult NZ following. Despite our friendly rivalry, we can't get enough of you both. What is it about Aussie/Kiwi humour that you think is so unique?
Matt: Aussies and kiwis, we take the piss out of ourselves, we don't take things too seriously and will poke fun at almost anything for a laugh. New Zealand is actually a really important part of the story for us. We were living in Queenstown when we first started creating and recording skits.
Jack: New Zealand is a great spot and we're excited to have a couple of epic projects planned there over the next six months. We're keen to get back there and spend time doing plenty of snowboarding, filming and just generally epic sh**.
Outside of creating content, what would we find you doing in your spare time?
Jack: You'd find us surfing, snowboarding, hanging out with our mates and enjoying a few beverages. We keep it pretty low-key around home and have a good group of mates, so we're usually chilling out and doing what we did before we had an audience.
Matt: I can't imagine it would be too much different from your average group of mates. Jack and I live together with one of our friends, and then another group of mates live a couple of minutes down the road.
What encouraged you to take the plunge and quit your day jobs?
Matt: Once we got a bit of traction and momentum, we were constantly taking days off work to create content, which started to annoy our bosses.
Jack: We were actually only on 6,000 followers when we were approached by Born Bred Talent Founder Clare Winterbourn who's also a kiwi. She tee'd up our first few big brand partnerships so it was tools down on site and it's been full steam ahead for The Inspired Unemployed since then.
What's the process behind your videos?
Matt: Everything is split 50/50. Usually one of us will have an idea and bring it to the other person, and then we'll chat about how we would film it. Whoever had the idea originally will script it, then we'll film and edit it.
Jack: We collaborate together on everything, but really whoever is pushing for that particular piece of content will take the lead. There's no set time that it takes us. Sometimes it can take us a few hours to bring an idea to life, and sometimes it takes days - it just depends on what it is.
We'd all love to know, did one of you do dance as a child? Your rhythm is very impressive!
Jack: No, we have no dance background at all.
Matt: We're both self taught dancers. We probably learnt some of our moves from the festival scene.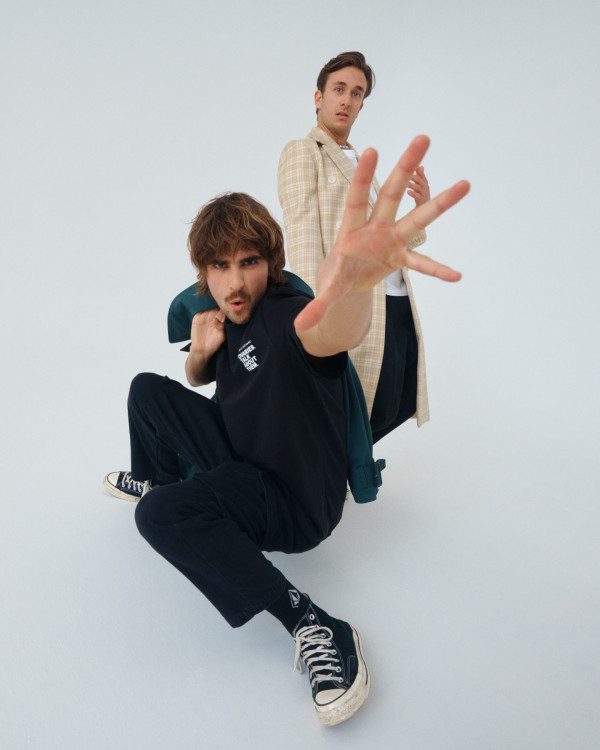 Anyone 'famous' that follows you that you were quietly pretty chuffed about?
Jason Mamoa used to follow the page, but he gave us the flick.
…And who would be the dream follower?
Elton John.
But we're not here for the celebs. We just want to entertain people, we don't care if they're famous or not. We'd actually rather make everyday people like our mates laugh.
What about who's making you laugh right now? Someone you're following - local or overseas - and you love what they're doing…
Jack: Luke Cook is funny. We're definitely more inspired by our everyday lifestyle than anything else.
Something your fans might be surprised to learn about you…
Matt: We're both terrified of public speaking. I'm also dyslexic and allergic to Jack.
Jack: Matt also has a condition where he's annoying all the time (laughs). I'm also an aspiring crypto billionaire.
What do you think is the biggest misconception about you both?
Jack: We're both quite shy and reserved, which can come as a surprise because online we come across as the complete opposite.
If you had to pick, what would be your favourite content you've created to date?
Matt: Oh that's a tough one. Probably the videos I did early on by myself.
Jack: The one we filmed with all our mates in bikinis to celebrate hitting 1 million followers, that was funny.
You've collaborated with the likes of Louis Vuitton and Fendi, rubbed shoulders with Kiwi supermodel Georgia Fowler for THE ICONIC, and appeared in GQ and Vogue. Did you ever envision your collaborations going down the fashion route, with such premium brands?
Matt: We never, ever, ever thought that fashion would be the road we went down. But we love it because it's the complete opposite of what we actually wear in real life. It's a huge contrast.
Jack: When GQ called me and said we were going to do a photoshoot with Fendi for the cover, I was like "yeah sweet." I called Matt to fill him in and he started screaming about it. I had to ask who Fendi was.
Matt: I couldn't believe it.. that we got that gig and that Jack didn't know who they were.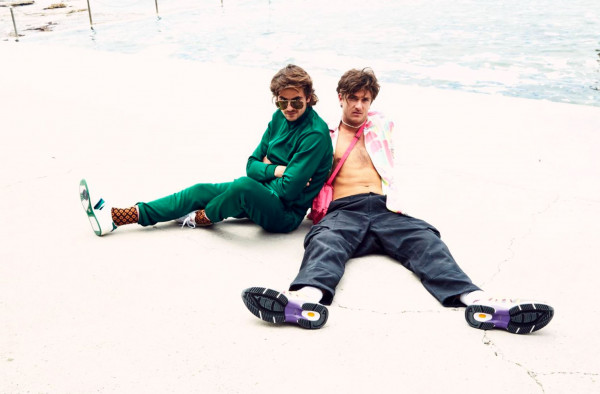 The Inspired Unemployed for The Iconic
Surely you've picked up a few style cues – any fashion lessons?
Jack: Yeah we have definitely picked up some style tips. We're a bit better at colour-coding our clothes now, but we're definitely not fashionistas in everyday life.
Matt: We learnt that men's shirt buttons are on the right and women's shirt buttons are on the left. Wild.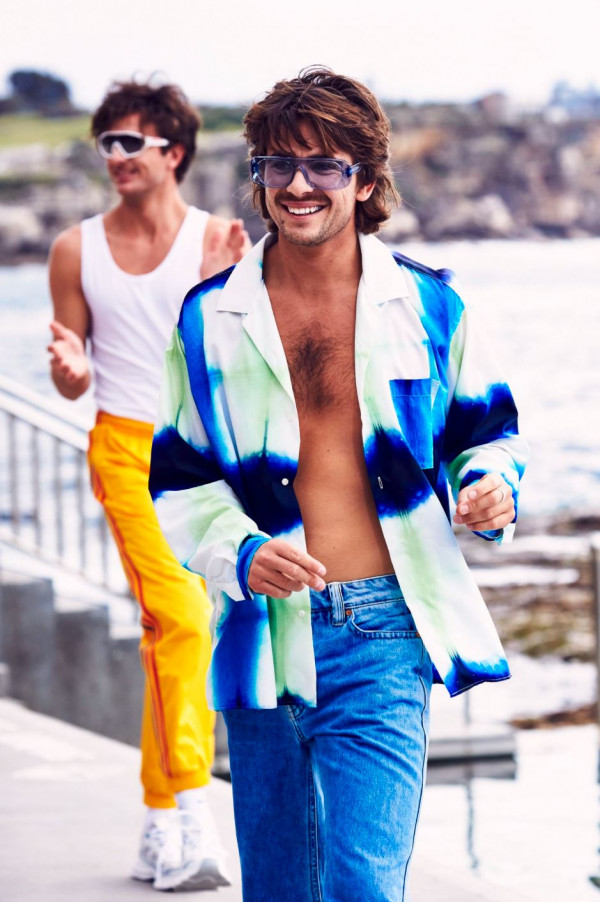 The Inspired Unemployed for The Iconic
Do you have a bucket list person you'd love to collaborate with?
We'd love to work with Steven Spielberg, Brad Pitt and Leonardo Dicaprio…or be on MAFS….
What are you reading, watching or listening to right now?
Jack: I'm reading 'Breath' by James Nestor right now. I've also been getting into 'The 4 hour Work Week' by Tim Ferriss and 'The Monk That Sold His Ferrari' by Robin S. Sharma.
Matt: I'm more of a music guy. I've been listening to plenty of Oasis and Crowded House lately.
What's next in the pipeline for The Inspired Unemployed…any hints?
Matt: We've got some big projects launching in the podcast space and in tourism with New Zealand a big focus for us, so that's really exciting. We're also going to be launching a beer company later this year, so that's keeping us pretty busy at the moment.
With huge collaborations under your belt, press interviews, events and travel, it looks like you've made what was initially a bit of fun into a full-time gig. The Inspired Self-Employed! What would be your advice for budding social content creators, in an over-saturated industry?
Jack: You have to create what you like and what is fun for you. Content creation is hard, it's a slog, and if you don't love what you're making and have fun doing it, you'll start to hate it very quickly.
Matt: I'd also say to keep at it, consistency is key. We made plenty of videos before things took off. The trick was just staying on top of it and posting regularly, because one day randomly, one of our videos took off and the whole thing snowballed from there. We could have easily stopped before then, but you never know what's going to happen.
With so much demand for you both right now commercially, are you conscious of losing that passion factor? Any tips for staying 'inspired'?
Jack: You've gotta keep innovating and changing with the times, and keep doing what's fun and what you think is funny. Do the project that excites you the most because it shows when someone is having a ball or when someone is just doing it because they have to.
Matt: We do our best work when we are excited about the concept and stoked to be involved. If we weren't, we wouldn't give it 110%.
Follow the The Inspired Unemployed on Instagram