Your go-to Easter weekend recipes
There's something about Easter that drives the weather gods crazy - and ever since we can remember the forecast for what should be a glorious three days off is usually pretty shit.
If, like us, you've had to cancel your weekend camping plans and opt for a #staycation this Easter weekend instead, we've come up with the perfect solution to ease your pre-winter woes and treat yourself at the same time, baking.
Here are some of our favourite recipes to try this weekend. The only thing that will be getting wet is your ingredients.
Chocolate Easter Egg Cups
This one goes out to all the chocolate addicts, as its basically a chocolate cake in a cup. Donna Hay's Chocolate Easter Egg Cups are the perfect size to give yourself a little treat without falling into a serious food coma afterwards. Rich and oozing with flavour, this will go down a crowd favourite.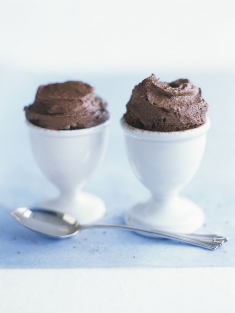 Chocolate Hot Cross Bun and Butter Pudding
The name says it all. Nadia Lim gives the traditional hot cross bun a 2017 twist that satisfies both our sweet and savoury side this Easter. We are all guilty of over-smearing butter all over our microwaved hot cross bun, but with this recipe you wont have to. This delectable dessert is essentially hot cross buns, soaked in a butter pudding with melted chocolate chips and maple roasted pears on top? We're salivating just thinking about it.
Hot Cross Buns
If you are after a classic this weekend, there is no dismissing Chelsea Winter's hot cross buns. The recipe requires making the bread from scratch, so you will enjoy a warm home-made hot cross bun straight from the oven. Seriously, check out that butter.
Cadbury Mini Eggs Skillet Cookie
The words Cadbury and cookie together means this recipe is bound to be a success. This cookie cake has us all drooling, and would taste even better when served with a dollop of ice-cream.
Little Spiced Easter Buns
Treat yourself to a not-so-naughty treat with these spiced Easter buns. Made with wholesome ingredients, you'll be able to knock back a few of these without having that post-holiday guilt. Easy to make and tasty to eat is what we like to hear!
Raw Caramel & Cream Easter Nests
Anyone who has been to popular Ponsonby haunt Little Bird knows they make the best guilt-free treats - and now you can make them yourself at home! Containing magnesium-rich cacao, coconut and dates this is another guilt-free treat which tastes just as good as the real thing.
Happy Easter, everyone!