Five of the best movies on Netflix
The time for summer weekend adventures is officially over, and the time for escaping sub-arctic temps, while wrapped in a blanket and reading your favourite Jodi Picoult novel is nigh.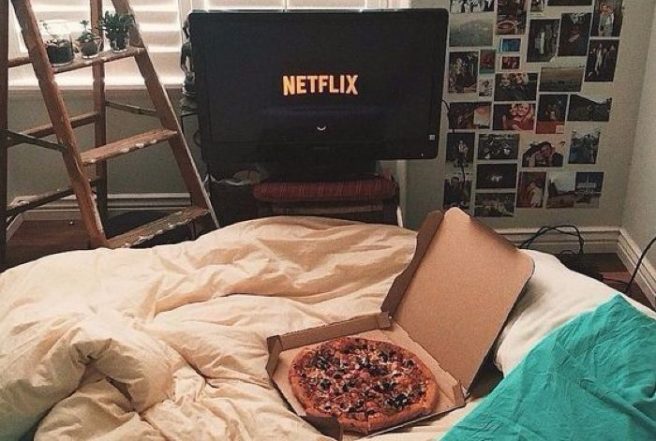 Are we in the epicentre of one of Auckland's phreshest winters? Perhaps. So in case you've exhausted all your Picoult, we've rounded up five Netflix movies you simply must watch if you haven't already:
SEVEN
This is not for the faint-hearted, believe me when I tell you, this movie will stay with you for life. This gruesome crime drama follows two detectives trying to hunt down a cunning killer, if this isn't enough to pique your interest, now would be a good time to mention that one of those detectives happens to be Brad Pitt (him above looking sad but still snacky). Do I really need to go on? Maybe. This case is a particularly disturbing one, as they soon discover that the killer's crimes are inspired by the seven deadly sins. The subject matter is horrific, but luckily for you - the crimes are kept largely off-screen, so you have the enjoyment of imagining them for yourself…
V For Vendetta
V For Vendetta tells the tale of a country ruled by a fascist cabal, where all information is regulated by the government and the police maintain an iron grip on all aspects of life. Natalie Portman makes an appearance here, taking the character of Evey, who works for the state television network. Evey is rescued from an assault by a masked man known only as V whom she is quickly taken with. But can V's extreme methods produce a better world? Dun dun dun. Watch this melodramatic thriller to find out!
I Am Mother
Netflix have been producing some pretty stellar movies lately, one of which is IA apocalyptic drama I Am Mother. For about as long as computers have been around, there have been rumours flying around that they will one day destroy all of mankind. Which basically sets the stage for Netflix's latest sci-fi offering. Following 'daughter' who is abandoned in a post-apocalyptic bunker by 'Mother'. Not wired to kill, nor raise humans, the movie follows the girl and the computers journey through trial and error, and poses the question - do computers have the capacity to create a better future for mankind? Dun dun dun. Watch to find out.
FYRE
If you've been awake for more than one hour and thirty-seven minutes during the last year, chances are you've seen this one. But on the off chance you haven't, seriously - clear a few hours of your schedule this weekend because this is wild. Sing to me, muse, of the tragic tale of Fyre Festival. The brainchild of Billy McFarland and Ja Rule, who are equally rich and inept as each other, attempt to host a lush musical festival in the Bahamas. This doco delves deeply into the mystery of the over-hyped event that went so terribly wrong. This outlandish tale exposes the incompetence, fraud and manipulative power of social media in a mesmerising expose.
About Time
I love Rachel McAdams, like a lot. And I don't really care what anyone says, this is a romantic drama of epic proportions. It basically follows the story of a man who learns from his father that the men in the family have the ability to time travel. This comes in handy when he misses his chances with the girl of his dreams, but will this retrospective ability do more harm than good? Dun dun dun.