Incorporating 'Camp' aesthetic into your home
In the wake of this year's Met Gala theme 'Camp', many were left questioning what exactly does the wacky and whimsical adjective mean? Thrown around but often misunderstood, the concept of camp has been applied and adapted throughout the years, popping up in fashion, design, film, art, performance and even personalities. Delving into camp as a design element, we explore the intricacies of the theatrical sensibility and ask the experts to weigh in...
One can assume if it featured as the theme for fashion's biggest night out then it's likely not some passing trend. The pinnacle of Hollywood's social calendar saw guests gracing the pink carpet wearing their take on camp-inspired looks. From Harry Styles' pearl earring and sheer frill onesie to Cardi B's red feathered dress that required a crew of men to carry it up the Metropolitan Museum's steps - camp was a sight to behold.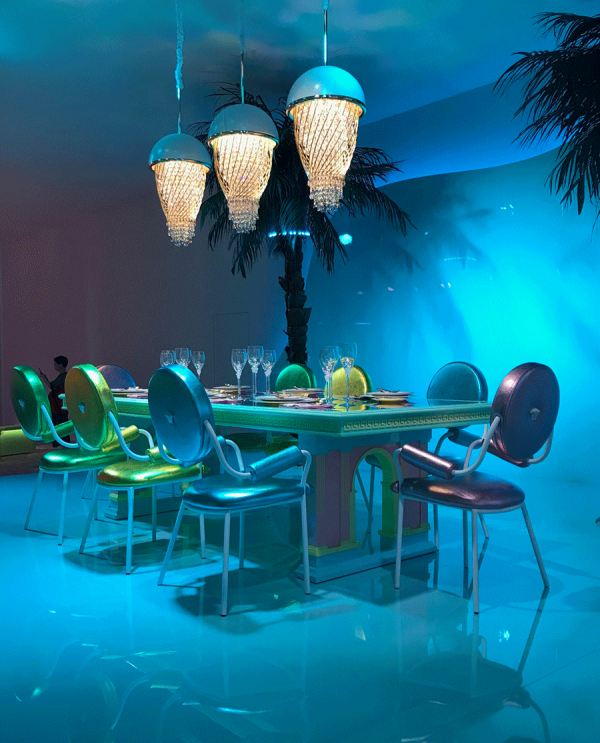 Image courtesy of Versace
Perhaps to understand camp, we first need to understand the woman who gave life to the word. While it can be traced all the way back to French King Louis XIV and his outlandish lifestyle, American critic Susan Sontag's description makes perfect sense in layman's terms.
"The hallmark of camp is the spirit of extravagance. Camp is a woman walking around in a dress made of three million feathers." - Susan Sontag.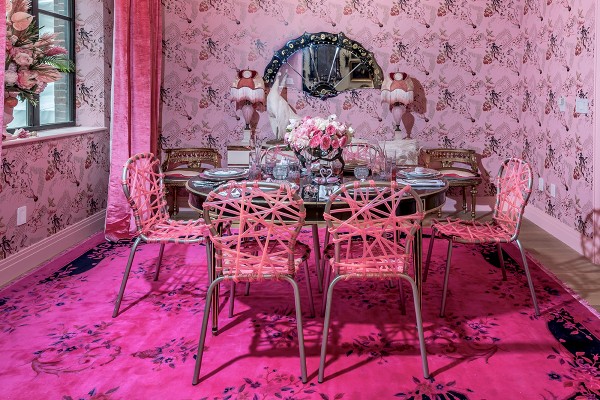 Image courtesy of Sasha Bikoff
It would seem Cardi B did her research. American critics and rapper's aside, a quick online search of the word leaves you with visions of flamboyance, exaggeration, drag queens and audacious royals - a mish mash of everything and anything over the top. So how does this expression translate into home decor?
WORLD designer Benny Castle's approach to camp is one of self-expression and personal alignment. "Interiors can be both intentionally and unintentionally camp. Going into a project with the goal of becoming camp is sort of missing the point - it either becomes camp or not. To a certain extent it is in the eye of the beholder. One person could see it as camp and another not. Perhaps it is best to express yourself and if that happens to be a camp expression, then so be it!"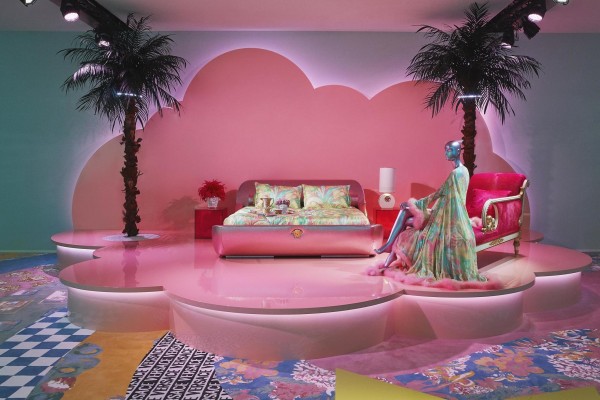 Image courtesy of Versace
Castle's suggests that when it comes down to it, your home will either have elements of camp or not, but it can be introduced, if you give it a go. Whether you have pink feathered dining chairs and taxidermied animals at your entrance, or bare white walls and hospital-sterile minimal decor, he encourages people to take more risks and be adventurous. "Allow humour and fun to be part of the interior design and express yourself independently - this may in the end be camp, or not - that will depend on your taste."
When it comes to camp, it appears that more is more but with New Zealand harbouring a generally conservative stance on interiors, introducing something a little bit 'extra' to your home will ruffle a few tail feathers, both literally and figuratively. Those brave enough to play a risky roulette of interior design decor may come up against the line of good and bad taste. Yet Benny says, "If lines are being crossed, then in some instances that will be camp itself. I say do it!"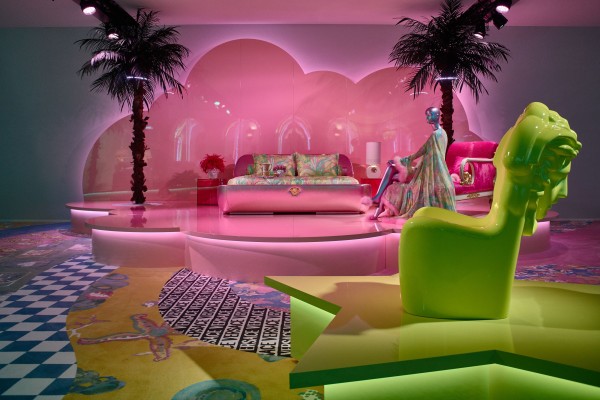 Image courtesy of Versace
However, when taking the leap with adventurous interiors, be careful not to confuse camp with tacky. You can still work to a complementary colour palette and appealing aesthetic while being dramatic. Lashings of holographic rhinestones, faux fur, shiny sculptural art and solid gold toilets could easily be misinterpreted as gaudy and garish. Forget cheap, mass-produced items and instead opt for quirky and one-of-a-kind investment pieces.
Known globally for their extravagant collections and prints, Versace exhibits a camp sensibility in the luxury realm like no other. In particular, their Versace Home 2019 collaboration with New York designer Sasha Bikoff which paid homage to the 90's and Gianni Versace's colourful Miami lifestyle. Bikoff confidently kept the balance of good and bad taste throughout her aesthetic on the Versace installation, which was unapologetically camp from the leather-covered bed to the neon islands surrounded by pink and blue clouds.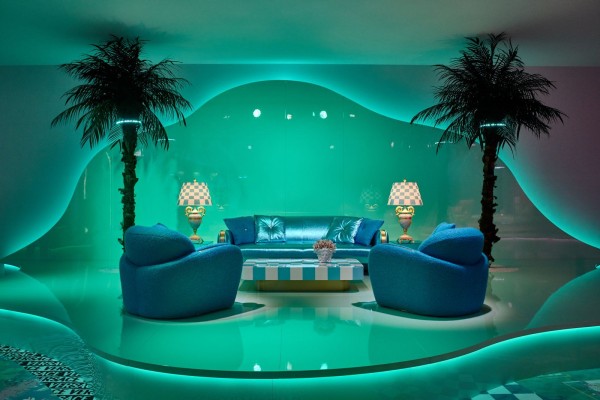 Image courtesy of Versace
"I wanted to showcase the connection between fashion and the home: atmosphere and rooms have the power to inspire emotions - to make us feel a certain way, just like a dress. The space I wanted to create makes you feel happy, and powerful" - Sasha Bikoff.
Being a hugely successful yet young designer, one could surmise the rise of bold and brave interiors is a generational consideration. Binkoff herself said, "My generation isn't like the one before us; we want pieces that are something to talk about. We want that chair that's going to make a statement."
While camp can't quite be defined as one specific object, it can be defined as a powerful sensibility that has secured its place in design for years to come. Having evolved over the years, it means different things to different people. Camp can kind of be, whatever you want it to be. Deliciously vulgar, brazenly exotic or a maximalist paradise - the ostentatious sensibility will bring fun and flavour to a home that, perhaps, desperately needs it.