Addison Rae: The Social Media Supernova
At 21, Addison Rae is ambitious, determined and more famous than ever. The social media star rapidly surpassed the 15 minutes of fame that usually comes with TikTok, by amassing a combined cult following of over 120 million fans. In 2020, her addictive dancing, lip syncing and comedic sketches gained traction faster than anything seen before on the platform, but a mere two years later Rae has gone on to cement her place in Hollywood's hall of fame for the long term. Last year she starred in Netflix film He's All That, launched the clean beauty brand ITEM BEAUTY, and was named a Forbes 30 under 30. Remix caught up with the trailblazer to capture an exclusive spring cover and short film in downtown Hollywood, Los Angeles. Shooting all day and into the night, followed by a sit-down interview, we quickly found out working hard is something Rae will never shy away from.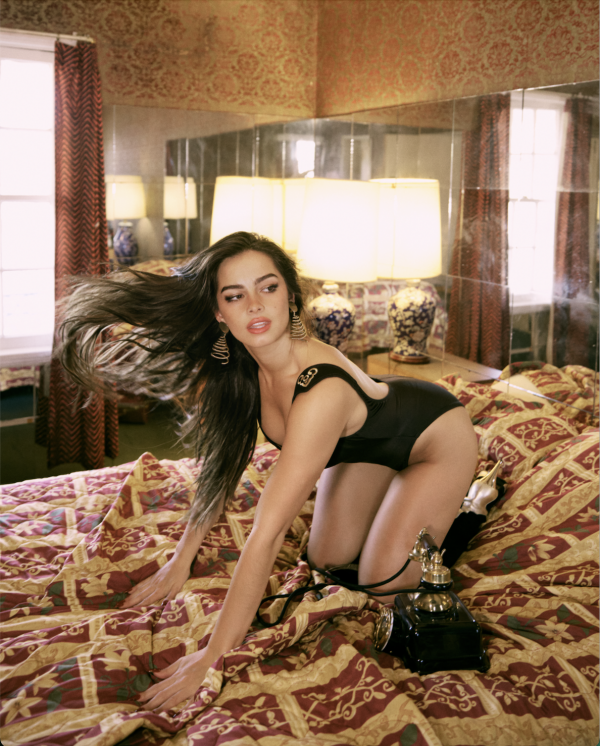 Addison wears archive La Bianca bodysuit from Lidow Archive, Versace footwear, vintage earrings

Addison, we're so excited to have you as the Remix Next Generation Spring cover star! How incredible did the shoot turn out?!
Thank you. I had so much fun and everyone was so amazing to work with!
We've shot celebrity covers for over 15 years, including some very experienced individuals, but it needs to be said - everything you did on the photoshoot was like you'd been doing it for 20 years…
Thank you! That means a lot!
The Next Gen edition spotlights incredibly ambitious young talent changing the world in their own way. You are, in so many ways, a role model for young people. Who did you look up to when you were growing up?
I feel like this is such a big question because I've looked up to so many people growing up. I've always loved people who have just protruded themselves. Even if that means they didn't really know what they were doing or if they were messing up or even getting everything right. I think watching people stand behind the things they do has inspired me. People like Madonna! I've always looked up to her and the things she's done. I love Angelina Jolie. She's one of my favourite people in the world that I do not know personally but I love her so much. She's just such an amazing person from what I can see and I'm sure that's only the half of it.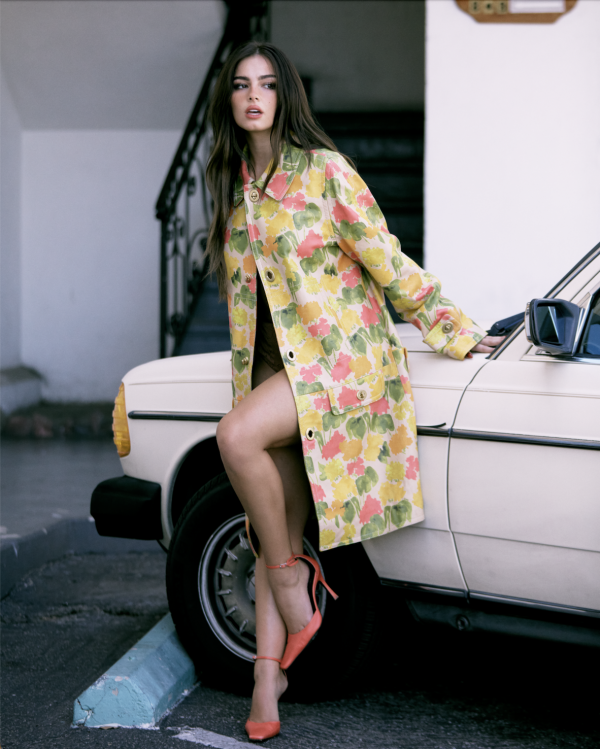 Addison wears Coach coat, Akras panty, Versace footwear, vintage earrings
What do you think it is about Generation Z that sets them apart and makes them so driven?
I think people have realised, now more than ever, that they have an opportunity to do what they love in such an accessible way. Especially because of social media platforms that we've been lucky enough to experience. I think that's what drives people - they know anything is possible.
As a Gen Zer yourself, what sort of early 2000s nostalgia were you obsessed with growing up?
I was born in 2000, so I grew up experiencing it in a special way. My mom was also really young, so she was always keeping me up to date around everything 2000s! I always loved awards show performances back then. I loved Britney and Lady Gaga growing up! I just think that watching awards shows when they were at their peak was the best thing ever.
Have you listened to the new Beyonce album? Are you obsessed?
Yes, I have! I was actually just listening to it. I have a favourite song and I guess everyone kind of loves it but it's 'Alien Superstar'. I love the hook!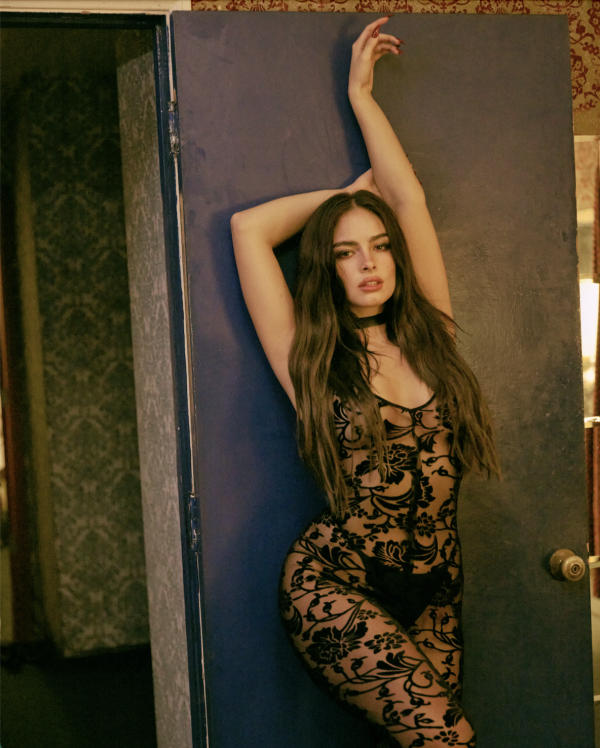 Addison wears Norma Kamali catsuit, Atsuko Kudo choker
Is there someone you've met since you established the monumental career that you thought was a big 'pinch me' moment?
I didn't get to speak to Madonna but I got to witness her within feet of me and hear her speak. I thought that was pretty insane. Other than that, I've gotten to work with directors and photographers that have been really monumental in my career. Honestly, everyone I get to encounter in this business, I've been lucky enough to be such a fan of their work. I've gotten pretty lucky.
You have your fingers in so many pies. You're a film actress, series actress, a songwriter, a businesswoman - the list goes on. Fundamentally, when you're doing all of these things, is there one career space that you consider first and foremost?
I mean, all of it excites me equally. So, I guess if I have to call myself something, I would just say an artist. It's a word that can encapsulate all of the above. I'm just someone who likes to create. I guess creator is a fitting title as well.
How do you juggle so many things at once and stay sane?
I don't think anyone in this industry can tell you that they are completely sane. I think the best way to contain yourself is just to remember why you're doing what you do, and remember what you love about it. But I definitely think everyone in Hollywood is a little insane… [laughs].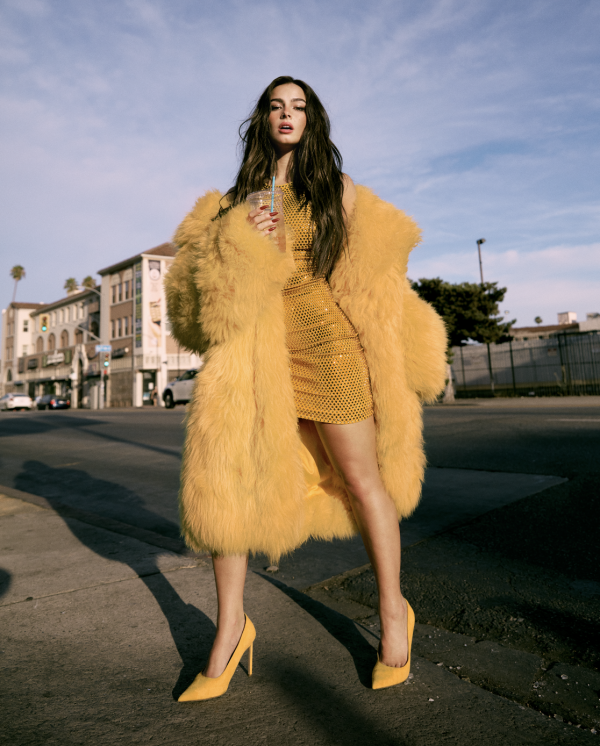 Addison wears all Michael Kors
As an artist, I guess you've got to be a little insane to be so creative…
Being insane is amazing [laughs].
When you're not stuck in the thick of your crazy schedule, what do you do to relax and unwind?
I like to go to the movie theatre. I watch almost every movie that comes out, everytime. Any movie ever, I'll watch it andI love eating popcorn. That's just the best way to relax for me.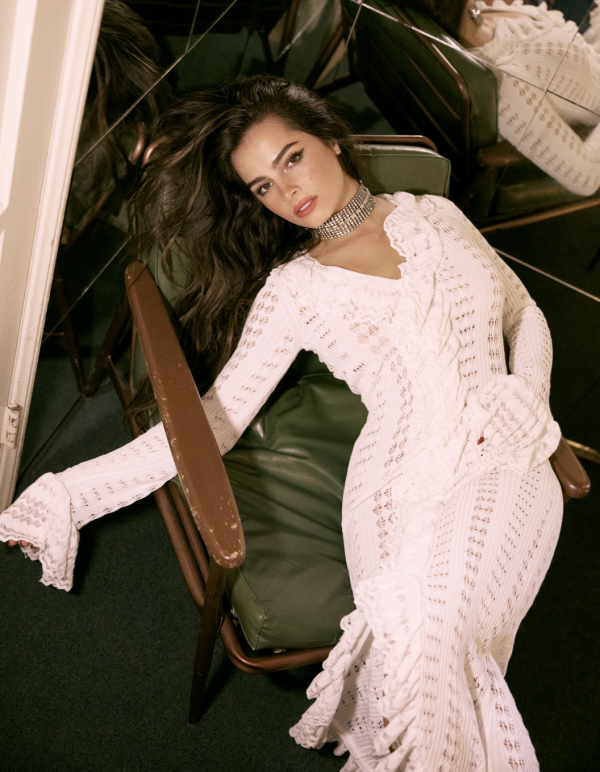 Addison wears Blumarine dress, vintage choker, Paris Texas footwear

As a beauty businesswoman and entrepeneur, tell us what your definition of beauty is...
I know it's a cliché, but confidence. I think that, when sharing and creating things with confidence, people take that and believe it. You kind of set the tone for how people receive what you do based on how sure you are of it.
You have a huge influence over not only the beauty world, but fashion too. Who inspires your style?
I am an ever-changing, ever-evolving person. As we all are. So my style changes a lot and I'm still learning what I like on me, and what I feel confident in. I will say my fashion influences right now are Monica Belucci, Madonna, and Amy Winehouse - I think she has some very classic looks - I also love Devon Aoki, and Winona Ryder.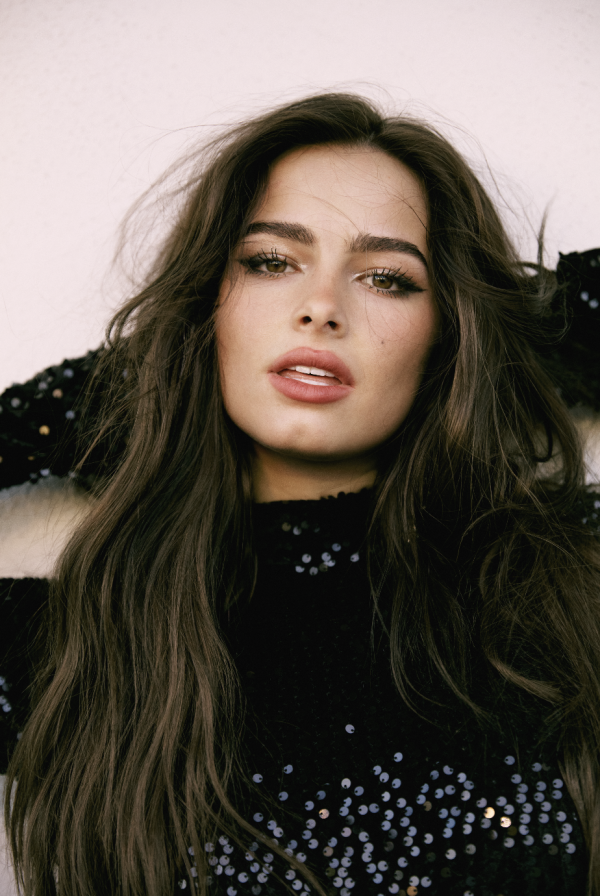 Addison wears Florentina catsuit
You've had some major Met Gala looks. Please tell us, is the Met Gala as fun as it looks? For the people who will never get to go, give us that Met Gala tea.
Honestly, it's like a fairytale. It's so glamorous, everyone is all dolled up and excited to see what the year holds at the Met Gala. The craziest thing for me from the Met this past year was seeing Nicki Minaj. I really freaked out, which was so odd because I really don't ever fangirl that crazy. I'm lucky enough to get to see and meet people I love and adore so much. Everyone is super easy to talk to and I'm a very talkative person. I can communicate with anyone. But when I saw Nicki Minaj, I wanted to poop my pants. She's so beautiful in real life.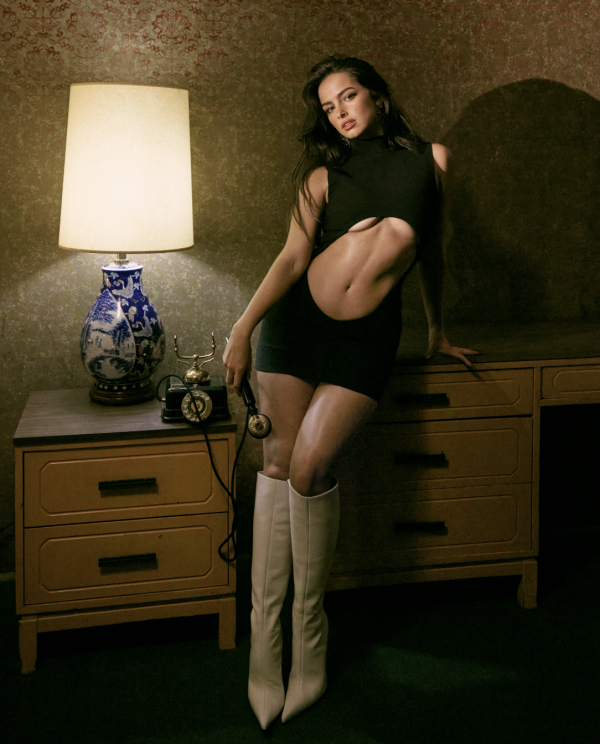 Addison wears Monot dress, Magda Butrym boots
How does someone impress Addison Rae? What is your idea of the perfect first date?
Probably a really good restaurant. Not like an expensive, Michelin star restaurant. Actually, please no Michelin star restaurant! Just really good food - I love good food. Maybe something scenic with dinner. People impress me with what inspires them and what they love to do. I think it's always really interesting to meet people that have such a big interest in things that are different from you. I like people that can teach me something new. That's how you impress me - teach me something new.
Tell us, have you ever been to New Zealand and what do you know about our country?
I have never been to New Zealand, but I would LOVE to come. I think it would be so fun. I know some amazing people from New Zealand, including the Remix Team! So I'll have to visit!
Credits:
Director GREG SWALES
Creative Director STEVEN FERNANDEZ
Executive Producer TIM PHIN
Cinematographer CHEVY TYLER
Producer ALEXEY GALETSKIY
1st Assistant Camera FIDO WU
Sound Engineer CAMILO GOMEZ
Lighting Team YOLANDA LEANEY & SANDY RIVERA
Digital Tech AMANDA YANEZ
Fashion CHLOE & CHENELLE DELGADILLO
Makeup LILY KEYS
Hair KILEY FITZGERALD
Nails NATALIE MINSERVA
With JIVI & MAVERICK