A sensational New Zealand Fashion Week with JAZZ™ Apples
New Zealand Fashion Week is just around the corner and we're getting pretty darn excited prepping our outfits and can't miss shows.

This year sees NZFW get a new sponsorship partner, with JAZZ™ Apples signing up to be the event's official snack, the perfect fuel to quickly refuel on while flitting between shows.
NZ Fashion Week's Sponsorship Manager Genevieve Ali says while fashion is constantly evolving, the industry also needs to reflect the mores of society. 'Society is a mirror of what the people are thinking and right now we are thinking about healthy eating. This partnership works perfectly with fashion as the industry is high energy and always on the run. While chasing forever changing trends a humble apple is the perfect snack on the go.'
The JAZZ™ Apple variety is a New Zealand-grown hybrid of the popular Royal Gala and Braeburn brands. It's zingy and tangy with multiple levels of flavour developed especially for modern taste buds.
JAZZ™ Apples will be fuelling the models backstage, appearing in select goodie bags and quenching thirsts at the bar with two deliciously tempting JAZZ™ Apple cocktails, either the refreshing JAZZ™ Apple Orchard Fizz cocktail or the bitter sweet but equally tasty JAZZ™ Apple Just Plucked. There will also be a cool pop-up JAZZ™ Apple wall at NZFW, whereby consumers can use the hashtag #jazzsensation on their social media to go into the draw to win a getaway to Waiheke for two!
For those missing out on the fashion festivities, never fear, spend an evening next week making our apple and caramel soufflés instead!
Apple and caramel soufflés recipe: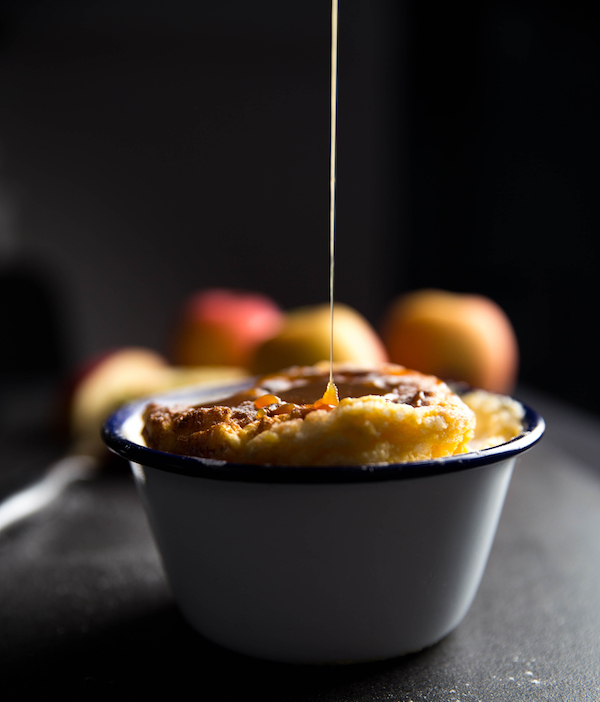 Fill a bowl with water, and add the juice of 1/2 lemon. Place 2 3⁄4 cups of cored and chopped JAZZ™ apples in the water as you prepare them. When all of the JAZZ™ apples are prepared, drain and transfer to a large, heavy saucepan. Add 1 tablespoon of the sugar, 1 teaspoon vanilla and 1⁄2 teaspoon of ginger powder, and 2 tablespoons water. Bring to a simmer over medium heat. Stir, and then turn the heat down to low, cover and simmer, stirring often, for 20 minutes. Uncover and continue to simmer for another 30 to 40 minutes, stirring often, until the fruit is very soft and beginning to stick to the pan. Remove from the heat, and transfer to a food processor fitted with the steel blade. Puree until smooth. Transfer to a large bowl, and allow to cool.
Preheat the oven to 220 degrees with the rack adjusted to the lowest position. Butter four 6 ounce ramekins and dust with sugar (use about 1 1/2 tablespoons of the sugar).
In the bowl of a standing mixer fitted with the whisk attachment, or in a large bowl with a hand mixer, beat 8 egg whites on low speed for 1 minute or until they foam. Add the cream of tartar, and continue to beat on low speed for one minute. Turn the speed to medium, and slowly stream in the remaining sugar while you continue to beat until there are rm, satiny peaks. Be careful not to overbeat.
Fold one third of the egg whites into the apple puree to lighten it. Fold in the rest. Gently spoon into the ramekins or the souf é dish, mounding it up over the top. Put the ramekins on a baking sheet, and place in the oven. Bake individual soufflés for about 10 minutes, until puffed and golden. They should still be runny on the inside. Bake a large soufflé for 15 to 20 minutes. Dust with icing sugar and drizzle with caramel sauce. Serve at once.
Head here for more.