We explore the inspiration behind incredible young talent Bryce Vine
Remix Editor Steven Fernandez sat down with a young talent paving the way in popular music. This week, we explore the inspiration behind Bryce Vine.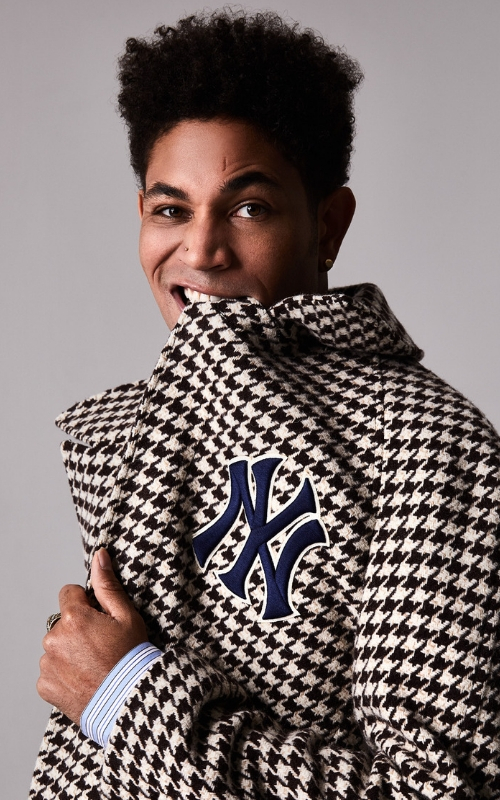 Bryce is styled exclusively with shirt and jacket from the Gucci Fall/Winter 2018 collection by Alessandro Michele.
Tell us some of your earliest memories of listening to music. What was it and who was it with? How did it make you feel?
For as long as I can remember, music has been a source of happiness. From singing the entire Aladdin soundtrack with my mum to hearing Stevie Wonder on my dad's record player, music has always been a place of great comfort.
How did you get started making music?
When I was younger I saw a Stephen Lynch comedy special, in which he played guitar and sang darkly comedic lyrics over it. It hit me then that I could make my own music and do it my own way. My mum bought me a guitar when I was 13 and I taught myself to play using guitar tabs from the Internet.
Do you prefer being in studio or on stage?
I love writing, recording and finding a new lyric, or a melody to bring them to life, but my favourite thing to do is perform live. That's where I connect with fans. It's an experience unlike anything else.
Who inspires your sound and artistry?
It's not a secret I'm a fan of '90s and early '00s punk and alternative music like Third Eye Blind, Rancid and Blink 182. I am also really inspired by guys like Chance The Rapper and Frank Ocean, because of their mastery of lyrics and innovative direction.
Who is someone you would love to work with?
I'd love to work with Childish Gambino, Twenty-One Pilots and Post Malone. They are each on a different wave.
How do you write music? What's your process?
It's pretty relaxed. I don't have one set way of making music. Sometimes I just sit in my studio at my laptop and try to create a cool beat to write to. Other times an idea will spark while I'm in a hotel room or on a plane and I record it as a voice memo on my phone to finish later.
Is there a trick to writing a hit?
I find it's less stressful if you focus on just making a good song instead of worrying if it's a hit. I just show my friends and team my music as I'm writing it and take in their feedback. It makes it easier to know which songs to prioritise and build on.
Which of your own songs is your favourite?
Of course Drew Barrymore, because it's helped propel my career and take things to a whole new level. I also love lesser known ones like Bang Bang and Street Punks On A Freight Train too. They're different than most of the songs I write, but they show another side to me and my sound.
If you had to pick an all-time favourite song that you relate to, what would it be?
I think Paper Planes by M.I.A is an absolutely perfect song, but as far as relating to me, I'd say Dammit by Blink 182.
How would you describe your style?
Someone said I dress like a half-black Ace Ventura. I thought that was hilarious and sadly accurate. My style is fluid. I do have themes but my tastes are always evolving. I'm a big fan of the perfectly grand yet understated style of Gucci.
Creative Direction & Words Steven Fernandez
Photographer Easton Schirra
Stylist Santa Bevacqua
Hair Nikki Rae & Saisha Beecham
Makeup Sara Robbey & Sean Harris
Videographer Spencer Byam-Taylor
With special thanks to Smudge Studios