Local brands leading the 'slow fashion' movement
In an era where fast-paced trends are dominating the fashion landscape, a quiet revolution is taking place within the industry. Slow fashion, a movement that prioritises sustainability, ethical practices, and the creation of timeless pieces, is gaining momentum. To put it simply, slow fashion is the opposite of fast fashion. Fast fashion involves brands working overtime to get the newest styles on the market when they are at the height of their popularity, for consumers to then discard them only after a few wears when the trend dies down. This has led to an incredible amount of overproduction and overconsumption, turning fashion into one of the world's largest polluters.
The fashion industry has seen a new wave of change in the past decade, as an increasing number of brands have been rejecting the fast fashion principles. Brands are focusing on reducing consumption and production whilst valuing the treatment of people, animals, and the planet along the way. Slow fashion is taking us back to the era where buying clothing was a long-term investment built to last, rather than a throwaway hobby. This shift in consumer consciousness has led to the emergence of an abundance of slow fashion brands available right here in New Zealand.
Amélie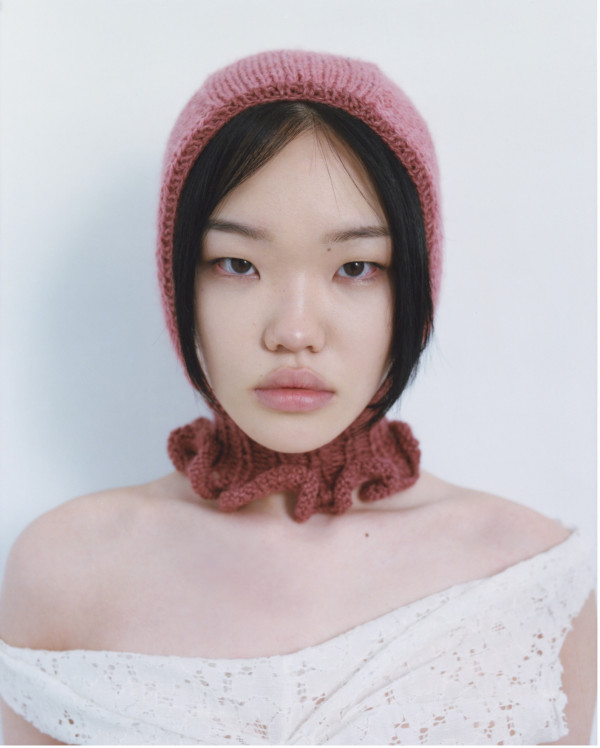 New Zealand designer Nat Robb's obsession with knitting began with creating custom pieces for her friends and whānau. What started as a personal passion project, has grown organically into a small label, Amélie. Named after a close family friend, Amélie houses Nat Robb's range of beautiful hand-knitted jumpers, cardigans, balaclavas and boleros. Each piece is individually crafted in Aotearoa from carefully selected yarn that is ethically sourced and produced. The brand's commitment to quality is evident, ensuring that each garment is not only fashionable but also designed to be functional and enduring, capable of lasting through the seasons. Amélie distinguishes itself with a unique sense of playfulness, evident in its bold colour choices and rich textures. These elements infuse each garment with character and charm that cannot be replicated. Robb's passion shines through in every piece, as each one carries a sense of personal connection with the wearer.
Caitlin Snell
Caitlin Snell is an ethically produced, handmade accessories brand based here in New Zealand. In the height of the COVID-19 pandemic, fashion graduate Caitlin Snell began experimenting with her skills - creating fabric face masks and leather work pieces, and like many others, began to use this isolated time at home to fully explore her capabilities as a designer and garment constructor. She started out by recycling scraps of fabric and secondhand materials to create a number of one-off pieces, and after a few of her fashionable face masks gained popularity she was soon approached by stockists and customers and her business took off. Caitlin Snell stocks a colourful and chic variety of hair bows, headbands, silk collars, necklaces, belts and bow bags all available on the Caitlin Snell website. The label's most recent designs incorporate playful and feminine themes with the intent for wearers to style them in their own unique ways.
IDAE
After years of designing for other major fashion labels, Meagan Care was inspired to create something of her own. IDAE, named after her grandmother Ida who taught her to sew, is a New Zealand based luxury label with a mission to empower its wearers through effortlessly practical garments. Their brand ethos is rooted in the creation of quality, lifelong pieces that effortlessly blend easy wearability with intricate details. Every IDAE piece is carefully designed to complement the modern woman, through incorporating elements of subtle femininity, harmonised with precise masculine detailing and tailoring. What sets IDAE apart further is their commitment to sustainability in the fast-paced world of fashion. IDAE aims to slow down the current unsustainable fashion cycle, opting to create just two small collections each year. Furthermore, IDAE proudly manufactures all of its garments here in New Zealand, emphasising their dedication to local craftsmanship and production.
Molly Perkinsons
Lulu Jackson, a talented garment technician and patternmaker, founded Molly Perkinsons, after returning from overseas with no job and limited funds. Armed with her skills, a sewing machine, and a deep family fashion legacy, she launched a made-to-order label from her household garage. Each Molly Perkinsons garment is handcrafted individually at Molly P HQ in the town of Mount Maunganui, New Zealand. The brand specialises in limited quantities of high-quality fabrics, resulting in unique styles inspired by materials, seasons, and Lulu's creative vision. Molly Perkinsons prides itself on a blend of new and vintage fabrics and trims, with a preference for natural materials like silk, cotton, and wool. Sustainability is key, with care labels, packaging, and local sourcing designed to minimise environmental impact. Custom orders and size adjustments are welcomed, ensuring that each piece tells a personalised story. Molly Perkinsons is a simple operation, and one dedicated to allowing her consciously-made, quality garments to shine.
Oosterom
Oosterom is an Auckland-based fashion label that specialises in custom, made-to-order garments. The brand celebrates the artistry of designer Nicole Hadfield and pays homage to her talented grandmother, Pietje van Oosterom. Nicole's remarkable journey, which began after her graduation from Whitecliffe in 2014, has nurtured her love for pattern making and refined her expertise in garment construction. Inspired by Nicole's love for the craft, Oosterom was launched in 2021 as a bespoke clothing label, which made its New Zealand Fashion Week debut this year. Working from her home studio, Nicole designs and handcrafts personalised clothing that aims to bring joy to delighted brides and successful businesswomen. Oosterom aims to become a go-to choice in wardrobes, driven by a vision of creating thoughtful clothing with a minimal environmental footprint. Each piece is carefully crafted with a strong emphasis on quality construction and fit, ensuring they are cherished and worn with confidence. Oosterom is dedicated to meeting its customers' needs with a commitment to making a positive impact on the fashion industry.