Celebrating 150 years of Levi's 501s
Remix Founder Tim Phin and Editor-in-Chief Amber Baker stepped away from the desk and jet-setted over to Sydney to celebrate 150 years of Levi's 501.
There would be no Levi's without the 501. From cowboys to runways, the Levi's 501 jeans have had a bigger influence on fashion than most know. This year marks the jeans' 150th lap around the sun - yes, they've been around that long. Myself and Tim Phin were one of the few Australasians who had the pleasure of meeting Levi's own Historian Tracey Panek and Design Director, Paul O'Neill who travelled from the Levi's Global HQ in San Francisco to Sydney for an intimate discussion about the history of the 501.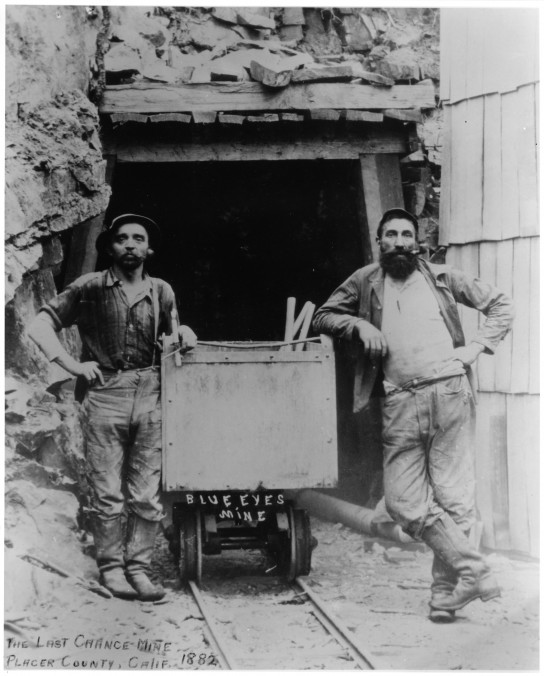 Miners wearing Levi's, c. 1882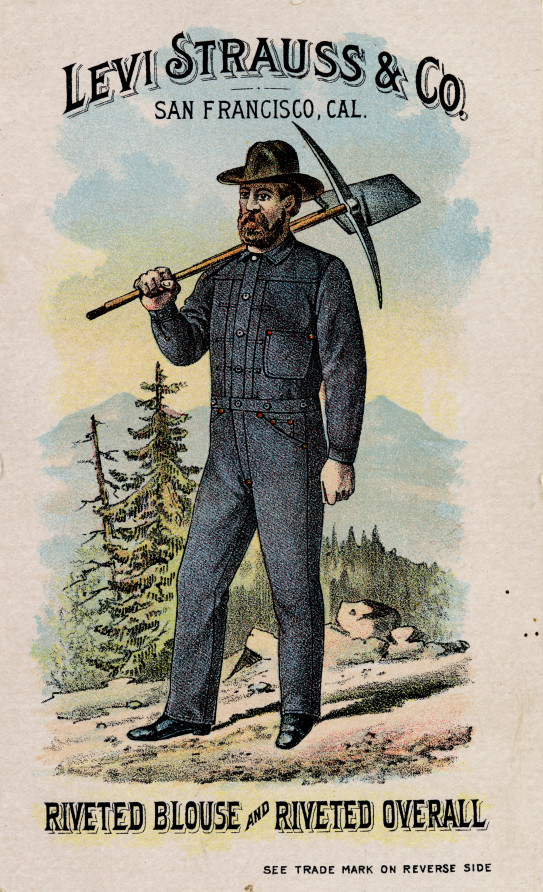 Levi's Mining Trade Card, c. 1885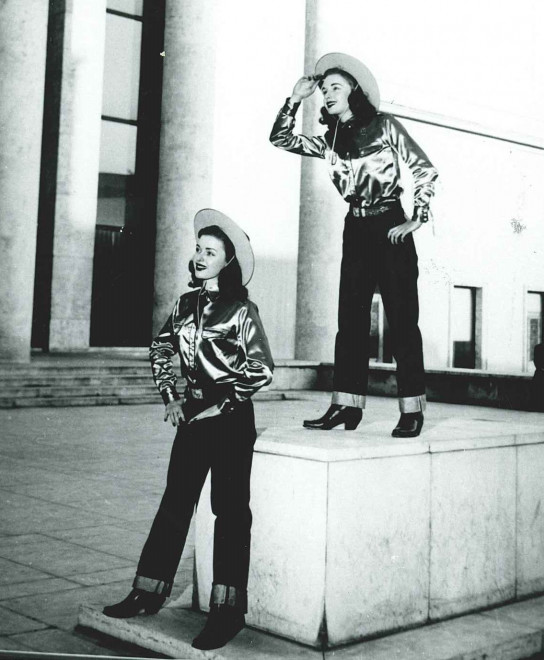 Levi's Paris Runway Debut, c. 1947
Named by Time magazine in 1999 as the "fashion item of the 20th century," I now understand why the 501 deserves this award and many more. The first thing I learnt is that the 501 was born when Levi Strauss and Jacob Davis were granted a patent on the process of riveting pants by the U.S. Patent and Trademark Office on May 20, 1873. Levi's used the lot number 501 for the first time in 1890 to denote the highest quality jeans it offered. As Tracey talked us through some iconic archival pairs of 501s, it was fascinating to watch these denim trousers that had such humble beginnings, being handled in white gloves with the care of an archaeologist artefact. But that's exactly what they were. Cultural artefacts. From an original miners 1800's pair, found in 1943 in abandoned mine, clad with oil stains and the marks of a hard working man, to Steve Job's literal pair of 501's he wore on stage during the iconic launch of an Apple product which went on to become his uniform - the Levi's 501s don't feel dissimilar to a Forrest Gump narrative. They've been there throughout key moments in history on key people - because at some point or another, everyone had a pair of Levi's. Even Princess Diana. The Russian's associated them with freedom during the Soviet war in the '80s, where Levi's were smuggled into the country and traded on the black market - something recent film release Tetris paints an entertaining moment on screen. And it needs to be said that entertainment is where the 501 truly blossomed.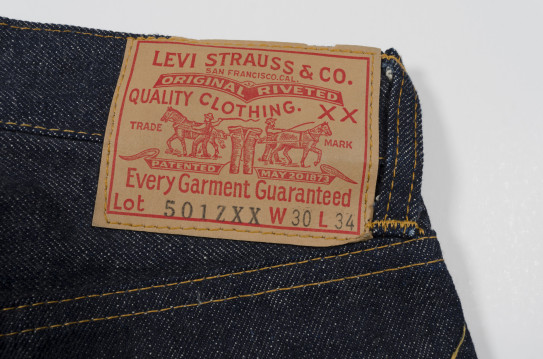 501 Back Patch, c. 1960s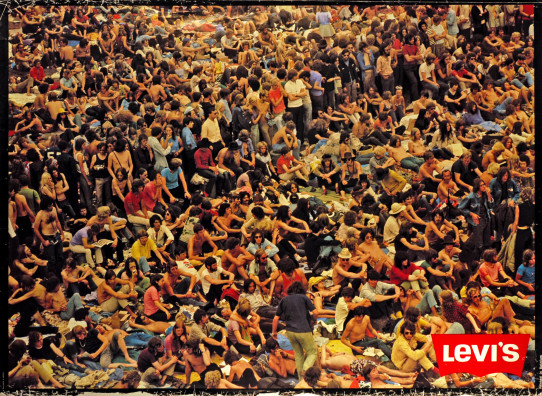 Holland Pop Festival Poster, c. June 1970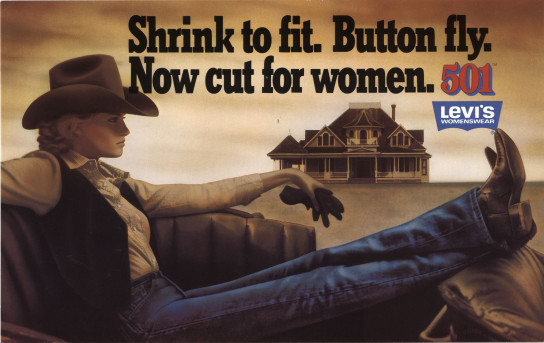 Levi's ad, c. 1970s
After taking its place as a working man's pant for so many years, being used for farming, lumberjacks, cowboys, miners and railroad workers, after WW1 the 501 took a fashionably commercial pivot and started to appear on screen, with the likes of Hollywood heavyweight John Wayne debuting a pair in 1939 film Stagecoach. How had the design changed by that time? Graduating from workwear into the mainstream, a revision of the style featured a slimmer cut leg and cinched waist turning the working wardrobe staple into every man and woman's staple. The adjusted style sang a sweet song for young rebels once Marlon Brando donned a pair in 1953 as biker gang leader, Johnny Strabler, in The Wild One. But it wasn't just rebels that wanted a piece of the counterculture cool 'drobe. Hippies wore them low-slung with beaded belts at Woodstock and as refashioned Levi's bikinis like the Love Melody customisations that took California by storm in the '70s. People even sat atop the Berlin Wall during the Peaceful Revolution rocking Levi's denim. Like I said, the Forrest Gump effect. But they're not just historically a fashion icon, they're pivotal in the now too.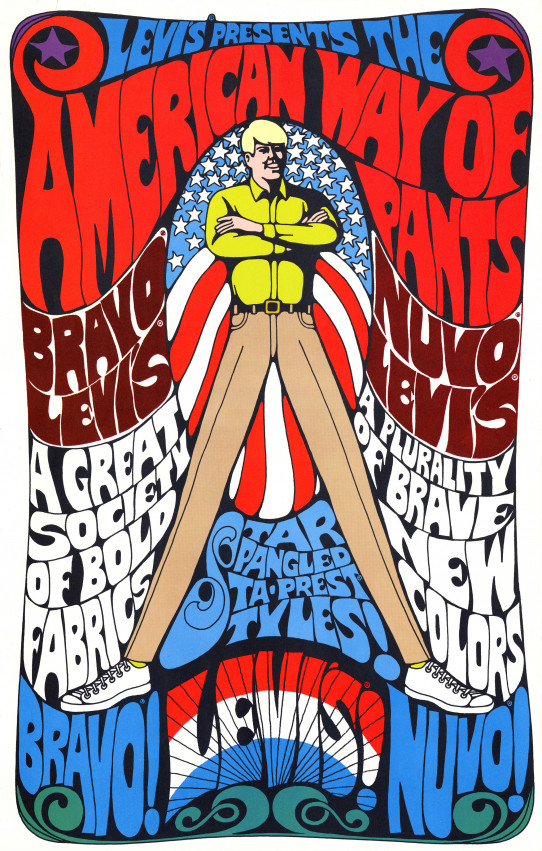 Levi's 'American Way of Pants,' c. 1970s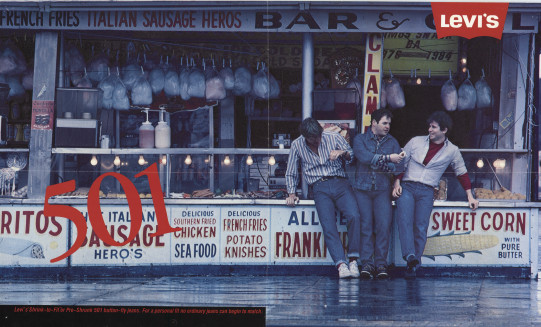 501 Blues Poster, c. 1980s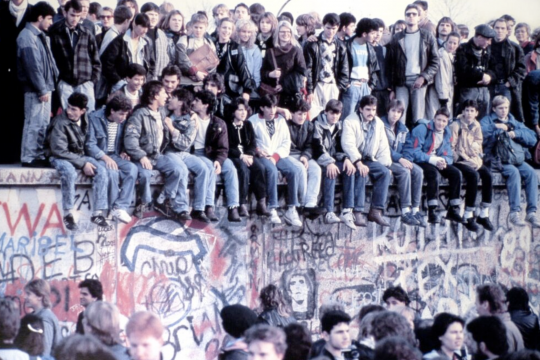 Blue Jeans and the Fall of the Berlin Wall, c. 1989
The 501's are a frequent flyer on stage with musicians, from Bruce Springsteen to Beyonce, and just a few months back, Puerto Rican rapper and pop culture's 'It Boy' Bad Bunny, during his Grammy's performance, which might I add came as a happy surprise to the Levi's team. "Everybody wants to work with him right? I was at home watching the Grammys and he came on. Do you think we knew? No! Apparently, he just decided backstage he was going to open the Grammys wearing Levi's," said Tracey. When I questioned how it worked with brand ambassadors, Paul and Tracey said there's less than a handful of ambassadors around the world actually under contract and that really, it's 99% authentic. "It happens so organically with celebrities that I think it's what makes Levi's so genuine and authentic." I asked the Levi's team, 'why do you think the 501 is loved by all'? But I had the answer in my mind before they even responded. Because Levi's is for all. From punks to conservatives, teenagers to retirees, the 501s don't discriminate. As the OG denim pants arrive at their monumental 150-year milestone, the legendary style continues to evolve their unrivalled success as a global icon, with this season's new 501 '54 for men and 501 '81 for women. After all, legends never die.
All imagery credit Levi Strauss & Co. Archives