This is one kiwi model to watch...
We caught up with fresh-faced model and one to watch Lucy Kenny..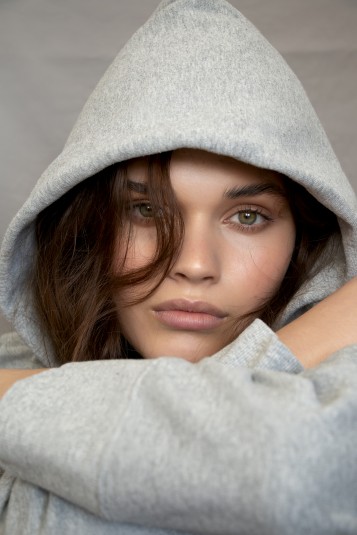 IMAGE: Lisa Matson
Tell us a little bit about yourself…
I was born in Auckland, New Zealand and then my family moved to beautiful Nelson when I was three years old. I'm really into acting, drama and modelling. I'm also just a 15-year-old girl who loves hanging out with her friends & family and making memories and enjoying life!
Where have you been living recently?
I live in Nelson, have lived here since I was three. Recently I've been travelling all over New Zealand for modelling work and lately most of my work has been based in Auckland with 62 Management.
How long have you been Modelling and how did you first get into it?
I've been modelling for just over a year now and I first got into modelling through a teens confidence course which taught me a lot about modelling and the fashion industry.
What do you love most about being in the modelling industry?
I love being surrounded by creative and passionate people who are actively pursuing what they love. I also enjoy being able to create the client's story through imagery and movement.
Have you walked runway yet? What was your first experience like?
Yes, I have walked runway before. My first runway experience was at the Ballantyne's Fashion Week, Emerging Designer Competition. I found it to be a nerve-wracking and exciting experience as I got to get a real taste of what the fashion industry was like. I'm hoping to walk for NZFW this year...
What's been your proudest moment as a model so far?
There's honestly so many moments that I'm proud of so it's hard to just pick one. However, I always find that my proudest moments are when I see the final product from photoshoots and I'm always proud of myself knowing that I helped to make that happen.

What brand would you most love to wear down the runway?
Well there's quite a lot like, Alexandra McQueen, Louis Vuitton, Versace, Victoria Secret, Miu Miu, Stella McCartney, Dior, Alexander Wang, Prada, Chanel and New Zealand brands such as Kate Sylvester, Zambesi, Maggie Marilyn and World Brand etc. I just love how all New Zealand designers have their own special individual twist on their brand.
Tell us something about yourself that would surprise people…
People may be surprised to find out that I'm a huge Disney fan. I'm absolutely obsessed with all the movies, the parks and their merchandise. It all just puts me in my happy place!
What's the secret.. how do you stay fit and healthy?
I find it quite easy to keep myself fit because I really enjoy running as it gives an opportunity to just zone out and calm down for a few minutes. I also keep myself healthy by making sure I'm well hydrated and by eating foods that will provide me with long lasting energy.
With an iconic history of supermodels across the globe, who do you look up to?
Not gonna lie... I'm quite a huge fan girl of the Hadid sisters and I definitely look up to them as inspiration because they're able to model with such grace and poise, yet they still remain true to who they truly are. I also love local supermodels Maia Cotton and Jordan Daniels. Great to see Kiwi models doing so well overseas.
Who would you love to work with?
I would love to work for Alexandra McQueen... I adore the brand and getting the opportunity to model for them one day would be a dream come true! This also applies to the likes of Victoria's Secret, Versace, Dior, Prada, Chanel and the list only goes on front there. And in terms of photographers - I would love to be shot by Nick Knight, Steven Chee, Oliver Hadlee Pearch and Sharna Osbourne.
What are your hopes and dreams for the next 5-10 years?
The biggest dream for me would to become a high fashion model and to get the chance to do what I love everyday and that is Modelling. I'd also like to get more involved in programmes that focus on helping teens with mental health. Mental health to me is incredibly important and I'd love it if I could possibly be part of a community that is helping other focus on and improve their own mental health.
The stunning Lucy is signed with 62 Management