Why you should spend Labour Weekend in Gisborne
Need a break from your hometown? Tairāwhiti Gisborne is the perfect driving distance from capital cities, while still making you feel worlds away from the big smoke.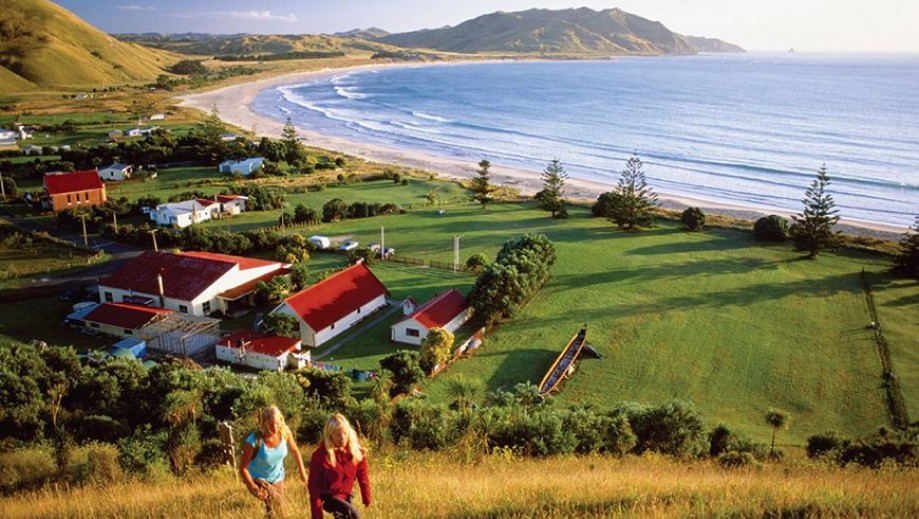 The attractions of New Zealand's capital cities are well-known - Auckland's proximity to white-sand beaches and beautiful harbour, Wellington's funky laneways with their great hidden restaurants and bars… But look a little further afield and you'll find a wealth of great touring options to round out your next mid-week escape or long weekend away.
Visit wineries, beaches and music festivals by day then make a beeline for some Tairāwhiti Gisborne, or 'Gizzy' small-town hospitality and award-winning restaurants… Feeling relaxed yet? While the East Coast has always been an irresistible package of beaches, vineyards, and views, there's a new crop of cultural happenings that are set to make their mark on the region this Labour Weekend...
DO
The Longline Classic

Setting a longline is a quintessential part of the kiwi summer and is best served with cold drinks, good music and great company The Longline Classic is a summer festival across multiple stages, that aims to bring people together from all over the country to metaphorically set the Longline in Gisborne. Uniting some of NZ's best live music (did someone say Scribe?) and electronic acts with plenty of food, drinks and friends, at a very unique outdoor location, it is set to be a veritable feast of beats, eats and good vibes. Held over the iconic Labour Weekend, marking the official unofficial start to summer and most importantly the end of a long winter. Round up your crew, pack in the car and hit the road. Let's kick into summer the right way.
When: Saturday 24 October 2020
Where: Gisborne Racecourse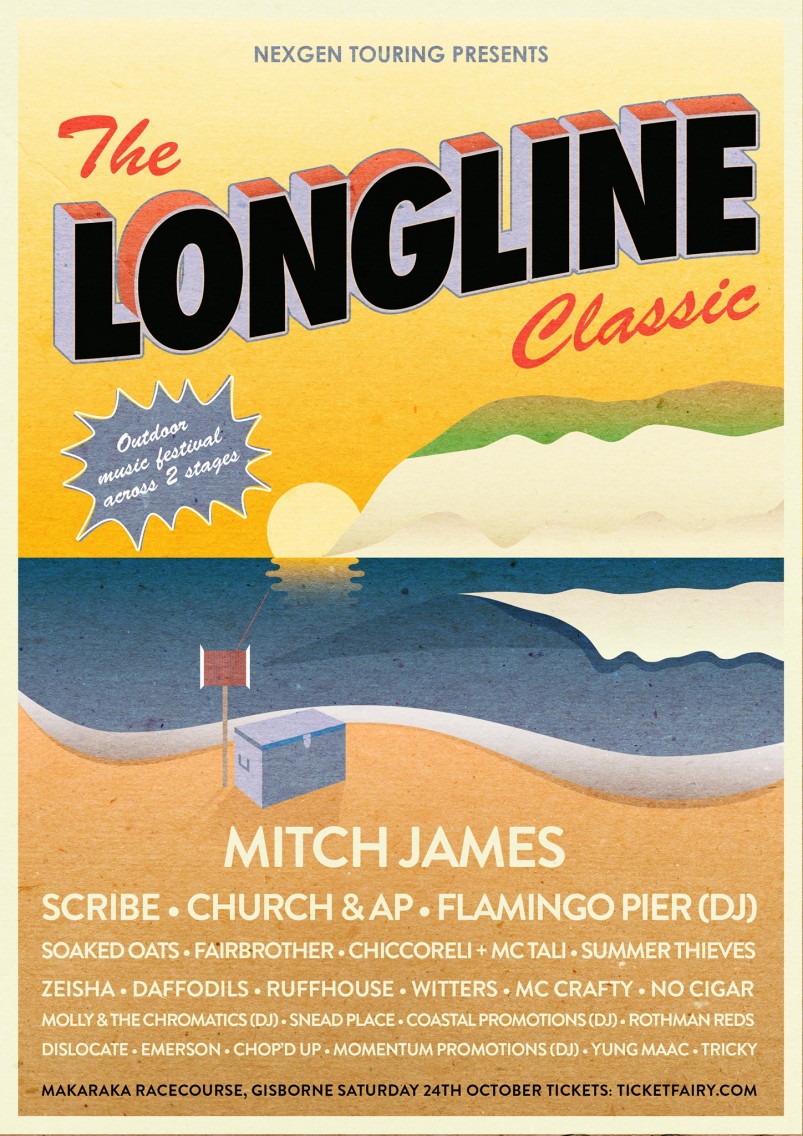 Vineyards
Long lunches your thing? From chardonnay, pinot gris to merlot, Tairāwhiti Gisborne is home to some of the finest wines in the world. There are over two dozen local Gisborne wines available for the casual wine enthusiast to the connoisseur. Find your favourite vineyard and enjoy some wining and dining in the most picture-perfect settings. Cheers!
The First Light Wine & Food Festival
The First Light Wine & Food Festival is Gisborne's pre-eminent wine event. Held on Sunday of Labour Weekend) the event brings wineries TW Wines, Matawhero Wines and Bridge Estate together for an amazing day of live music, great wines and superb food choices.
When: Sunday 25th October 2020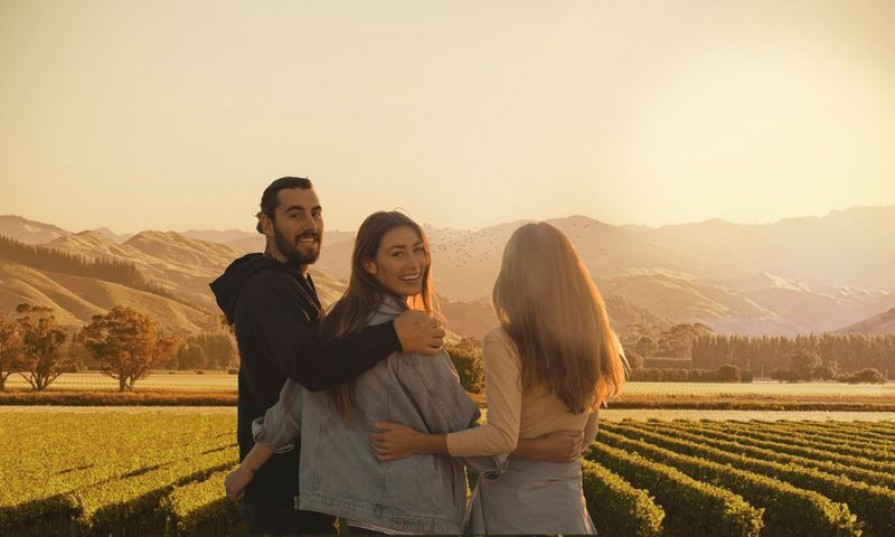 Dive Tatapouri
Famous for its interactive reef tour with wild stingrays, Dive Tatapouri is a must-do experience that will deliver plenty of unbelievable photo ops for your Instagram feed. Tours are dependent on the tides and you can choose either the Reef Ecology Tour or for a more immersive experience, book into Snorkel and Swim with Stingrays during the summer season. A nice one to tick off the bucket list.
EAT
While there's plenty of relaxing to be done in Gisborne, in the sun and on the sand, this is no sleepy seaside town. Full of bursting cafes, bars and restaurants, from heavy-hitters such as Flagship Eatery to casual spots that always deliver on quality - Gisborne is living proof that beachside getaways don't need to mean a pause from your dining rituals Here are few of the best…
Bagels for brunch at Frank and Albie's
Coffee, baking, bagels and smoothies – what more could you ask for? Frank and Albie's is a popular hotspot in the of heart of the CBD that serves up bagels that you could enjoy for brunch, lunch or dinner. Popular menu items include the peppered beef bagel, hot smoked salmon bagel, and the ever so enticing pea and avocado bagel. Only open on weekdays, treat yourself to a midweek brunch and live a little.
Good food and good vibes at Flagship Eatery
Serving up all-day breakfast means you don't have to put the alarm on to grab some delicious brunch at Flagship Eatery. Upon entering its trademark bright red doors, you'll be welcomed to a beautiful space to easily lose track of time. Nothing else matters but the sensational eggs benedict, the cajun lemon tofu scramble or nibbling on house-made crumpets.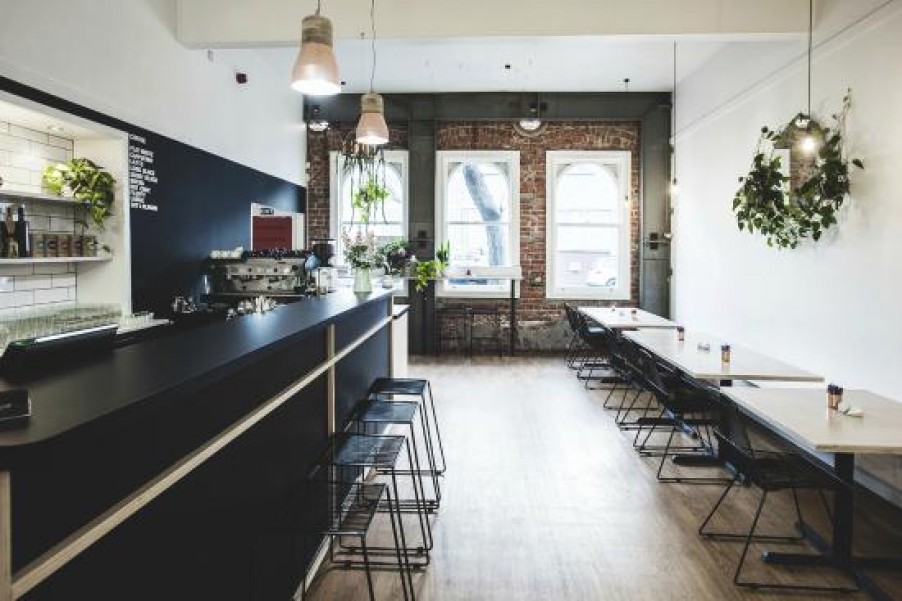 Destination brunch at the East Cape Manuka Café
Situated at the easternmost corner of the East Cape in beautiful Te Araroa, you'll have to make a bit of an effort to enjoy a brunch at the Manuka Café. You'll find locally grown manuka tea to enjoy with your heavenly manuka muffins. Classic brunch favourites including pancakes, poached eggs, and smoothies are also available and served with friendly East Coast hospitality. A spot of shopping after brunch at the gift shop with a range of manuka oils, soaps, and skincare always goes down like a treat.
Great places to grab a cuppa…
Far East Coffee
Tucked away in what looks like an industrial lot, Far East Coffee is a hidden gem that locals flock to for exceptional coffee lovingly produced in small batches. Locally roasted, fair trade and organic, this family-run business boasts 20 years' experience in the coffee industry and is a funky little spot to eat, drink and be merry. Located around the corner from Gisborne i-SITE Visitor Information Centre on Awapuni Road behind John Deer Tractors, Far East Coffee is open Tuesday-Friday from 8 am – 3pm.
Aunty's Café Tolaga Bay (previously known as Uawa Café)
Aunty's Café in Tolaga Bay is the perfect pitstop for your State Highway 35 coastal roadie. Great coffee and a great feed – with fresh baking, salads, sammies, fish n chips, and their famous burgers all on the menu. Adjacent to the historic Tolaga Bay Inn, Aunty's Café is the perfect spot to refuel after a stroll down the iconic Tolaga Bay Wharf or nearby Cook's Cove Walkway.
Gisborne Farmers Market
When the weekend rolls along, there's no better place to be than the Gisborne Farmers Market. Far East Coffee has a coffee cart on-site for your coffee fix including espresso, filter drinks or coffee blends you can brew at home. By the time you've strolled around the awesome stalls of fresh baking, produce and locally grown goods at Gisborne Farmer's Market, you will likely have been tempted to much more than just your morning cuppa. At least you've been warned.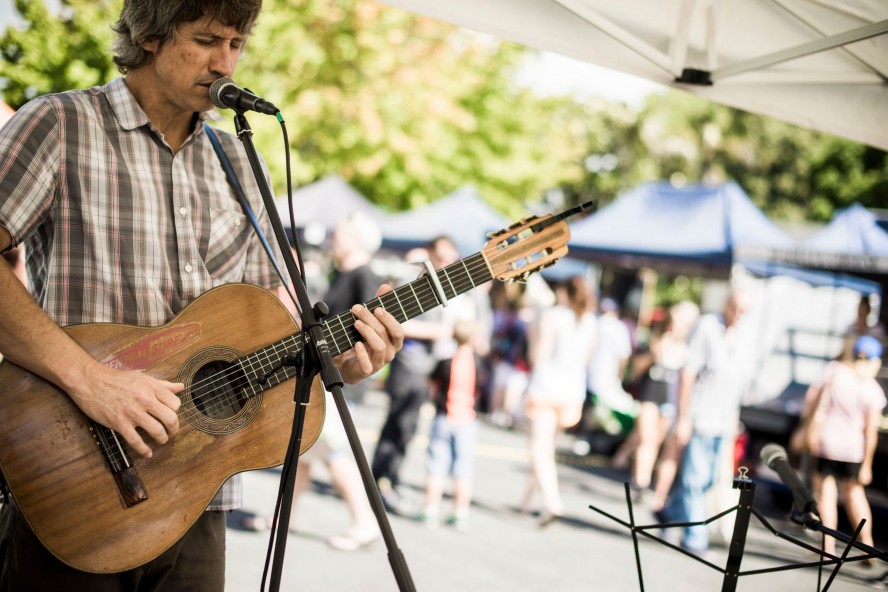 SEE
Mahia Peninsula
Spanning over 20km's of New Zealand's east coast, the Mahia Peninsula is home to some of the country's most pristine beaches. My cousins have a beach house at one of them, Mahunga, so the coastline conjures childhood memories for me - it's surfboard wax, and sunburnt noses, all rolled up in it's striking rugged beauty. You'll be rewarded for your efforts, this is a far cry from Omaha, the beaches are empty, the people friendly and unpretentious, and the surfs up. The word 'Mahia' means indistinct sound, but everything about it screams 'Kiwi Summer' very distinctly, indeed.
Te Pourewa (Carved Beacon of Light) in Tolaga Bay
Probably the newest photo hotspot in Tairāwhiti, Te Pourewa (Beacon of Light) is so much more than a beautiful carving. Big, bold and brilliant to see lit up at night, the 12-metre high sculpture on Hoturangi Maunga in Uawa/Tolaga Bay was resurrected in October 2019 to commemorate Tahitian ancestor, navigator and priest Tupaia and his arrival at Opoutama (Cook's Cove) on the Endeavour in 1769. This is a stunning traditional Māori art form that's also an important conversation piece on the dual heritage and shared future of Aotearoa New Zealand.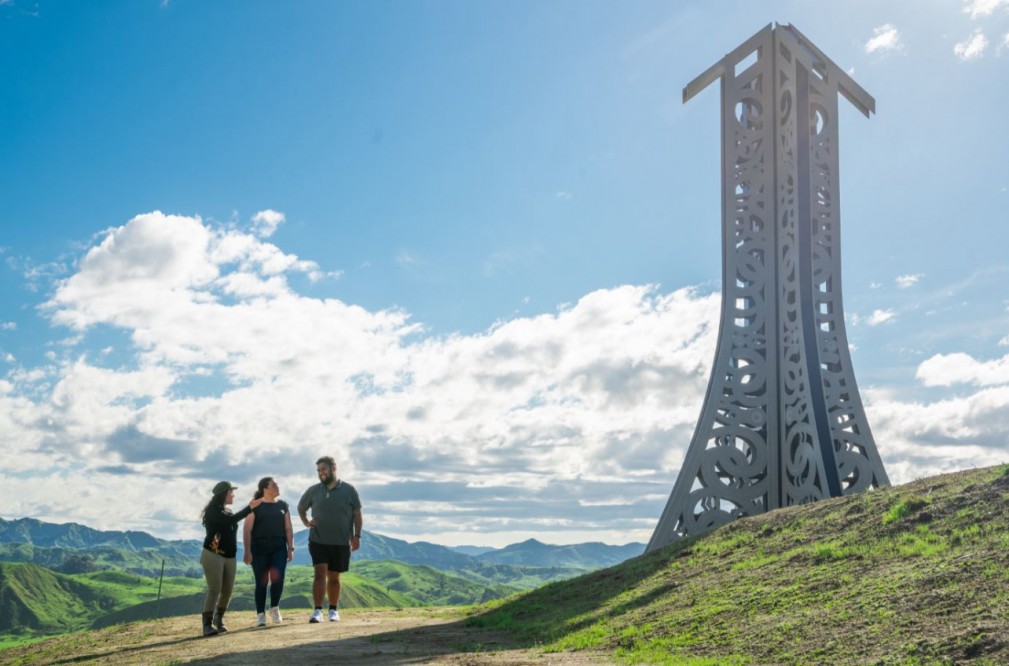 Sea Walls Tairāwhiti
When global goes local – the Sea Walls Tairāwhiti Artists for Oceans project takes ocean conservation into the streets of Gisborne. Launched in October 2018 in collaboration with Pangea Seed Foundation, you can find these stunning murals hidden gems throughout the city. Colourful, creative and more Instagram worthy than you can imagine.
East Cape Lighthouse
What feels like the end of the earth will be worth the drive. Perched above Otiki Hill in Te Araroa, the iconic East Cape Lighthouse sits on the easternmost point of New Zealand and is absolute magic at sunrise. From Te Araroa, the 22km coastal drive to this historic lighthouse is not meant to be rushed so make sure you enjoy the entire journey – including the 700 steps to get to the lighthouse. Surrounded by pristine coastline and out of this world views, you may even consider immortalising this magic moment by printing out a photo or two to frame.
STAY
Waikanae Top 10 Holiday Park
Sand, surf and rentals to enjoy both at your fingertips, the Waikanae Top 10 Holiday Park is a beach-lovers dream come true. This beachfront holiday park is located at the heart of Gisborne, and features a refurbished outdoor pool, shared lounge and games room as well as offering a range of accommodation options.
Tatapouri Bay
From glamping tents to charming cabins and powered sites for RVs and campervans, Tatapouri Bay is absolute beachfront bliss located off of the Pacific Coast Highway. Just 10 minutes from Gisborne and you'll feel like you're a world away – with fantastic wildlife sightings of penguins, seals, dolphins and a variety of sea birds. Sun-kissed, beach hair and sand between your toes, you can simply savour the good life at Tatapouri Bay.
Accommodation Ahi Kaa
Nestled in a peaceful beach location a stones throw away from the beautiful Waikanae and Midway beaches, the villas at Accommodation Ahi Kaa reflect the beauty of a bygone era with stunning high wooden ceilings and native timber characteristics that offer something truly special.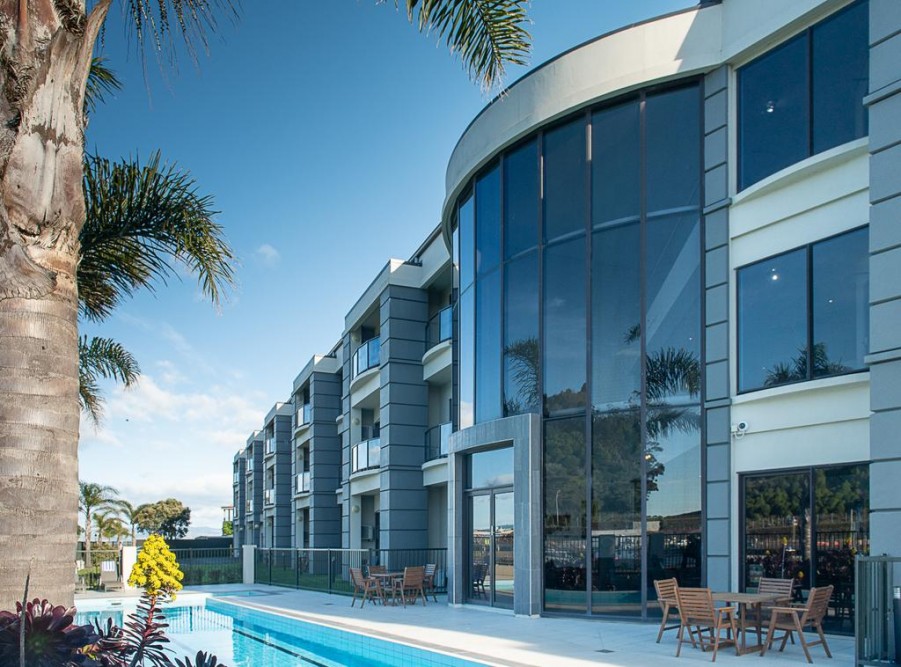 Portside Hotel
Located right on the water's edge, Portside Hotel offers guests stunning views of Gisborne's Inner Harbour. With understated elegance and personalised service in an intimate, friendly and home-away-from-home atmosphere, Portside Hotel's urban, decidedly residential feel has created a sensation in the first city to see the sun. The perfect place to base yourself as you explore beautiful Tairāwhiti.