remix talks to semi-permanent speaker annie sperling
Words by Steven Fernandez.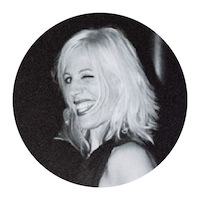 For our third week of speaker profiles in anticipation of the Semi-Permanent creative conference at the end of May, Remix spoke to American art director Annie Sperling. Our online editor Steven Fernandez caught up with the multi-disciplined and super-talented Annie about her life in Los Angeles producing photography, paintings and murals, as well as designing sets for commercials, music videos and feature films. As the primary designer for famed fashion photographer David LaChapelle since 2005, Annie had no shortage of colorful tales…
Can you tell us a bit about your life as a production designer and artist?
I have long been a lover of photography and always considered myself an artist. I came to be a production designer in the most indirect route. I was a scenic artist; a substitute teacher, a mural painter, an interior designer, a photographer- but all these careers led me to production design. This job I love and feel is a mix of all my previous experience.
Why do you think you were chosen to speak at Semi-Permanent this year?
Good question! I am not totally sure - there are so many super accomplished people involved. I am very flattered to be among them! I think my work with David LaChapelle is probably my appeal - the work I have done with him has landed me many other jobs and I believe again this is the case!
Have you ever been to Australia or New Zealand before? If so, what are you looking forward to coming back to? If not, what are you expecting?
I met the guys at Semi-Permanent through a job I was doing in Sydney Harbor. We were shooting across from the insanely gorgeous architecture of the Opera House. I loved beautiful Australia. I have never been to New Zealand, so I am very thrilled.
What advice can you give to young artists or people wanting to develop a career as a production designer?
For myself, it was a real benefit to my job to be aware of the process - what exactly goes into building a set, how much materials cost, what materials are used to build sets and fabricate props, to learn art history and how it relates to furniture and architecture, as well as studying art and being sensitive to the nature of design. To understand subtleties in a set or design that will make it eye-catching and special.
What is your greatest achievement and/or proudest piece of work?
As a photographer, the last photos I took are my favorite: some beautiful models immersed in inches of large squares of gold glitter. As a designer, I love the sets I did for a Naturesway commercial recently: it was one of the most challenging builds I have ever done. I love the artwork series "Flowers " I did with David LaChapelle and there is one painting I did of two burlesque maids that I like a lot!
You've been David LaChapelle's primary designer since 2005 and been a huge part of designing the phenomenal sets that make his photography so vibrant and powerful. Can you tell us a bit how that came about and what it's been like working with him?
I had an opportunity to design a really complicated shoot David was doing for Elton John's Las Vegas stage show. In the show the video wraps around above him playing on giant screens. It was a lot of pressure, as it was ambitious and he is meticulous in all aspects of a shoot. The hair, make-up, sets, and lighting - if any part is not exactly how he likes it, he will not shoot. The sets I made wowed David and we've worked together ever since. We have a similar love of color and set dressing and weird modern junk. He is always the most challenging jobs I get and the most visually satisfying.
Were there any standout celebrities and/or subjects in David LaChapelle's shoots that stood out to you?
When we shot
The Rape of Africa
- one of David's art pieces, Naomi Campbell was the model portraying Africa. At the precise moment all elements were composed, she elongated her lovely neck and let out a perfect tear. It was exquisite.
Where would you like to go next? What else is on the horizon for you?
I have numerous places in mind for travel - I just returned from Venice, which was a longtime dream. It was truly magical, as I had imagined. I would like to work in Paris and Beijing - two places I adore. And I am hoping one day to do a great feature film with a new and superb director that would provide the opportunity to make incredible sets and designs.
Outside of your job, what do you like to spend time doing?
I love to travel - that is my absolute favorite thing to do. Sometimes I think the only reason I work is so I can travel again. I love to snorkel and dive. And I love to hear good, loud rock n' roll music and dance, preferably with good friends and fancy tequila!
Is there anybody else at Semi Permanent you are excited to listen to and/or meet? Why?
To be honest, I am hoping to catch as many speakers as I can. The people they find are so diverse and unexpected. I love to hear all the takes on being an artist. At the show I spoke at in Australia, I became friends with a woman who designs fonts; an amazing musician/ artist, a fishing photographer and a graphic artist. Each had such a unique style and great talent. I found it truly inspiring. It made me happy and proud to be an artist.
If you're interested in hearing more from Annie Sperling and a huge host of other speakers at this year's Semi-Permanent creative conference, then head over to
www.the-edge.co.nz/semi-permanent
to buy tickets. As if there aren't already enough reasons for you to go along, we have a special promo code so you get 15% off the price of tickets. Enter the promo code "FRIEND" when you buy your tickets online to receive the 15% discount!