remix chats with jessie ware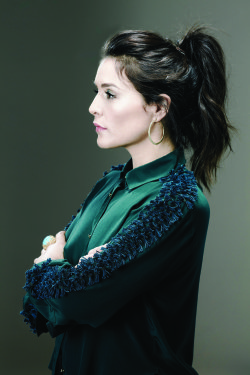 By Sophie Donovan St Jerome's Laneway Festival brought an exciting and eclectic musical line up to Silo Park on Monday. You can't beat Auckland on a good day, and checking out some amazing bands at Silo was the perfect way to appreciate our city on Auckland Anniversary day. Remix were lucky enough to catch up with effervescent British songstress Jessie Ware, who wowed the packed-out Cactus Cat stage with her smooth, sexy vocals and dance moves.
So it's your first time in New Zealand!
It is, I never came here on my gap year or anything but it's really beautiful, I'm gutted I'm not here for longer.
Are you excited to play in New Zealand to a new crowd?
Yes it's completely new and different; I've never been here before. We haven't done a festival since the summer, well our summer, so I feel a bit scared to be honest. It's going to be different to playing headline shows where people are specifically there to see you; here you have to win people over.
So you've been touring around the States and have recently been on Jimmy Fallon with The Roots, tell me about it?
That was amazing, I'll never forget it. To play with The Roots and be on Jimmy Fallon, it's is a huge deal I mean it's national TV!
I hear you're a big fan of hiphop, tell me how this influences your music?
I try and incorporate hiphop as much as I can feasibly get away with, seeing as I'm a middle class, white, Jewish girl. But it was really nice working with Dave (Okumu) my producer because he's mad about J Dilla, so there were a lot of Dilla influences in the album. I used to be crazy about The Fugees and I always really hope that I get a Neptunes production. That's why I've got Dave rapping on the album… I'm just trying to get away with it.
What were some of the things you learnt on your tour of the States?
That they've got really amazing crowds and that I get flowers a lot. I was getting roses; it was fucking great. I was really scared about starting touring to be honest, I was scared about having to be away from home. But it was actually a really great way to start the year and it's been really wonderful to come over here now, I feel really up for it. But I was afraid I'd be such a scaredy-cat and missing home.
So you've done a fair amount of collaborations (Sampha, SBTRKT, Julio Bashmore to name a few), what would be a dream collaboration to do in the future?
I'd love to work with Frank Ocean and Kanye West… as you can see I'm thinking big! (laughs) But to be honest I just want to work with the other people I've worked with on the album already, like Julio Bashmore, I'd like to work with him again and Dave again. I feel like if it ain't broke don't fix it. Hopefully I can do some more dance collaborations, like with SBTRKT again.
What do you think collaboration teaches you as an artist? How do you feel like you've grown?
I think its helped shape my identity and I have combined so many genres and I think that's because of all of these wonderful people. I think it opens up your taste as well, it means that I've had a lot of wonderful experiences, whether it being doing PA's in the clubs, singing at Sonar, or playing with my band. I feel like I'm being quite greedy and getting the best of everything in a performance sense. It's fun.
You've gone from being a backing singer to creating your own album, how did this progression happen.
A friend put me forward to do a session with SBTRKT saying 'you can do it, just do it' and I was like 'Nah I can't man, I'm too scared.' But he helped me and then the song came out which I didn't think would happen, and then I had a song released with my name and then one thing lead to another.
Did you find it a bit scary in the beginning?
Yeah definitely, I felt very apologetic and like I had to apologise for being on stage because nobody would know any of my songs.
Tell me some of your major influences? I hear you're a fan of older music, Whitney Houston and the like?
Definitely, she was an amazing singer and she sung about love in the best way. I love Whitney or Barbara Streisand, Sade and Annie Lennox, Feist and Chaka Khan as well.
How do you feel like they've helped shape your music?
Chaka and Sade they get groove so right. Big singers like Barbara and Whitney put a song across amazingly. Feist is an amazing songwriter and Annie Lennox kind of smacks it on all British fronts, in style and substance.
What are you trying to say with your album Devotion?
I'm not trying to say anything really, I'm just trying to chat about love a bit. I'm not trying to say anything too poetic, it's really just me exploring how to write a song and work out what I wanted to say.
How do you want people to feel when they listen to your music? What do you hope to see from your crowd?
I hope they feel romantic, I hope to see some people cuddling and kissing.
You were heading down the journalism route before you got into singing?
I would have been a shit journalist, I couldn't have been a music journalist because I would have been too jealous and I would have written mean things about people! (laughs). I found it really competitive and I know that sounds weird coming from me as a singer, but I did. I got the qualifications, and got a job but it wasn't for me. You have to have the hunger and I wasn't ready for that.
So what are some of the things you think about before you go on stage?
Don't fall over, make sure that your lipstick doesn't smudge on the microphone… It's always pretty vain things. Don't sing out of tune; don't say the wrong city or country… things like that.