A catch up with Bryan Anderson aka N eo
Auckland-based musician and entrepreneur Bryan Anderson (a.k.a N eo) is taking a whirlwind 12 months in his stride after being discovered by P-Money and signed to Sony this year.
Tell us about your latest single, Ghost Girl…
Ghost Girl was completed in March this year, it was produced by a kid called Elder from Wellington and I originally put the track up by myself. Then P Money got wind of it, contacted me on Instagram, email and Facebook at the same time which gave me a bit of a fright because he's quite well respected in the NZ industry. He met up with me the same day, took me through Sony and we worked through all of the finer details. We took the track down and worked with Sony and got it sent off to Alex Tumay who's an engineer to Young Thug.

Where do you find your inspiration?
Ghost Girl is kind of a depiction of modern romance where all that sort of stuff is going, past experiences of mine - it's about a one-sided relationship, having a ghost in the relationship. It's a bit of a dark track without having a super depressing vibe to it, it was the first time I've written a track, played it back and went 'oh this is the one'. I've only been releasing music as 'N eo' for about a year now, my first release came out a year ago this month.
Did you always want to be a musician?
Yeah I did, I remember doing the talent show in Year 6 and from there I played in a band in Intermediate. I was always into rock music - Nirvana and Blink 182, stuff like that then when I got into skateboarding I discovered hip-hop and got into that. I started writing music when I was about 16 and worked at it, I did it for me as I really enjoyed writing and making music so I developed the skill set. Then when it was time to get serious, I branded into N eo and now I'm sitting here with you. So there has always been an underlining feeling / dream - music has always been front line to me. Being on stage felt right, there's always been a push to do music. It's crazy to be sitting here on the other side of it now and it's crazy to jump in the car and hear yourself on the radio, it's all a bit surreal to me.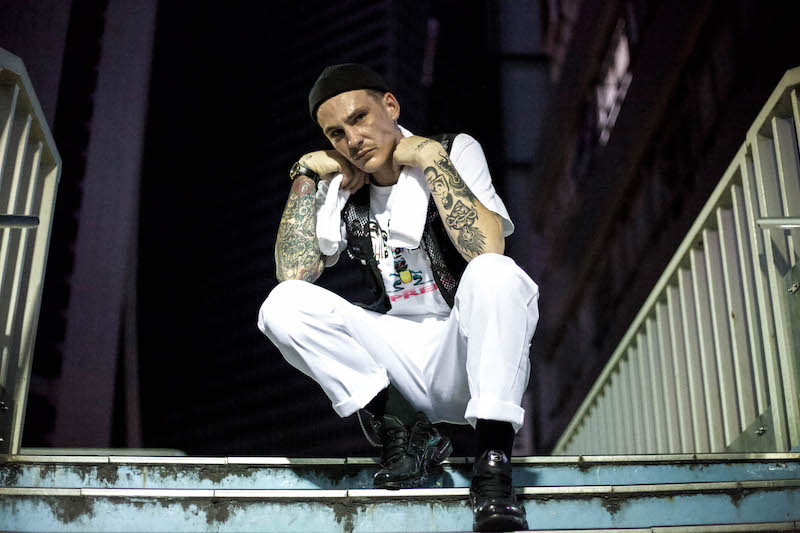 What's been your favourite performance so far?
I opened for Lil Xan three months ago now and R&V last year - they were two pretty special performances for me. I always wanted to play at R&V, I went the 3 years before as a punter and being on what they call the big rig was the first tipping point for me that said 'this is starting to happen'.
What has been a highlight of your career so far?
I think being approached by P Money and coming into the Sony Team - you always dream of a major label placement and the fact that someone like him who I've looked up to for so long and Sony had all these people who were there to help me, guide me through and offer advice. As it was just one song at the time, having that many people care was really motivational. It was pretty special to me for personal reasons as it feels like you're doing the right thing. I also opened up a cafe with Chloe Swarbrick and another friend Alex, and I've been in the coffee world for a while but that was pretty special opening that up.
How do you describe your personal style and who is your favourite designers?
It's so vast these days, in NZ the Sligo boys are always at the tipping point with their designs and still handmade here, they've always been one step ahead. I still love things like Supreme, I don't have one go-to thing. This was a thrift store tee, it's more getting my image right - it could be something from The Warehouse or something that cost $400, I just have to feel good in it - that's what's cool about where fashion is at. It's more about the image - I kind of go for more what feels good and looks good rather than chucking on a label and brand bashing so-to-speak.
What do you love about social media?
The fact that with the internet - you can be in NZ and you can talk to people in Brazil, it opens doors. If you stay away from the negative thing and don't float too much around the comments section of YouTube [laughs]. Especially with things like Twitter, it opens you up to a different realm than what you can do nationally. If I get DM's or comments I try to reply to them. The fact it opens you up to a new world and new people, like with Brockhampton how they bought their first fan up on stage, when you get your first few followers from overseas on social media, it's pretty special that you can collaborate with people online, that's what I love about social media. It's literally at your fingertips, you can do anything on your phone.
What's your favourite song to perform?
Ghost Girl and a song called Runaway from the EP I dropped last year - it was the first time I got out of my comfort zone and sung a bit more, got more melody in my voice so those two songs are personal favourites of mine. What I was trying to get across, I got across.

What are your future plans?
I've got Northern Bass, I'm really excited for that, it's such a cool place to be at New Years and hopefully hit R&V as well. [I'm in] talks about a South Island tour next year - I've never been there before so will be cool to get into uncharted territory. I'm looking forward to playing the new music and get back to playing shows. I'm working up to a EP, produced by the same guy who did Ghost Girl and there are other features out there that I can't talk about yet.