Beyonce goes vegan for Coachella
Anyone that has had a quick peek at this year's Coachella lineup will be well aware that the Queen Bee herself is a headlining act for this year's desert-bound festivities.
The star revealed yesterday her plans to go vegan in preparation for the event in the caption of her latest Instagram posts which consisted of an extravagant looking serving of avocado toast.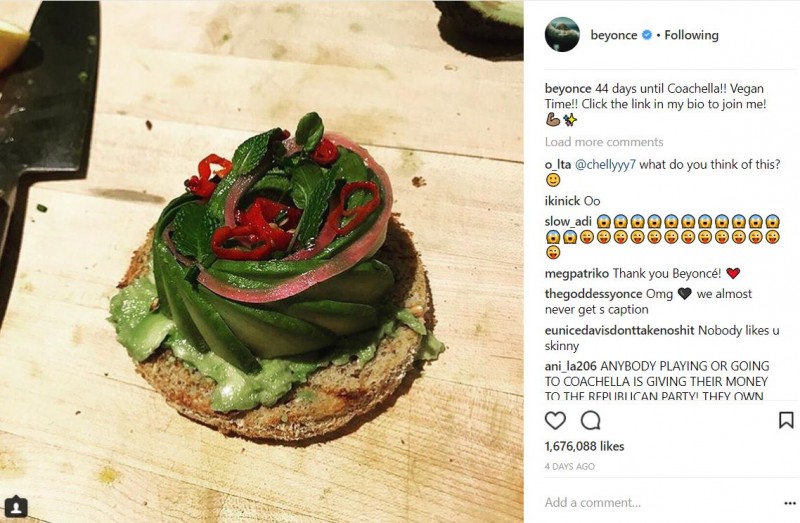 Beyonce and her husband, Jay-Z, had previously partaken in a similar, short term, vegan food plan that was designed to last 22 days back in 2013.
Later, in 2015, the music moguls teamed up with Marco Borges to create a website providing members with a tailored diet plan and ongoing support from coaches.
The website, 22 Days Nutrition, is linked in Beyonce's Instagram caption as well as her bio, giving her new venture a big publicity boost.
By switching to a more sustainable, plant-based diet, Knowles joins the ranks of Ariana Grande, Miley Cyrus, Liam Hemsworth, Morissey and Sia who are all strong advocates for a vegan lifestyle.
Vegan or not, we're excited to hear that Beyonce is finally going to hit the stage at Coachella this year after being unable to perform in 2017 due to her pregnancy.
Although her set list hasn't been released yet, it's safe to assume that her set isn't one you're going to want to miss.