Watch; three festival hairstyles you can create at home with Cloud Nine
It's that time of year again, when the music festival FOMO gets so out of hand that we find ourselves wanting to update our hairstyles immediately. Well luckily for you, in conjunction with Cloud Nine and Lauren Gunn, we've created three festival looks you can easily create from the comfort of your own home this silly season…

From neon pigtails to floral masterpieces, it's time to go forth and channel your inner festival goddess. Here's all the hairstyle inspo you would ever need this summer…
Look 1 - High Pigtails
What you'll need: Evo Icon Welder, Cloud Nine Original Iron, sharp pair of scissors
Prep hair by spraying with Evo Icon Welder heat protection spray

Clip hair into a perfect centre part

Using the Cloud Nine Origina

l Iron on 195 degrees

, make hair dead straight

Tie hair up into two high, tight pigtails using elastic ties

Add coloured hair extensions over top of each pigtail (option: use double-sided tape to make this really easy)

Run the Cloud Nine Original Iron

over the hair extensions

Cut the ends of the hair extensions to your preferred length using a sharp pair of scissors or some mini clippers.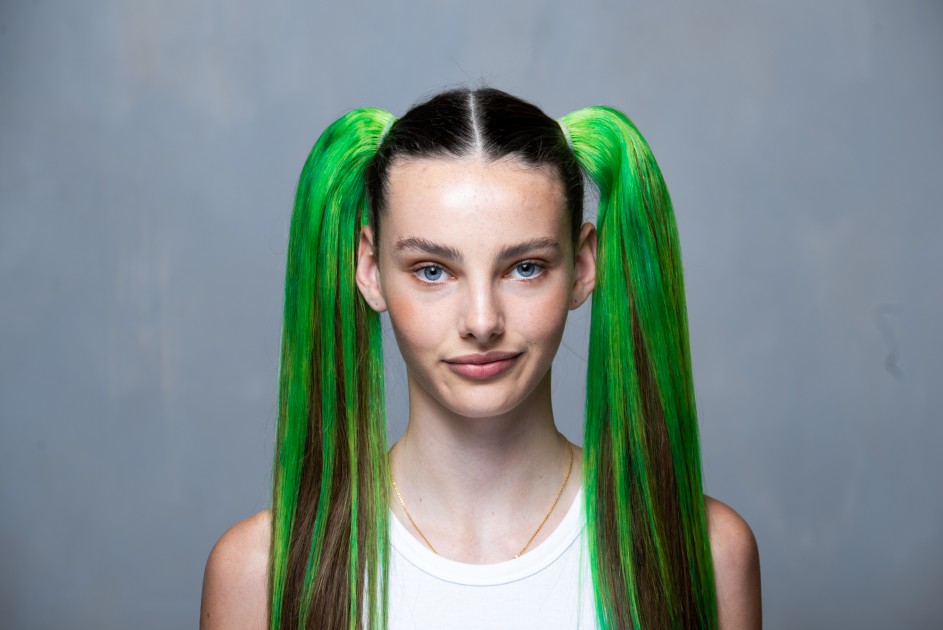 Look 2 - Wildflower Waves
What you'll need: Cloud Nine Touch Iron, Cloud Nine Air Shot Dryer, Cloud Nine Wide-Toothed Luxury Texture Comb, Evo Icon Welder, Evo Mister Fantastic, Evo Miss Malleable, Evo Shebang-A-Bang, Evo Love Touch, wild flowers
Spritz Evo Icon Welder Heat Protectant Spray through hair

Spray Evo Mister Fantastic Blowout Spray thoroughly through hair

Split hair into four vertical sections from a centre part with two sections at the back and one section in front of each ear.

Roughly dutch braid each section and secure each braid with a hair tie

Spray each braid with Evo Miss Malleable Flexible Hairspray to create extra hold

Using the Cloud Nine Airshot Dryer, heat the base of each braid

Activate the lower temperature setting

of 165 degrees on your Cloud Nine Touch Iron

by tapping the irons together three times, then run down each braid slowly until they are pressed and hot.

Leave braids to cool, lightly curl the ends using the Cloud Nine Touch Iron then take out the braids and comb through with a Cloud Nine Luxury Texture comb to separate the curl.

Place wild flowers throughout hair, spraying Evo Shebang-A-Bang as you go to hold flowers in place

Once all flowers are placed, spray hair heavily with Evo Shebang-A-Bang for texture and hold. This will help to keep your blooms in place.

Lightly spray hair ends with Evo Love Touch to add shine.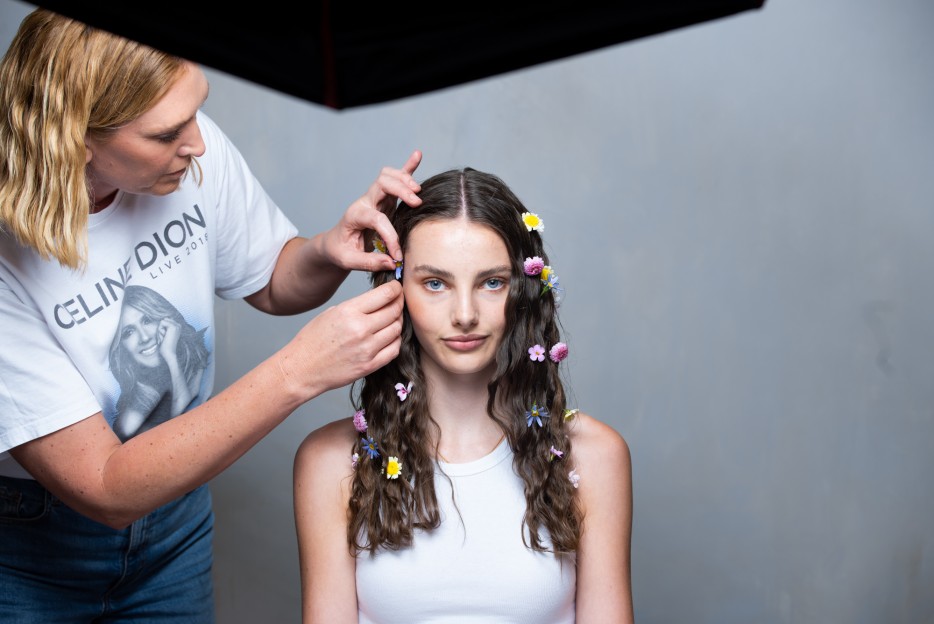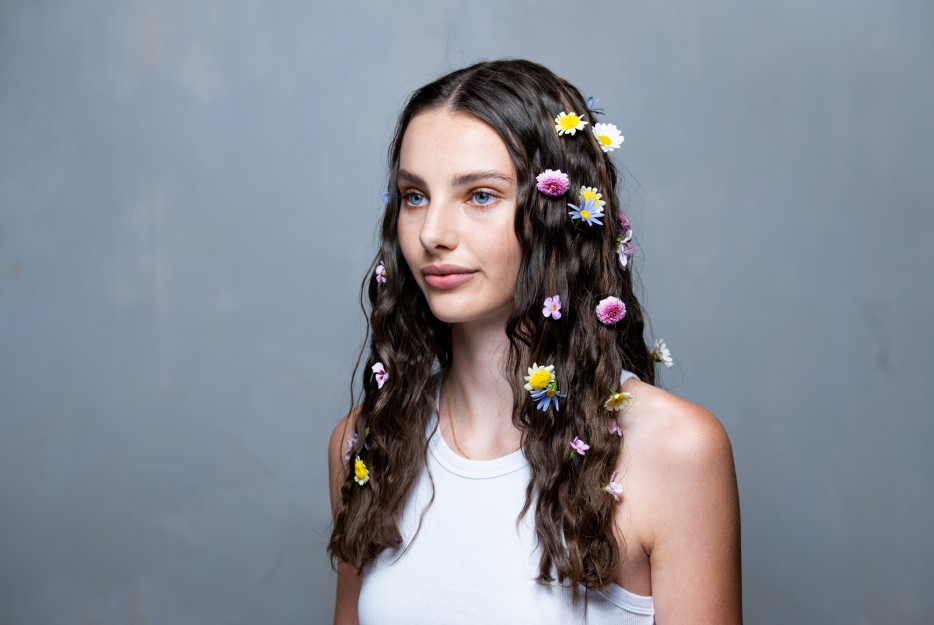 Look 3 - Half-up Braided Waves
What you'll need: Cloud Nine Wide Iron, Cloud Nine Luxury Texture comb, optional: hair extension
Prep the hair with Evo Icon Welder and Mister Fantastic Blow-out Spray.

Take a top section of hair from temple to temple and

micro-braid it tightly into three braids, pulling them back to the crown and securing with an elastic to create a half ponytail.

With all hair left out of the ponytail, take one-inch sections and create wide waves using the Cloud Nine Wide Iron on a diagonal slant.

If desired, a hair extension can be added to the ponytail, giving extra volume.

Repeat step three with the half ponytail

and tie a colourful ribbon around the base

. Add some light backcombing to finish it off using a

Cloud Nine Luxury Texture comb.
Shake out the rest of the waves with your fingertips and set the texture with Evo Miss Malleable Flexible Hold Spray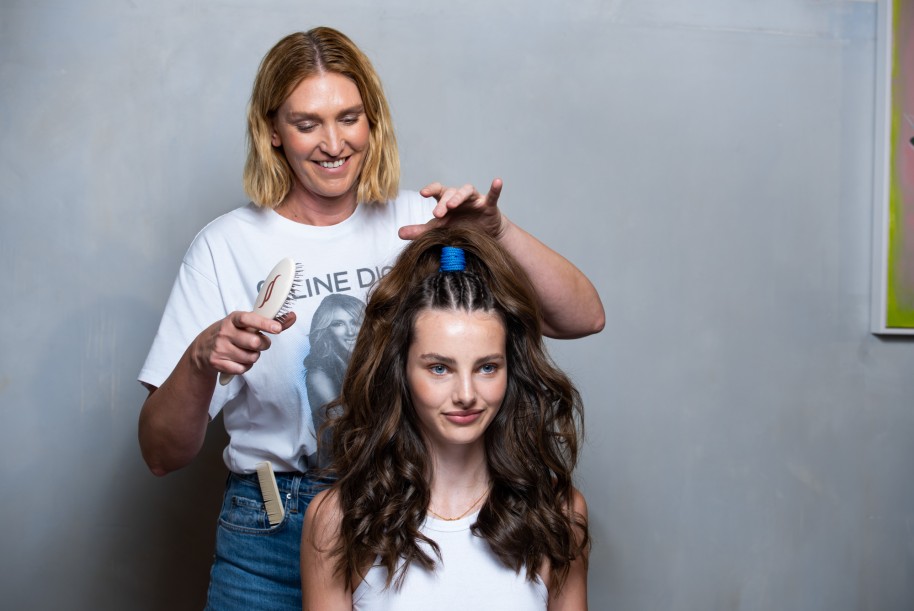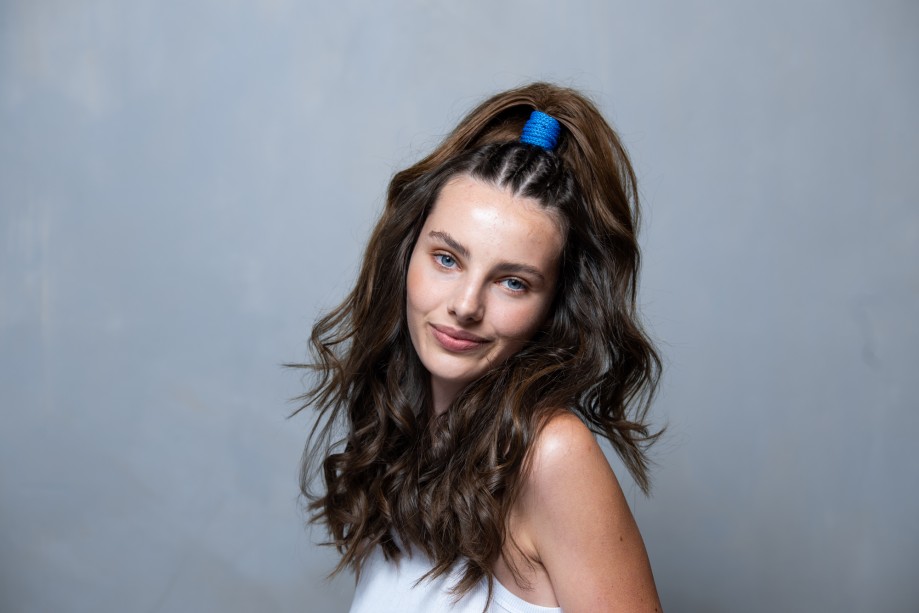 Model: Sienna from Unique Model Management
Hairstylist: Lauren from colleen
Video and Photography: Mark Leedom
@evohair
@cloudnineoz
@lauren__gunn
@colleen_colleen (salon)
@uniquemodelmanagement