Party Perfect Ponytails: Four Hair Essentials for the Social Season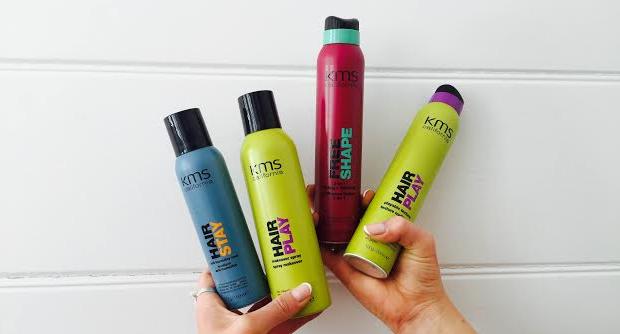 Summer is officially just around the corner and with it comes the social season. Beach parties, races parties, Christmas parties - you name it, it's coming! When there are so many events to go to, you need to make sure your hair is looking and staying perfect, no matter what the occasion. So to save you the stress, we've picked out our four favourite hair essentials that'll help to keep you looking fabulous at any and every event this summer party season...
KMS HAIRPLAY makeover spray
Dry shampoo is a necessity all year round but it's particularly handy in the summer. After those long nights partying there's not always enough time in the morning to wash our hair for the next day. Dry shampoo can be a lifesaver and KMS Makeover Spray is one of the best. Not only does it absorb all the oils and excess product from the night before, it'll also add salon-like volume to your hair and leave it smelling divine too. Spray it through your roots in the morning and then sweep your hair up into a gorgeous high pony for the perfect polished look.
KMS HAIRPLAY playable texture
It's getting to the point where we're needing at least one hundred products just to make ourselves look party ready so whenever we come across a product that does more than one job we jump at the opportunity. KMS Playable Texture is a three in one product that acts as a hairspray, volume booster,
and
a heat protectant. It's the perfect product for getting that chic bed-hair look by using it before you curl for protection and volume and then after for hold and even more volume. It's also light with a natural matte hold so no one will be able to tell you've put any product in, you'll just look like you have effortlessly beautiful curls.
KMS FREESHAPE 2-in-1 styling and finishing spray
Another one of our fave multi-use products is KMS FREESHAPE 2-in-1 styling and finishing spray. If you want hair that's beautifully silky and smooth, and stays put all day, this is the product for you. It's perfect for dry styling your hair and a great product for keeping in your handbag to touch up those pesky flyaways between events.
KMS HAIRSTAY anti-humidity seal
There are so many amazing things about summer but one thing we're definitely not looking forward to is the frizzy hair! The hot air and seawater do not love our hair like we wish they would and finding something to fix this issue is a yearly struggle. That's why KMS HAIRSTAY anti-humidity seal is an incredible life saver! It creates an invisible barrier that seals hair and protects it from the humidity while leaving hair looking healthy and glossy. The perfect product for those events out in the sun, or for when the weather turns and rain starts up. Head
here
for more.