One beauty ed's battle against pigmentation
When I was five years old, I got freckles. In the middle of winter. My skin was an anomaly to my mother, who took every available opportunity to lather me in the thick, white sunscreen for which the early '90s were known. But the sun prevailed, and I was left with a sprinkling of sun kisses across my nose and cheeks.
Couple this with platinum blonde, bum-length hair that I frequently wore in piggy tails, and I was pretty darn cute.
What wasn't quite so cute, however, was when I'd spend hours baking in the sun sans hat in my mid-teens, and later started on the pill. My sprinkle of sun kisses was no more, instead a thick band of freckles covered my cheeks and up towards my brow bone, while melasma took up residence underneath my eyes. Not that you'd ever know from looking at me, I wear full coverage foundation (and powder), every day.
I was told to celebrate my freckles, to love the skin I was in. And I did, but I knew this pigmentation was signifying something was off – my skin was damaged and in need of some serious intervention.
Ash's skin pre-treatment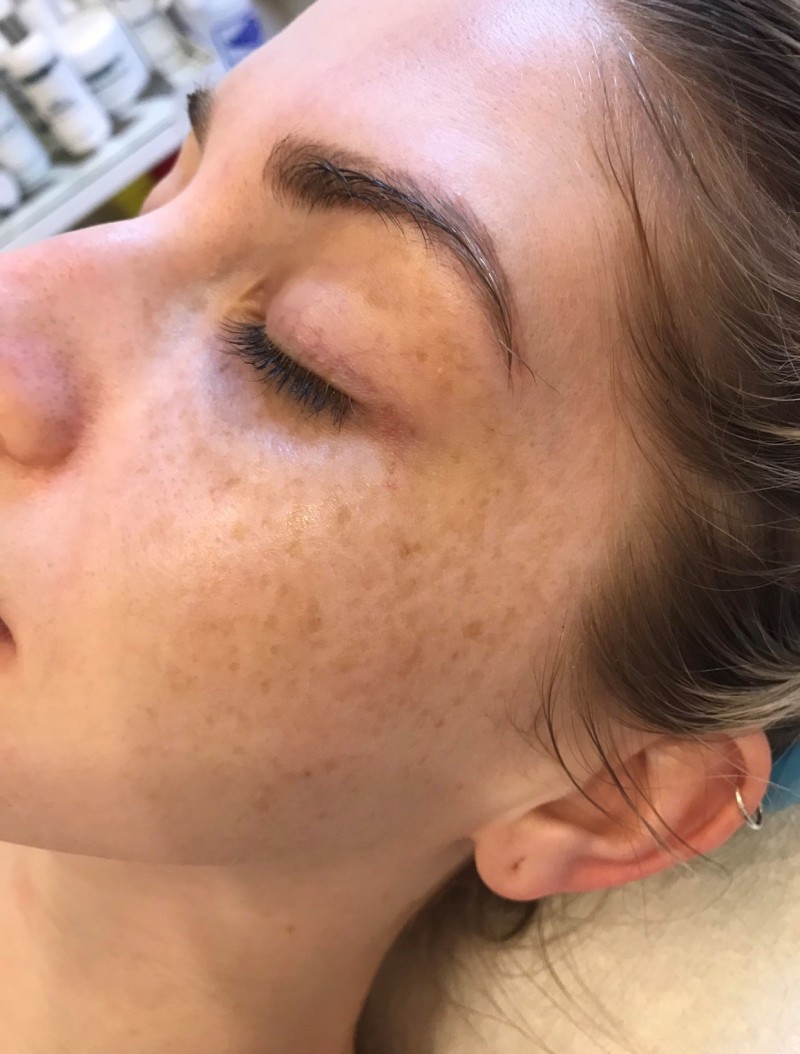 This intervention came when I was first introduced to Bridget Crone, from Mood Skin Clinic in Royal Oak. Cue the first phase of my skin journey, what I like to call my 'Skin Re-education' phase.
According to Bridget, pigmentation forms when the body attempts to defend itself from trauma. "Whether that is from external factors and damage resulting from sun exposure, or internal factors like hormones or medication," Bridget explains.
Another term to note when thinking about pigmentation is melasma. Unlike the former, Bridget explains melasma across the cheeks and forehead is a deeper form of internal pigmentation that develops in the dermal layers; often the result of things like hormones, pregnancy and medications like the pill. "Because of where it sits, it's often a lot harder to treat," Bridget notes. Sigh.
The homely little clinic in the heart of Royal Oak comes with a big promise – to revise your skin using a comprehensive system that combines in-clinic treatments with home prescriptive products, as well as appropriate supplementation internally to reduce inflammation.
Mood's holistic approach to the treatment of skin and pigmentation challenged everything I knew about how to address this skin condition of mine. The question of why my pigmentation was there instead of just how do we fix this, made me think.
"We look at the cause of why a specific condition is there in the first place, and not only treat what we see on top," Bridget notes.
My new skin guru introduced me to the idea of rebuilding my skin, to support its natural functions and have them restored to their former glory. Rather than strip, strip, strip!
A pretty lifechanging notion for a beauty ed whose used every single exfoliating product under the sun for more than five years.
After a full consultation, Bridget recommended we use an advanced remodelling procedure (better known as the Pro Alpha Six-Layer Treatment); a 10-day process to reduce up to 70% of pigmentation, then continue to an advanced skin revision treatment to revise the pigmentation even further.
The Pro Alpha Six Layer Peel, starts from $1,900, and is suitable for pigmentation, ageing, wrinkles, fine lines, and thickened uneven skin texture. It is designed to remove dead skin cells and stimulate collagen development. This exclusive blend of natural plant and fruit sugar acids are applied in layers, and how many layers are needed is determined by your therapist before you commence treatment. From start to finish, the entire process takes around 7 – 10 days.
Following 10 days of prep, including multiple Enzyme Therapy sessions to restore my skin to an optimal condition and a comprehensive DMK Home Prescriptive program, I was ready for my skin journey to begin.
Surprisingly, this 10-day prep had lightened my pigmentation significantly. The alternating use of products containing vitamin A and other brightening agents had Bridget in awe when it came time for my first application of the peel.
THE PEEL
On day one, Bridget applied separate layers of the fruit acid solution, until my skin couldn't take it any longer. Upon contact, my skin began to feel hot and tingly, and I was grateful to have my fiancé there with a fan in hand to keep my skin cool as Bridget applied layer upon layer of the solution. Afterwards, my skin felt slightly sunburned and remained tingly. I needed to keep my skin unwashed for 12 hours following my treatment, which meant sleeping in the solution.
Waking up on day two, my skin appeared (and felt!) tight and tender. Making a beeline for Mood, I was ready for my second application of the peel. This time, I must confess, was a lot more intense. The burning started almost instantly, but it wasn't unbearable. The fanning definitely helped and breathing techniques and thinking about my soon-to-be flawless visage helped get me through.
Following the treatment, I went home bright-faced, to leave the solution on again for a further 12 hours. After four hours had passed, the burning sensation had passed and instead my face felt tight as my skin began to respond to the treatment.
By day three, I had started peeling around my chin, mouth and nose. This was largely due to the fact that I'm a massive chatterbox and the skin had been flexed in these areas more than others. These were only little dry patches, lifting off the skin, at first, before they grew to larger areas coming away from my chin.
It was paramount I didn't pick, peel or scratch the peeling skin, to avoid possible infection or scarring. Instead, I armed myself with a pair of nail scissors and would trim off what had lifted.
Day four was probably the worst day if I'm honest, as all of the congestion that had been bubbling under the surface of my skin came to a head. Enter 35 (yes, I counted them) whiteheads that surfaced across my chin, down my T-zone, and dotted along my cheeks. As someone who suffered acne as a teen, this was an all-too familiar scenario. I was reassured by Bridget when I went in for my first lift-off treatment (an exfoliating treatment to remove the flaking skin) that these would clear (and she was right!) I just had to be patient.
From days five to seven, my skin continued to peel, switching from my chin, to forehead, to nose, and finally to cheeks. My cheeks were the most exciting part, as this is where I suffered the deepest pigmentation.
Watching my freckles magically lift from my skin was an other-worldly experience. Something I had tried so desperately to hide for years was no longer an issue for me. It was surreal.
By day 7, I was able to wear makeup again. A few residual dry patches lingered around my eyes, as well as a few spots on my chin, but other than that my skin was feeling the healthiest it had ever been.
In the weeks that followed, this comprehensive skin revision treatment was supplemented by my rigorous at-home system, and the results spoke for themselves.
ASH'S AT-HOME PRESCRIPTIVES
To supplement my in-clinic treatments, Bridget prescribed me with a comprehensive at home system to continue to keep my melanin production at bay. Paramedical skincare range DMK specialise in products that work with the skin's biochemical synergies to stimulate its own healing and cell regeneration process. The below system works to inhibit tyrosine and tyrosinase from coming together and having a 'baby' of sorts, melanin. Yes!
Milk Cleanser, containing calming herbs for fragile, lipid-depleted or reactive skins
Beta Gel, a serum packed with an immunological agent beta glucan, plus vitamin B and skin regenerating peptides to trigger skin heeling and reduce swelling
Direct Delivery Vitamin C, to revise pigmentation, uneven skin tone and texture
Herbal Pigment Oil, packed with EFAs formulated for skins exhibiting environmental damage and hyperpigmentation
Herb & Mineral Mist, chock-full of vitamins, minerals, amino acids to imitate skin's natural acid mantle. This also helps with the transdermal absorption of DMK cremes and oils
Melanotech Crème, works to brighten and inhibit hyperpigmentation, using powerful antioxidants designed to revise premature aging, sun damage and pigmentation
Super Bright, a comprehensive night crème for revising pig and sun and uneven skin tone.
Retosin, which regulates the natural cycles of cell renewal and oil production with advanced vitamin A restorative formulation
DMK Soleil Defence SPF50+, a broad-spectrum sunscreen
Solar Damage Gel, a specialised gel formula to lock in water, and enhance the skin's natural water barrier, and support skin compromised by harmful UV rays, climatic conditions and environmental factors
Melanotech Drops, work to brighten and inhibit stubborn pigmentation
At-home Enzyme masque, using the Exoderma Peel and Foamy Lift together for an at home skin conditioning treatment
Micro Peel, a 10-minute at-home peel that delivers fresh glowing appearance by removing dead skin cell material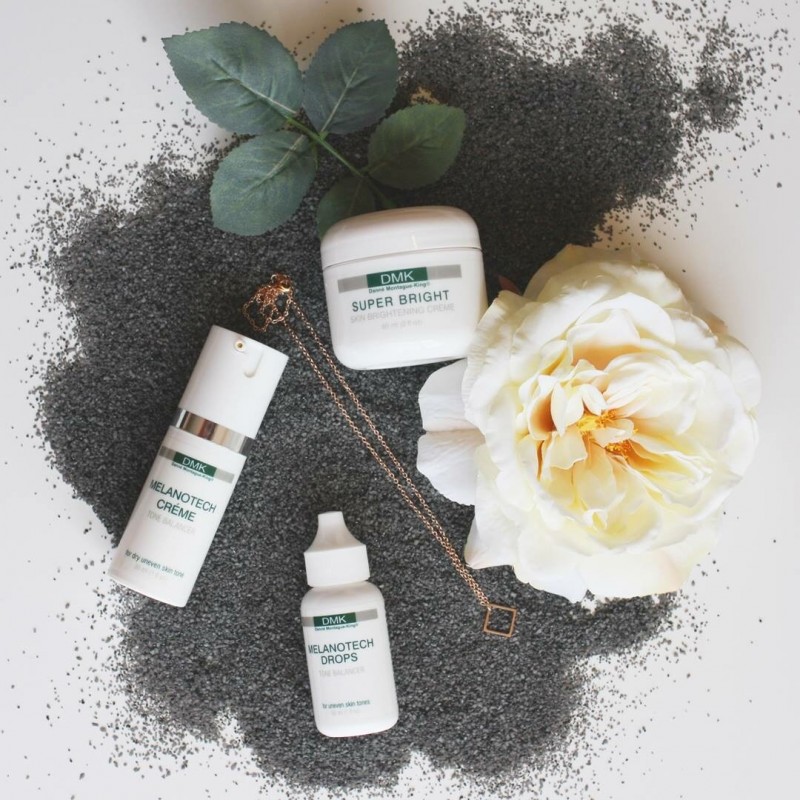 ASH'S DAILY ROUTINE
MORNING: Cleanse, 4 drops Melanotech drops, 1 pump Beta Gel, 1 pump Direct Delivery Vitamin C, 3 drops Herbal Pigment Oil, Spray in with mist, 1 pump Melanotech Crème, spray in with Herb & Mineral mist, SPF, makeup
NIGHT: 4 drops Melanotech drops, 1 pump Beta Gel, 1 pump Direct Delivery Vitamin C, 3 drops Herbal Pigment Oil, 1 pump Melanotech Crème, spray in with Herb & Mineral mist, plus 2 EFA supplements daily.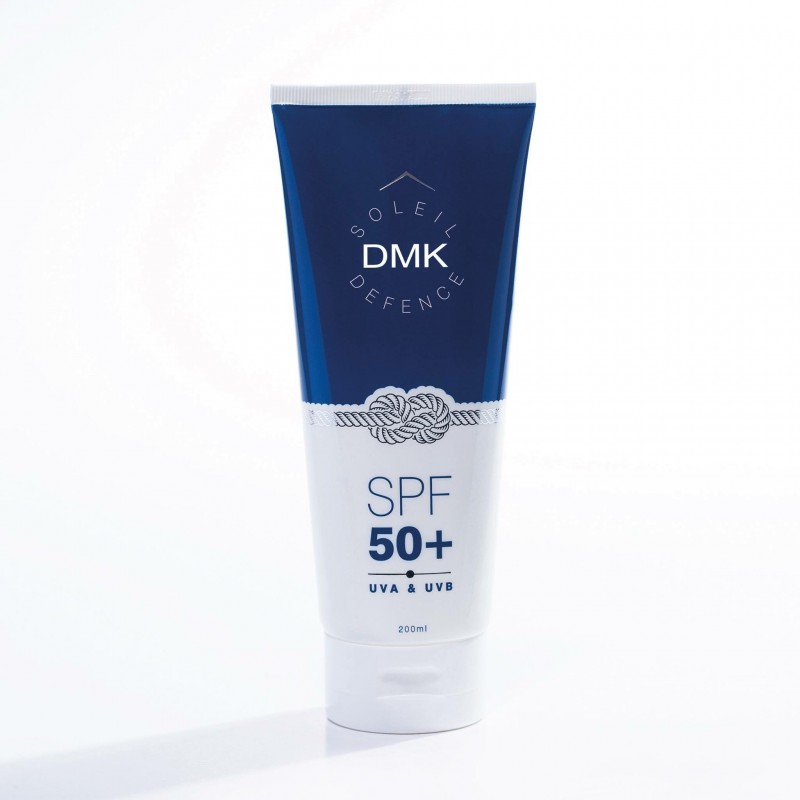 But, my skin journey is not over yet. Pigmentation can come back if you put a halt to caring for your skin, not wearing sunscreen or change medications. According to Bridget, skin is a lifelong commitment – a skinship of sorts!
Check out the full pigmentation feature article (including some pretty radical befores and afters!) in the upcoming Autumn issue of Remix, on sale March 22!