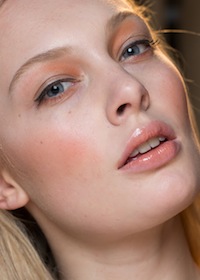 Mimi Kelly is the artistic director/owner of Killer Hair, Newton. She's an award-winning hair colourist and makeup artist. Every week Mimi will be doing what she does best... give her opinion.
Saving up for something big this year? Not everything fabulous has to be expensive or hard to get. I love a good tip or trick and have been keeping to a real budget that works wonders. I also asked my girlfriends in know if they could share their top budget beauty secrets.
Fiona McLeod - Director Flaunt PR
I'm really into oil! Maybe because I used to be a massage therapist. I love lathering up oil all over my bod, it's the best body moisturiser (and possibly the cheapest) and it's great being able to throw a few essential oils in depending on my mood or how my skin is looking. Best of all is to use it on your face as a night oil. Anything from rosehip to olive oil, camellia oil to jojoba oil, these oils have natural nutrients that actually feed your skin with goodness. They work supportively with your skins natural sebum (oil). After cleansing before bed apply a few drops all over your face including your eyes. The next morning you will look fresh with soft supple skin. Awesomeness! Lately I have been using The Aromaroom 'Peace Oil' it's just what I need before bed right now and helps with a restful sleep too.
Nicola Harvey - Freelance Makeup Artist
If you are wanting to explore a new product line, find a travel set or try mini sizes first. That way you can try a great selection of products and see if they are suited to your skin care requirements at literally the cost of one full size product . A nice bonus is the little bag they often come in which makes it easy to transport your minis for your overnight stays and weekends away! Trilogy is a beautiful organic skin care range that offers a fantastic travel size set of goodies. Also don't look past the supermarket! My ultimate budget savvy product I can't live without is the Garnier Miracle Skin Perfector B.B cream. It's light and radiant and leaves your complexion glowing so naturally. I couldn't even believe the price, especially when you can nab it special with a swipe of your supermarket card, only $12! My cheap as secret weapon is 'Aluminium Free Baking Soda', I get mine from Total Health, Dominion Rd, Mt Eden for $5. This has many great uses (that don't include a cake tin) but here are my top three... 1. Facial Brightening Mask: Mix 3 parts baking soda to 1 part water. I do it in my palm and mix to a paste, apply to cleansed skin and leave for 5 mins. To wash off just wet your finger tips and lightly scrub in rotation before washing off with cool water, stand back and be amazed at the glow! 2. Teeth whitener: After brushing you teeth dip your tooth brush in baking soda and apply to your teeth, leave for as long as you can handle the taste then scrub. It removes stains and with prolonged use it gives the best results. It's also great after a teeth whitening treatment to keep stains at bay. 3. Alchalizer: Almost everything you eat except leafy greens is acidic and you can bet that after a cheerful holiday season your body will love you if you take 1tsp of baking soda in half a glass of water, stir vigorously and down the hatch. Do this daily for internal ph balance, your skin will love you for it. X Mimi Image by M.A.C from Juliette Hogan show at NZFW 2012