Your weekend sorted: Five summer cocktails you can make at home
Even though we're all back at work now, we're still in the middle of the beautiful New Zealand Summer and that's something that calls for celebration. Whether it's after work drinks on a Friday or a Sunday afternoon drinking sesh' in the sun, cocktails are the way to go. We've narrowed down our top five favourite summer cocktails that you can make in your own home that are sure to impress your mates (as well as being half the price of ordering a round at your local).
1. Watermelon Tequila Cocktails - Makes 8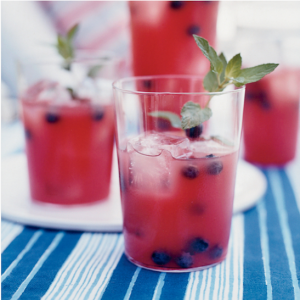 Ingredients
1/4 cup water
1/4 cup granulated sugar
8 cups diced seedless watermelon
1/4 cup fresh lime juice
1 3/4 cups blueberries
3/4 cup lightly packed fresh mint leaves, plus 8 sprigs for garnish
1 1/4 cups silver tequila
Ice
Method
In a small saucepan, bring the water to a simmer with the sugar and stir over moderate heat until the sugar is dissolved, about 1 minute; let the sugar syrup cool.
In a blender, puree the watermelon until smooth. Set a fine-mesh strainer over a bowl and strain the watermelon juice, pressing gently on the solids to extract as much juice as possible. Discard the pulp.
In a large pitcher, combine the sugar syrup with the lime juice, blueberries and mint leaves. Using a wooden spoon, lightly muddle the blueberries and mint. Add the watermelon juice and tequila. Refrigerate until chilled, about 2 hours.
Pour the cocktail into tall ice-filled glasses. Garnish with the mint sprigs and serve.
2. Strawberry-Lemon Mojitos - Makes 4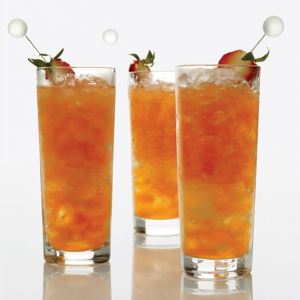 Ingredients
8 lemon wedges
24 mint leaves, plus 4 mint sprigs, for garnish (optional)
4 strawberries, plus 2 halved strawberries, for garnish
Ice cubes, plus crushed ice
8 ounces gold or aged rum
3 ounces fresh lemon juice
2 ounces prepared sugarcane syrup or agave nectar
Method
In a cocktail shaker, muddle the lemon wedges with the whole strawberries and mint leaves. Add ice and the rum, lemon juice and sugarcane syrup; shake well. Strain into crushed ice–filled highball glasses. Garnish with the berry halves and mint sprigs.
3. Champagne Punch - Makes 4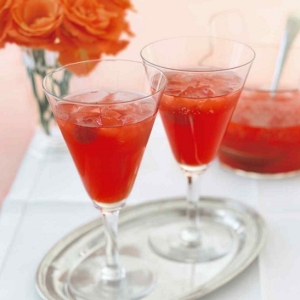 Ingredients
6 tablespoons grenadine
6 tablespoons Cointreau
4 tablespoons brandy
3 1/2 cups champagne
Raspberries, apples, or other seasonal fruit
Method
Fill a small ice bucket halfway with ice. Pour grenadine, Cointreau, brandy, and champagne over ice. Stir gently, and ladle punch into 2 wide-mouthed stemmed glasses. Garnish punch with raspberries, apples, or any other fruit in season.
4. Ginger-Mint Margarita - Makes 4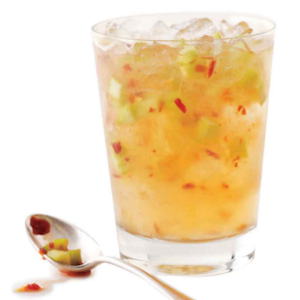 Ingredients
8 slices (1/4 inch thick) peeled fresh ginger
8 tablespoons fresh mint leaves
8 tablespoons silver tequila
4 tablespoons Grand Marnier
2 teaspoons fresh lime juice
2 cups small ice cubes
1 cup ginger beer
Method
Crush ginger, mint, tequila, Grand Marnier, and lime juice in a glass with a wooden spoon. Add ice. Slowly pour in ginger beer, and serve.
5. Blueberry Lemonade Sangria - Makes 8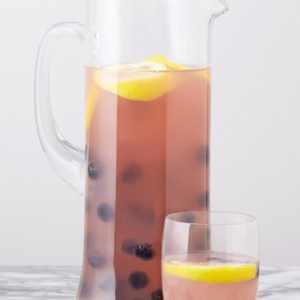 Ingredients
750-ml bottle dry white wine
1 cup Simply Lemonade with Blueberry
1/4 cup tequila
1 cup fresh or frozen blueberries
1 lemon, thinly sliced
1 cup cold seltzer
Method
In a pitcher, combine wine, lemonade, and tequila and stir until combined.
Add fruit and top off with seltzer and serve.
Images and recipes from Food & Wine, Martha Stewart, and Delish.