We trialled the sports bra to end all sports bras
The new Under Armour Infinity Bra may just change your chest's life.
Remix Ed Amber was lucky enough to try out the recently launched UA Infinity Bra. This is her bona fide and buxom review.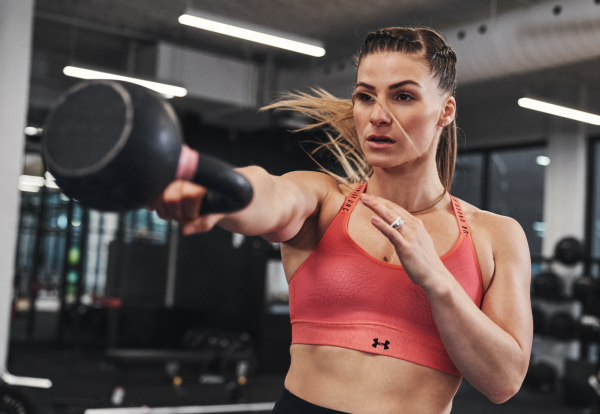 I'll admit it. I'm by no means the fittest of the Remix team. I'll find endless excuses not to exercise each week, including the classic PMS, a.k.a tender breasts. But this tenderness in fact, is one reason I struggle with finding a sports bra that works for me. There are so many struggles with having an ill-fitted and poorly constructed sports bra and I feel like I've experienced them all.
Did you know breasts can actually move as much as 21cm during a workout? That's the length of my own foot. Or that by wearing the wrong sports bra we're actually causing permanent damage? This really isn't something we should bury our heads in our chest about.
Having curves that don't stay put in a standard sports bra has proven a pain for years and I'm sure I'm not alone in the embarrassing frustration of constant readjustment to my bra mid-burpee... And then there's the bras that are so restricting it's like a bulky cup straight-jacket for your breasts. No matter what brand or style I've bought, they never quite fit right and so I've always just assumed that's how my physical life would play out. Kind of sore and unsupported.
I'm sure you can understand why I was excited but still slightly skeptical at the prospect of the UA Infinity Bra being the answer to my workout woes.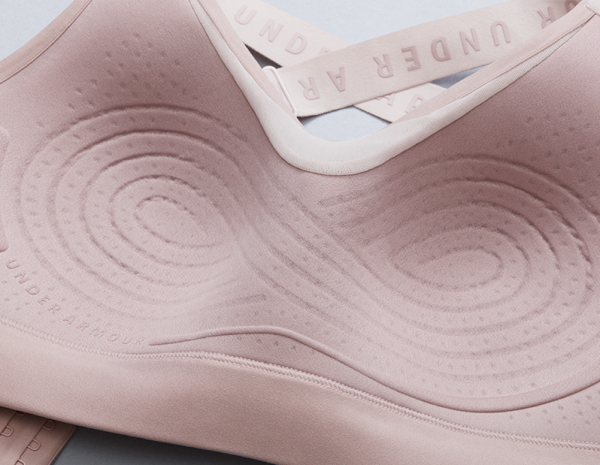 I'm a 10DD, and I chose the 'medium support' UA Infinity Bra, in a size medium to try on. It was snug but not too tight, with really solid coverage across majority of my chest. I jump tested it in the comfort of the changing room and the goods stayed still and close - this was a good sign. After talking with the friendly and equally ample-chested UA staff member, we agreed that medium support would perfectly suit my range of activities ahead.
Let's be clear: while I don't exercise religiously, when I do I like to chop and change. Which means the UA Infinity Bra would see the ultimate test of experiencing at least three (quite different) activities across one week. I went jogging, did an F45 class and a reformer pilates class. Ok I'll be honest, it was over two weeks.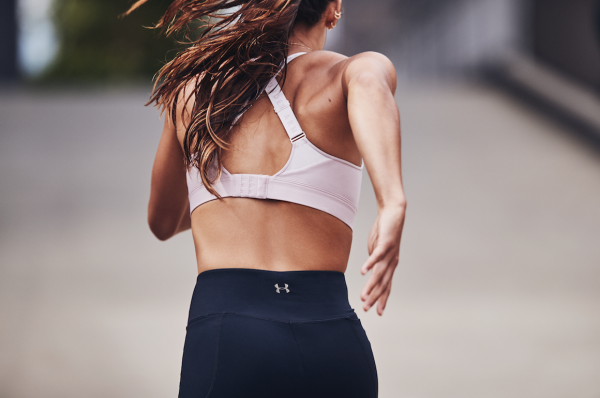 First up was RUNNING...
To be completely transparent I was worried the bra would be too restricting and possibly chafe when I ran, but as soon as I got the courage to pick up my pace (and out of my neighbours eye line) my worries were addressed. I found the flexible cups moved with me while I ran. For once I could actually focus on running and not be self-conscious about my chest attempting to break free. There was no sliding around within the cups, no pain or tenderness and no spilling out over the edges. And yet it felt so light! I also tested it with a (very) short and sharp sprint - they moved around a tiny amount more than at my usual jogging pace but I don't sprint often. If you're a well-endowed sprinter, the high-support might be better for you.
I give it a 9.5/10 for running.
Next up was an F45 CLASS...
Blinded by concern for my fitness levels, it took me a good 15 minutes into the high-intensity class until I realised I hadn't had to readjust my bra once. This was a HUGE moment for me. Usually the transition from a round of 'pull ups' to 'sledding' at F45 is what pushes my chest to the limit in a regular sports bra and multiple readjustments are required immediately. Instead of working against my chest like sellotape trying to restrain jelly, the Infinity Bra responded to different movements as though it was a second layer of skin. No matter what level of impact each exercise or station had, side to side, and in and out movement was just as supported as up and down.
I give it a 10/10 for F45.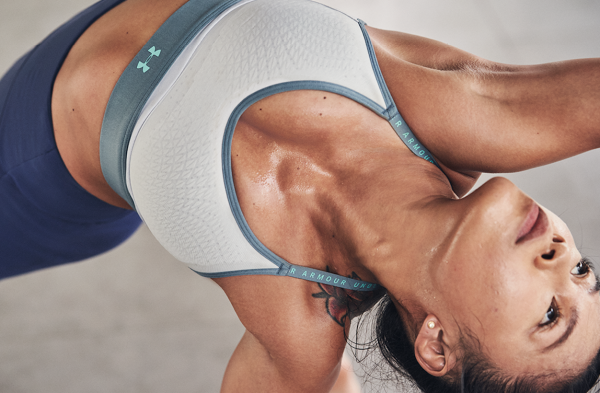 Then I tried it at a REFORMER PILATES CLASS...
Dropping the intensity a little bit I was interested to see how the bra would feel. Even though it perfectly moulded to my shape, I had an inkling the mid-support bra might not be necessary and I was right. While there is still movement in a reformer class, it's very controlled and at a slower pace than the other activities the bra had withstood. I remember thinking I would have felt more comfortable in the low-support UA Infinity Bra, something with a little more give and flex. But I still finished the class with a grin on my face knowing the other ladies in the class hadn't had to witness one of my usual nip-slips.
I give it a 7/10 for REFORMER PILATES
SO, WHY INFINITY?
The technology behind this new innovation makes so much sense... UA pressure tested the Infinity Bra with breast health expert Dr. Joanna Scurr and the University of Portsmouth in the UK for an entirely unique construction. Rather than the traditional sports bra process of cutting two perfect breast-shaped cups from a flat piece of padding then glueing and layering pieces of foam, the UA team liquid-injected the foam for a more natural and light shape that moves with the breasts.
It was music to my ears when I found out the flexible cups are designed to not only offset impact across all levels but also naturally mould to the female body throughout its natural fluctuations. The liquid foam follows the design in an infinity shape (the shape and motion that breasts actually move in during jumping and running) and provides the right level of support without sacrificing comfort and breathability.
THE VERDICT... I think I've found my sports bra soulmate. The bra totally lived up to its reputation. The fact there is a range of low, mid and high support means you can go from one extreme sport to something with super low-key impact and have the right kind of support each time. It's not the bra you'd choose to lounge around in watching Netflix, because it's there to do a job, and if you ask me, it deserves a pat on the chest for doing that job so damn brilliantly.