Three reasons why you need to visit Britomart's new pub
Tyler Street Garage have waved their final goodbyes to Auckland's Britomart, with newcomer The Chamberlain is sitting proudly in its place. The new pub on the block features a full and flavorsome range of morsels set to delight all foodies, so we have high hopes of frequenting this inner-city outpost any day of the week!
Check out our three reasons why you need to check out the urban new eatery...
1. Not only do they have the best fries in town, the whole menu will make you drool
Did I hear best fries in town?! Why yes I did… think a heavenly stack of golden shoestring fries topped with shredded meat of the day and smothered in a selection of classic house sauces. Sound irresistible? Hello cheat day indulgence...
2. The classic brown bottle and more
The Chamberlain presents a blend of Australian, American and Old English pub vibes. And what's a pub without the traditional beersie… or two! 14 tempting beers will be on offer weekly on an interchanging menu. So grab that pint or sneaky jug and kick back come Friday with your pals! And don't worry, if you're not a keen beer fan, a delicious wine and cocktail menu is also available. Whatever imbibes you, from a refreshing G&T', espresso martini, or a full-bodied red - no worries!
3. Okay, back to food
We have two words for you: 'bacon nuggets'. No, we're not joking, yes these are a real thing and you can find them at The Chamberlain! Yikes! A delicate piece of bacon wrapped coated in buttermilk crumb with a side of ranch sauce - yes please! And don't forget the legendary stack of St. Louis Pork Ribs. Um, double yes please!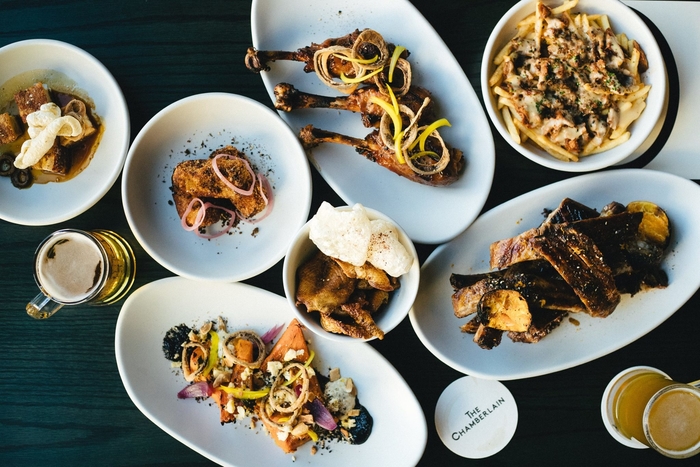 Head on down to this Britomart newcomer for all the food and drink you could dream of!