Tasty recipes to try at home designed by Masu chef Nic Watt
If the kitchen is your happy place during lockdown then we have some exciting recipes to inspire you. With the unique collaboration between Feel Good with Flowers and Masu chef Nic Watt, you and your bubble will be in for a sensational at-home dining experience.
Inspired by seasonal florals, well renowned New Zealand chef Nic Watt from Masu has curated a bespoke menu that can be recreated from the comfort of our own kitchens.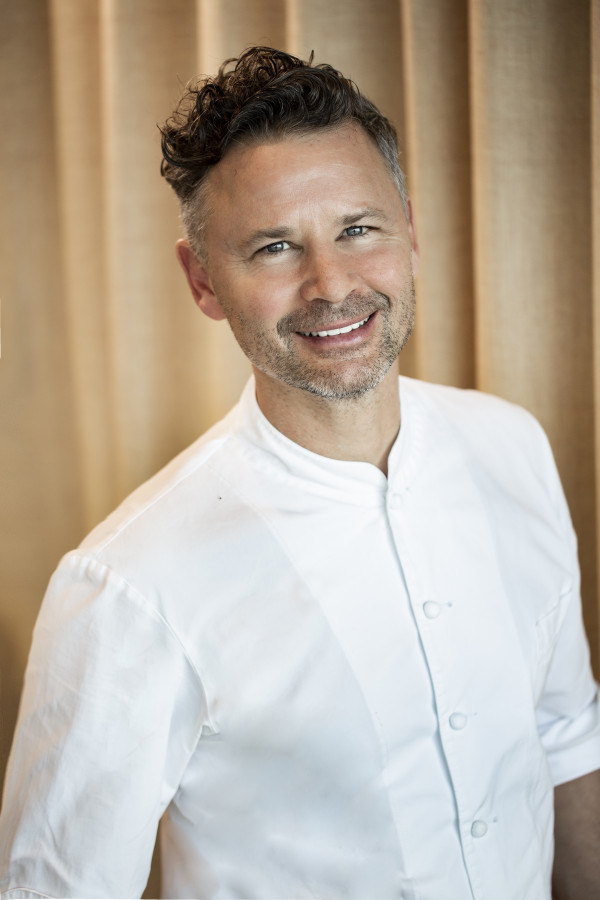 Crafted with the foodie and flower enthusiast in mind, each recipe is a reflection of Nic's floral inspirations and how each flower can enhance the at-home dining experience. Delicious and easy to replicate, the following recipes are sure to give you and your loved ones a sensory feast.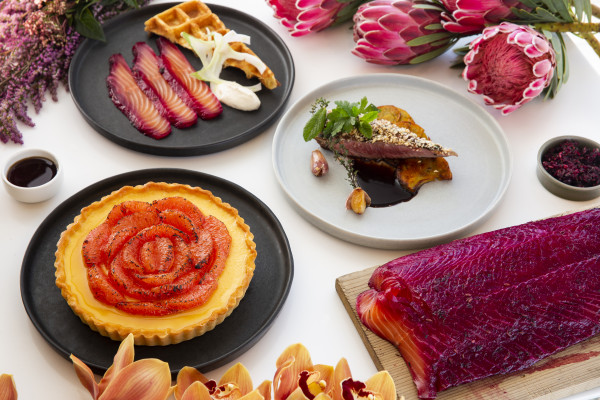 Giveaway: Be sure to follow and tag @feelgoodwithflowers, @akaranaeatery and @nicwattchef to be in to win a bouquet of flowers per month for an entire year. If you give this sumptuous menu a go, we'd love to see your attempts. Simply post a snap of your meal on Instagram using the hashtags #picknzflowers #nzgrown #buylocal
Inspired by the Erica and Viburnum flowers that are known for their wild textures, Nic's 'Salmon Gravlax' entree will have your mouth watering.
Salmon Gravlax
600gr Salmon fillet, skinned and boned
120gr sea salt
80gr castor sugar
2tblsp pink peppercorns, toasted
2tblsp fennel seeds, toasted
100gr cooked and peeled beetroot.
1cup fresh fennel herb, coarsely sliced
Combine the sea salt, castor sugar, pink pepper, fennel seeds and beetroot in a food processor. Blitz quickly to incorporate and create your pink rub. Add in sliced fennel herbs
Rub across your salmon fillet, evenly on all sides. Cover with cling film and refrigerate for 48hours.
Rye waffle
65gr Rye flour
75ml milk
50gr unsalted butter
1each eggs
2gr baking powder
1pinch sea salt
Combine, rye flour, baking powder and salt.
Mix milk and eggs together. Combine and whisk together with rye flour to form batter.
When ready cook in waffle maker to serve.
Horseradish cream
60gr Horseradish puree
100gr fresh cream lightly whipped.
Combine both.
1 each Fennel bulb
Slice thinly into iced lemon water ready to serve.
To serve.
Rub off excess salt cure and thinly slice salmon. Serve with waffle, a side dish of the horseradish cream and side dish of lemon fennel.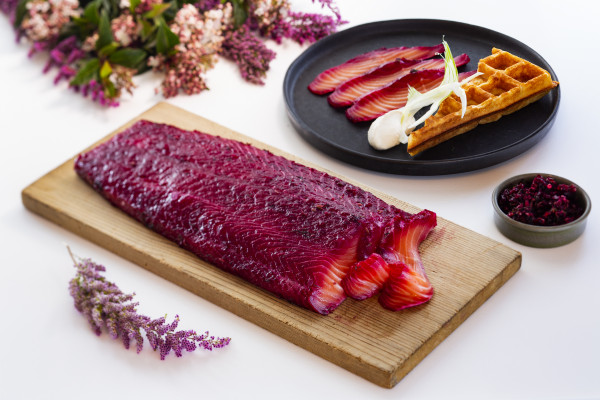 Anecdote:
This is a really easy dish to prepare in advance and serve the table as a family sharing style. It gives you more time with your guests and less time in the kitchen on the day.
The main is Roasted Lamb back strap, garden and toasted panko crust, agria and sweet potato presse, confit garlic and pan juice. This main event is inspired by the Protea Red Venus, a nod to Nic's childhood in Sydney.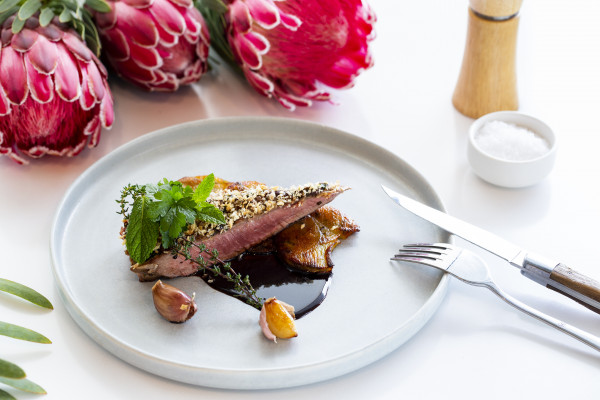 Roasted Lamb back strap, garden herb and toasted panko crust, agria and sweet potato presse, confit garlic and pan juice.
2each lamb back strap
1cup garden herbs – we have used flat leaf parsley and mint. Coarsely sliced.
½ cup toasted panko bread crumbs
Sea salt, cracked black pepper, thyme sprig, knob off butter and olive oil to seal and cook
3each medium sized agria potato peeled and sliced thinly
2each medium sized golden kumara, peeled and sliced thinly
100ml olive oil
1tblsp picked fresh thyme
sea salt
Line a small backing dish with grease proof paper. Layer up the sliced agria and sweet potato. Adding thyme, a sea salt and you layer.
Cover again with grease proof paper and place a weighted pan on the top.
Back in a pre-heated oven at 180'c for about 30 minutes, until the potato is soft and tender with the tip of a knife.
8each garlic clove in their paper
1/2cup olive oil
In a small pot warm olive oil and whole garlic cloves together. Repeat with heating and cooling about 4 times, until garlic resembles and feels like roast garlic.
1cup beef stock
1/2cup red wine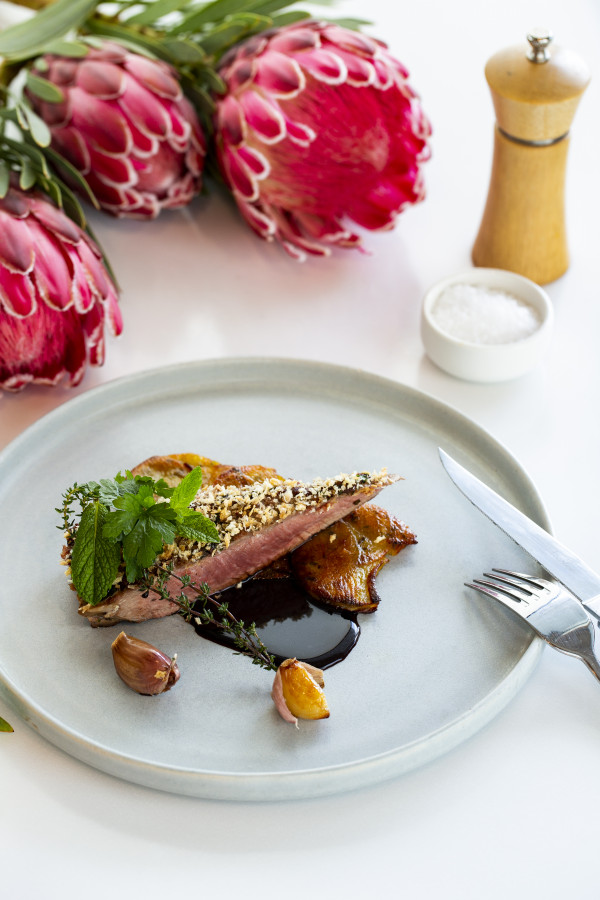 To Serve.
In a medium pan, sear off the seasoned lamb fillets and brown on both sides. Add the sprig of thyme and butter, bast in the pan for 3- minutes. Set aside to rest ready for serving. Pour in the red wine and reduce to a sticky syrup, add in beef stock and reduce by half.
Take out the potato and brown under the oven grill.
Slice the lamb, place on the potato, season with fresh garden herbs and toasted bread crumbs, pour around the pan juices, add two warm garlic confits in the paper and a drizzle of the garlic oil to the plate.
To top it all off, prepare yourself for the sweet finale inspired by the layers of colours and textures from the Cymbidium Orchid. Vanilla bean and brown sugar scorched ruby grapefruit custard tart, a splendid throwback to one of Nic's many food memories.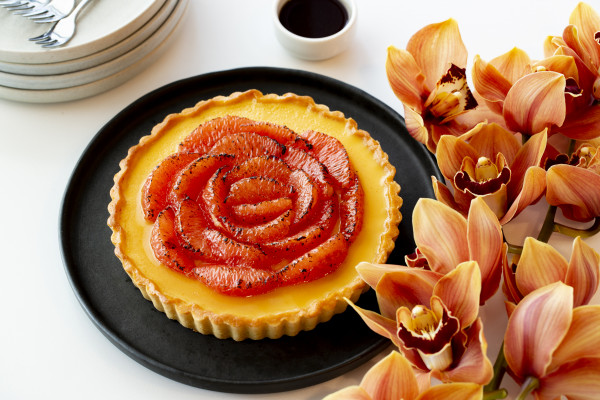 Vanilla bean and brown sugar scorched ruby grapefruit custard tart.
Sweet Pastry base
180gr unsalted butter softened
80gr icing sugar
2each egg yolks
25ml cold water
250gr plain flour
1each egg for wash
Use a mixer with the paddle attachment. Work butter until smooth.
Add in icing sugar and mix until smooth.
Combine eggs and water in a side bowl. Add to butter to just incorporate.
Add flour and work slowly so it binds and crumbles.
Dust the bench top and hand knead the dough until smooth. Cover and refrigerate for about 30 minutes.
Dust bench and roll out pastry to about 3mm thick.
Spray the tart liner with non-stick and carefully line the tart. Press down the sides and trim.
Egg wash, line with grease proof paper and baking beans, bake in pre heated oven at 160'c for 20 minutes to seal off tart case.
Remove and allow to cool.
Vanilla bean custard.
3each lemon zest
150ml lemon juice
160grams castor sugar
330ml cream
2each whole eggs
2each egg yolks
1each vanilla bean split
Combine the lemon juice and sugar, heat to dissolve sugar. Add zest, infuse and pass.
Heat cream with vanilla beans.
Whisk eggs and yolks together, add over lemon sugar and then vanilla cream. Thoroughly mix.
Pour into cooled pastry tart case and bake at 110'c for about 45 minutes. It should be set on the edges but still wobbly in the centre. Allow to cool on the bench. Refrigerate ready to use.
Ruby Grapefruit brown sugar.
2each Ruby Grapefruit
½ cup brown sugar
¼ cup water
Slice the grapefruit into segments.
Combine the brown sugar and water and warm to dissolve.
Line tart top with grapefruit. Brush lightly with dissolved sugar and caramelise with blow torch.
To serve –Slice and serve.