Deep diving with Australian daredevil, Rhiannan Iffland
Rhiannan Iffland took what the typical person would view as terrifying and turned it into a career, achieving ultimate heights, literally. Securing a spot in the Red Bull Cliff Diving World Series, she has travelled around the globe and dived off some of the most incredible landscapes in the world. We spoke to champion Cliff Diver Rhiannan on this adrenaline-inducing sport, picking her brains on how she deals with the fear, how she manages to wind down… and about the time that she dove out of a helicopter into Sydney Harbour.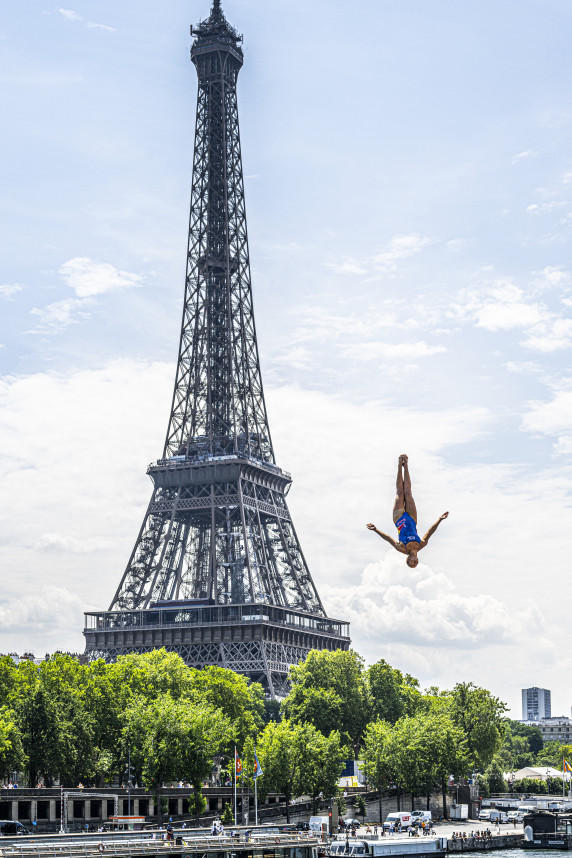 Cliff diving is something you never think past the typical cliff jump during the summer months - what inspired you to turn it into a career?
I began diving at a young age [nine years old], so when I came to the end of my Olympics career, I wanted to find something more exciting where I could travel the world and see some amazing places.
Do you ever have moments where fear takes over?
Every dive there is, that thought could take over, and a handful of times it has. If I don't have complete control I can hurt myself, so sometimes it can happen. I have always told myself it's braver to step back and listen to your thoughts than to keep going if it doesn't seem right.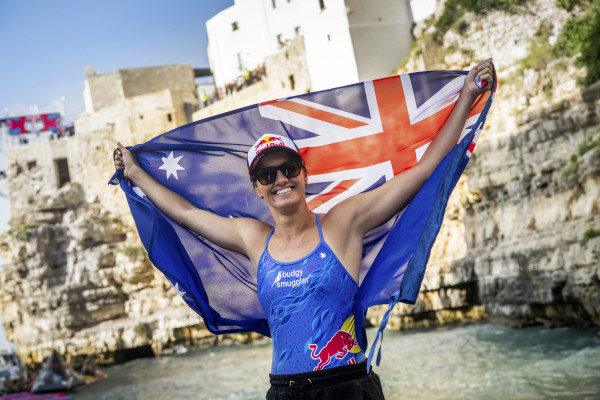 Do you have a trusty process that helps to psyche you up?
Music. On the days that I compete, the first thing I do is turn on some music that I know will put me in the mood I need to be in. I have had the same routine for years!
And one to help wind you down?
It's important to take time for me with so much going on leading into the competition, and the day after the comp can be a bit of a comedown, so I try to do something to excite myself - surf or check out some dive spots, which helps keep me level.
Cliff diving is not only a sport but an art form with acrobatics being a big part of the spectacle - what is the process like training to become one of the world's best?
Sometimes it's really fun, it's sometimes really tough. It takes consistency and takes showing up every single day, even if you feel s***. The more I put in, the more I feel the reward and feel content that I have done everything I can.
I'm sure competitions have taken you to some incredible places around the world, where have been some of your favourite locations?
They have all been amazing, but the most special have been Japan, Sydney Harbour, Polignano a Mare, Italy, Portugal & Beirut, Lebanon.
We heard you dove out of a helicopter over the Sydney Harbour. Are there any other 'out of the box' moments like these?
There's been a few; a hot Air Balloon dive, Dive at Kakadu National Park, jumping off the mast of a ship, a cave dive In Ibiza and quite a few more.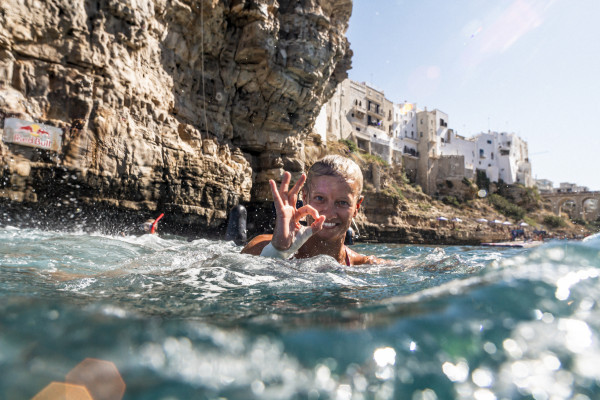 You've had a strong start to the 2023 Red Bull Cliff Diving World Series with victories at each stop, and as the six-time defending world champion how do you feel about competing to claim the World Title once again at the World Final in Auckland in November?
Feeling confident, we are now at the fourth stop of the world series, and so far I have taken out the first three, so let's see how the next few go. I know I will have lots of support there and I'm super excited to get back to New Zealand.
We're so excited to hear that you're heading to New Zealand in November to compete! Do you have plans to sightsee whilst you're here?
If I have time, probably the Coromandel Coast to go surfing with my Kiwi mate, Kehu Butler.