5 hidden gems to discover this summer in NZ
A change of season is always accompanied by a quick shift in mood. As evenings get longer and days warmer, a renewed appetite for adventure has us planning our summer travel itineraries.
While we eagerly await overseas travel, thankfully, Aotearoa is home to an abundance of stunning walkways and secluded swimming spots to fill your days with. The countdown to summer is on, so get planning and bookmark these five hidden gems for the holidays.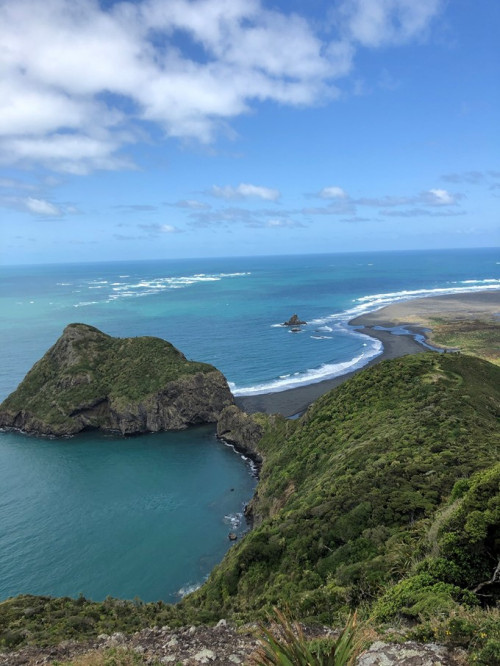 Omanawanui Track
If you're adding one hiking adventure to your Summer bucket list, it should be the Omanawanui Track. Hidden in the Waitakere Ranges, this spectacular coastal track reopened earlier this year with major upgrades, after being closed to the public in 2018. This 3km hike has a renowned reputation for its remarkable 360 degree view which overlooks the Whatipu coast. A reasonable level of fitness is required to tackle the intense amount of stairs, but the view at the top is well worth it. Access the track at the top of Whatipu Road and slowly descend down to Whatipu Beach— the perfect place to cool off your sweat. Make sure to load up on plenty of snacks and water as this track will take you approximately 2 hours to complete. The entrance to the track is closed during landslides so make sure to do your research before you sef off.
ourauckland.aucklandcouncil.govt.nz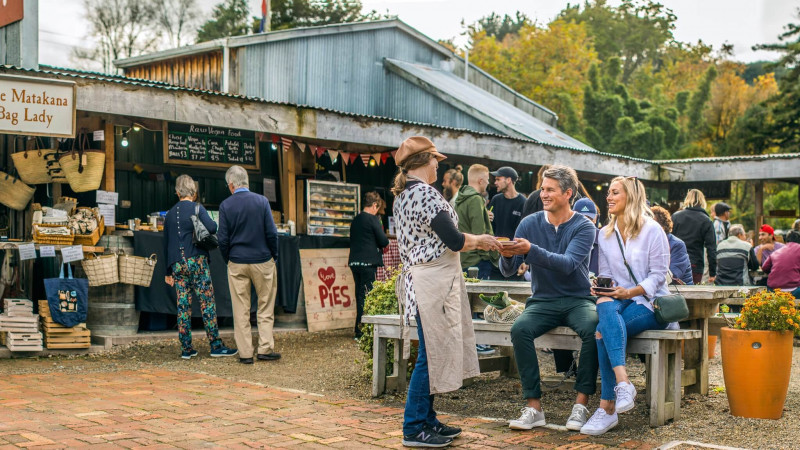 The Matakana Village Farmers' Market
A trip to the local farmers' market should be on everyone's agenda for Summer, especially the Matakana Village Market. Embraced by the picturesque Matakana River, the market is the ultimate destination for all foodies. With over 40 vendors offering a wide variety of gourmet dishes, fresh produce and artisan goods, the market offers something for everyone. From award-winning coffee to live local music, the Matakana locals are experts when it comes to creating a warm and vibrant atmosphere. Make sure to explore the market during the warmer seasons as it becomes flooded by beautiful cherry blossoms blooming around the premises. Even if you're not a morning person, it is certainly worth the early morning drive to Matakana.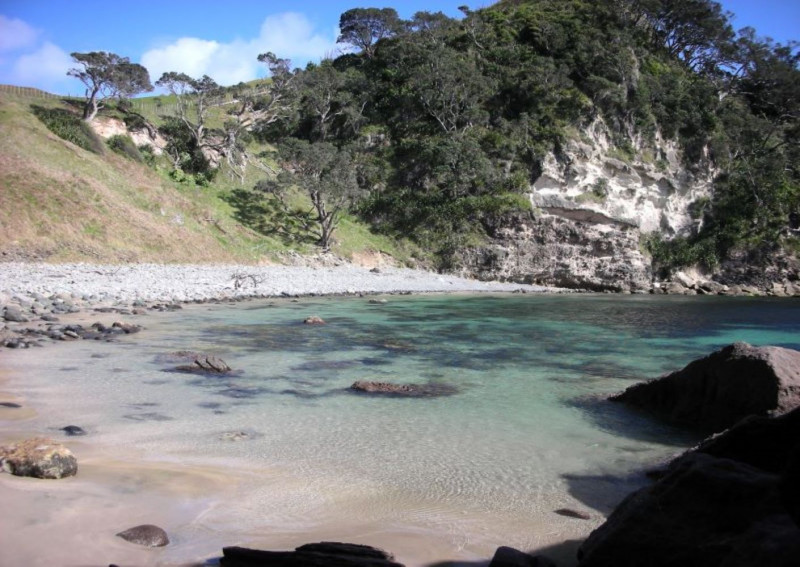 Crayfish Bay
You can't dive into Summer without diving right into the refreshing water at one of New Zealand's many beaches. Get your first dip of the Summer at Crayfish Bay, one of Coromandel's best kept secrets. While Coromandel is a popular travel destination for locals and tourists, this hidden gem seems to always be excluded from the spotlight. Crayfish Bay is a secluded beach that boasts vibrant teal waters. Access the beach at Opito Beach which leads to a walking track via private farmland. Don't let the 10 minute walk towards the beach disencourage you as you'll be met with stunning views along the way. Once you reach the destination, you'll notice majestic scenery like no other beach, perfect for debuting the arrival of Summer on your Instagram feed.
coromandeltown.nz/opito-bay-beach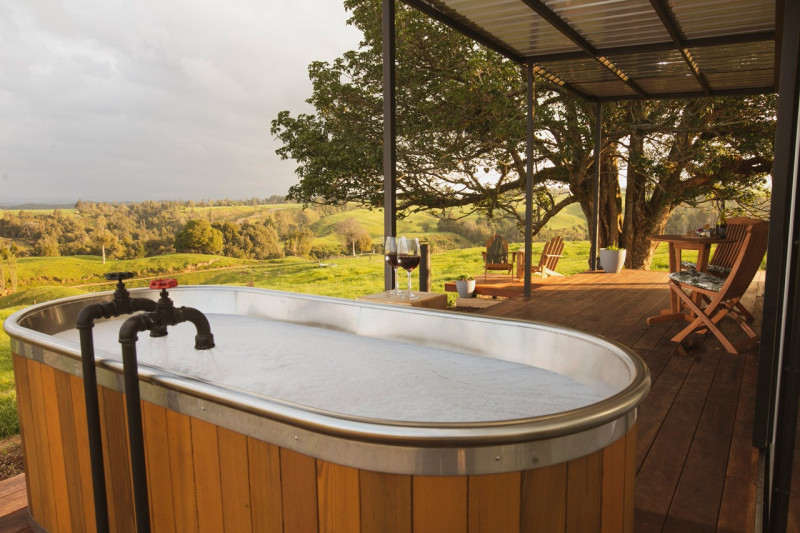 Redwood Farm Tiny House
Escape the hustle and bustle chaos of the city and immerse yourself in a serene haven at the heart of the Bay of Plenty. The Tiny House on Redwood Farm is a luxe glamping experience which accommodates up to two people. This small paradise is a modern alternative to your typical hotels to help you wholeheartedly reconnect with nature and wildlife. Sitting in the middle of a 200-hectare farm, the house has a beautiful modern interior which provides the perfect space for your much-needed relaxation. It's beautifully decorated with warm and cosy accents, enhancing the peaceful ambience. The outdoor tub on the deck is undeniably the highlight of the treehouse. What better way to wash away all your stress than soaking yourself in the abundance of nature?
canopycamping.co.nz/redwood-farm-tiny-house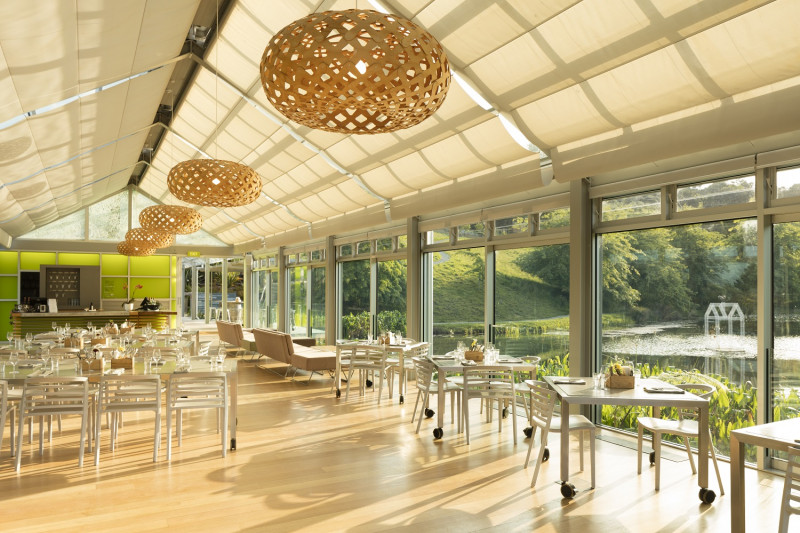 Brick Bay Glasshouse Restaurant
Recharge the holiday spirit by kicking back at a relaxing restaurant. A great road trip is not complete without great food, freshly brewed coffee and a pleasant atmosphere. For a special fine dining experience, look no further than the Brick Bay Glasshouse, a restaurant in Snells Beach that ticks all of the boxes. As suggested in its name, the restaurant features a stunning glass interior with modern design elements embedded throughout the premise. They also have an outdoor seating area which overlooks a glimmering lake and the magnificent Brick Bay vineyard. Their all-day dining experience comprises contemporary cuisines, all of which are made from locally sourced seasonal produce. Next time you're heading up north, make sure to stop by Brick Bay Glass House for their exceptional brunch, platters, desserts and, of course, their very own handcrafted wines.