#SoulSundaySessions 05: Remix fashion editor, beauty PR girl & Instagram sensation Jaime Ridge
As part of the
Remix
#soulsundaysessions
, we've been inviting some of our friends and contributors down to our favourite Sunday spot,
Soul Bar & Bistro
, to have a late lunch and a chat about what they're up to. And, we've been sharing the mouth-watering dishes we've tried over our lunches as well! In our final
#soulsundaysessions
we caught up with our fashion editor Jaime Ridge to talk about her favourite bloggers, places to find inspiration and who she'd most love to meet in the fashion industry...
What did you think of Jimmy Choo?
I thought he was amazing! I really enjoyed his company. He was so generous with his time, which was really refreshing. I thought he was very welcoming and kind and he had some really lovely things to say.
You've been working on Remix now for how long? What's your favorite shoot so far that you've done?
Just over six months! I absolutely love it! I am really excited about my shoot for the next issue, the look has taken me in quite a different direction.
Who should we bring to New Zealand next?
Either one of the Hadid sisters! Or Alexa Chung or Olivia Palemo.
Who's your favorite person from the Remix magazine team?
That would be way too hard to choose, I love everyone equally!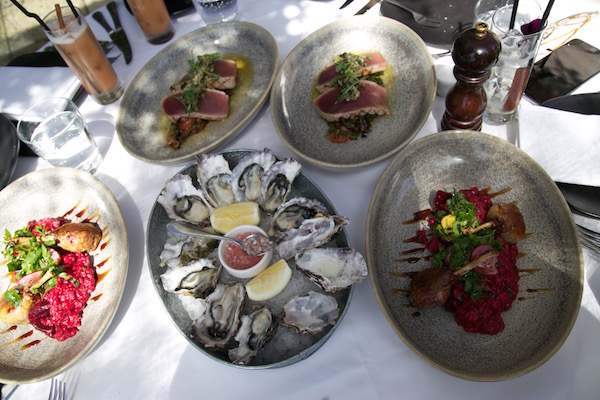 To start, the table shared the fancy scampi cocktail, the Soul favourite South Island whitebait fritter with lemon butter sauce and the Salt and pepper squid with almond skordalia and chilli oil. We also tried the Confit duck leg and beetroot risotto, roasted shallots, red wine reduction, and Italian parsley, along with the Seared yellowfin tuna, caponata, shallot and crispy caper dressing, both to die for. Tim and Jaime enjoyed this with a 'From Mexico, With Love' cocktail each, complete with Arette Blanco tequila with white peach, yellow Chartreuse, White Peach Liqueur and housemade cinnamon syrup.
Who are your influences?
Victoria Beckham and Olivia Palemo would be my main style influencers. They are both timeless and elegant - which I love!
Looking back on your past five years? How far have you come since the TV shows?
My whole life has changed since then!
How old were you back then?
I was 18.
Looking back are there any cringe moments?
Yes my blonde hair. But then in five years time I'll probably look back and think the same thing!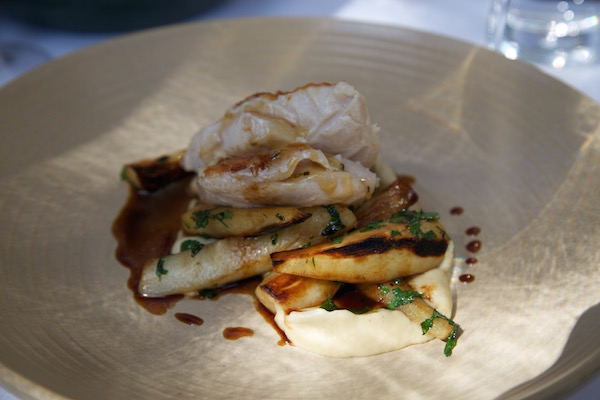 As a main, Jaime had the Pan fried hapuku, mushrooms a la Grecque, porcini gnocchi cigars, chervil crème fraiche, while Tim had the Roasted corn fed chicken, honey and rosemary parsnips and merguez sausage.
So you started about four years ago, was Instagram around then?
It was, but no one really had it back then. I had it because I am a very visual person, I love images. It got really big maybe two or three years ago.
Your feed has obviously got a certain aesthetic? Do you have rules or a schedule or a way you run it?
I don't structure it, I try and post frequently and keep my colour scheme quite bright, fresh and natural. I don't have a plan as such, but I do really narrow down what I put on my feed to make sure it is fashion focused and not so much about me and my intimate personal life, but more about the things I love.
What type of photos perform the best?
My outfit shots and selfies perform really well. I have really narrowed it down so most people follow me because they love clothes and fashion and they love what I do, which I think is really important.
What's been your most successful post so far?
I think it was actually a behind the scenes photo I posted when I did my
Remix
shoot like four years ago, the Valentine's Day shoot! I posted a selfie, and I think it got something crazy like six thousand likes.
I feel like you have established a very loyal following though
? I don't get many drop offs, which is really great. My followers are so amazing - I love them! I wouldn't be where I am without them!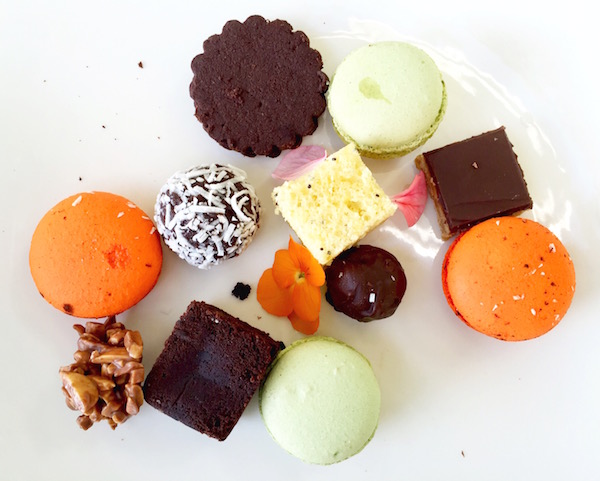 For a slight sweet touch, Jaime and Tim ordered the Soul trinkets, a gorgeous little plate of sweet treasures, which includes a caramel slice, gooey soft centre chocolate balls and miniature cakes.
If you could meet one person in the fashion industry, who would it be and why?
Anna Wintour. She is amazing. She is fashion. Oh and Grace Coddington.
When you put together a look for your shoots, you know exactly how you want your shoots to look. Where do you generally find that inspiration and what's your process?
I have been collecting magazines since 2006. Ever since then I've always post-it-noted the pages and spreads I like. So basically I go through a few of them, I'll pick up a pile and if there's something I like, that will be where I start. From there I will then go on Pinterest and blogs and search up keywords. That's how my inspiration develops. It varies though, for this shoot I happened to buy a Paris
Vogue
that was on sale in Mag Nation, and I was flicking through it I thought 'this is incredible - I wanna do this!'.
Do you watch TV?
No, I don't really watch TV, I don't really have time. I have never been a huge TV watcher. I would prefer to read magazines, and research. If I was to watch TV I would probably watch
E!
, or
C.I
.
It's been said in the media recently that the younger generation don't think that people over 21 understand social media? What are your thoughts?
I don't necessarily agree with that. My grandparents are even on social media! My grandma in Australia is amazing on Instagram - she loves fashion! My other grandma is also on social media; she owns a beautiful bed and breakfast and is a chef so she posts amazing images. My mum is also gorgeous on social media, and my aunty 'HippieLane' has got over two hundred thousand followers on Instagram and she is over the age of 21!
If you want to head down to Soul for your own Sunday session (which we strongly advise), then visit Soul Bar & Bistro online
here
for booking details. Also remember to 'Like' them on Facebook
here
and Instagram
here
for their latest menu offerings and news.