Some Kind of Dream to Fly: The first exhibition by Federation's Jenny Joblin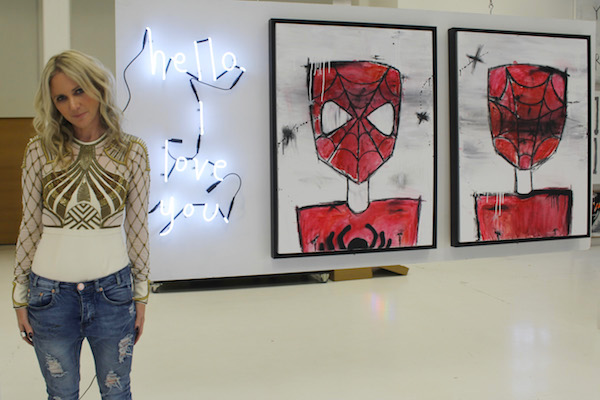 Founder and designer of Federation Clothing Jenny Joblin will show off her artistic talents with her first solo exhibition, 'Some Kind of Dream to Fly', which opens next week - September 16th at the All Press Studio. Jenny's freehand typography illustrates Federation Clothing's instantly recognisable logo and branding and her illustrations have adorned the clothing label's fashion collections for years, as well as those of children's label Minti. We sat down to talk to Jenny ahead of her exhibition opening next week...
What can people expect from the exhibition?
The exhibition is just a bit of an expression of me, all in some way based around a concept of flight. From the literal aspect of successful flyers with birds to attempted flyers with superheroes and more abstractly the dreamers.
At the moment, what's your favourite kind of art to make?
I just love using loads of texture and mixed media with my art. Everything seems to always end up involving either some form of illustration of some typography. I just love both so much and have made up most of my daily life for as long as I can remember. Lately I have been doing a bit more watercolour too and was so nice to be able to design neon lights, which is something I've really wanted to do for a long time.
Do you find as sole director and designer at Federation that you're able to express a lot of your art through the fashion?
Being a sole director is a recent change for federation. I do have some ideas and vision for the future of it, that will start to trickle through. But yes my art and handwriting has always been a part of the story and the expression of designing clothing is an important part of my life.
Now that you've decided to go ahead with it, are there plans for another exhibition in the future?
I would love to do another exhibition at some stage, but right now I'm pretty stoked to just
be
for a bit. Enjoy all the cool things that are in my hand to work with currently. I've found that balance with just being content and appreciating people above all, but I still won't stop dreaming. Opening evening: Wednesday 16 September 6pm to 8pm Thursday and Friday 17 and 18 September 9am to 3pm Saturday 19 September 9am to 2pm All Press Studio: 8 Drake St, Auckland.