Remix New Zealand Heroes Issue Out Now!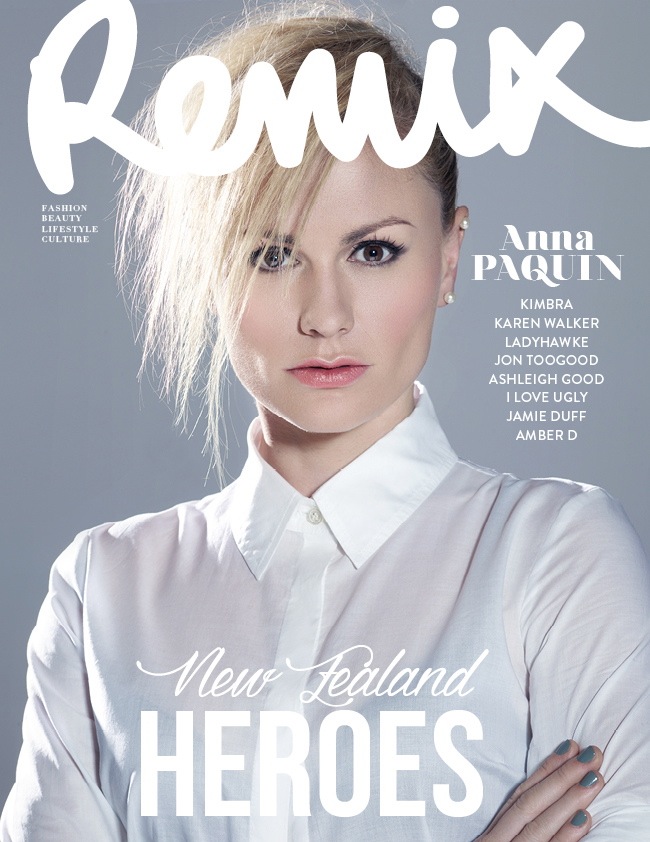 We told you to expect some big things… and here you have it! Right there on the front of our
New Zealand Heroes Issue
is the quintessential Kiwi hero herself,
Anna Paquin
. This issue of
Remix
is being released nationwide the exact same day as the hugely popular television series
True Blood
airs its final episode, which Paquin has been the lead role in for the last seven seasons. Read our exclusive interview and see Anna like never before on page 96. Anna is only the tip of the New Zealand Hero iceberg… We also have exclusive photoshoots and interviews with the likes of fashion legend
Karen
Walker
, musician
Jon
Toogood
, songstresses
Kimbra
and
Ladyhawke
, the boys from
I Love Ugly
, model superstar
Ashleigh Good
, as well as
Lorde
's right-hand man
Scott McLaughlan
and make-up artist
Amber D
. This issue of
Remix
is bursting at the seams, jam-packed full with the latest fashion, beauty, lifestyle and culture inspiration. Overseen by fashion director
Kylie Cooke
, our Fashion section alone weighs in at just under 80 pages, with beautiful photography and cutting-edge styling by a team of eclectic contributors. Look out for our conversations with models
Ollie Henderson
on page 233 and
Georgia Pratt
on page 241. Find out absolutely everything you need to know with what's hot this season in terms of beauty products with our well-researched Beauty section. You'll adore the stunning beauty shoot by the supremely talented
James K Lowe
on page 156. Tune in to our Lifestyle section for well-researched news, recipes and reviews from a host of accomplished foodies. Among many other recipes, you'll drool over the banana maple cake with lime cheese icing and poached rhubarb from The Caker herself
Jordan Rondel
on page 83. Find out what's been happening in the art scene with our comprehensive Culture section, then plan your next adventure by flicking through our Travel section, full of reviews, advice and photographs. We're also pleased to reveal the release of the latest international edition of
Remix
in New Zealand. Made possible by
Budweiser
,
Remix
USA with cover star
Emma Roberts
has been flying off newsstands Stateside. This entirely unique edition of
Remix
will be available in selected bookstores as a dual-purchase with the latest New Zealand edition of
Remix
and through our website
remixmagazine.wpengine.com
. Keep an eye out for it. Get your latest dose of
Remix
by picking up a copy at bookstores nationwide or click
here
to start a subscription.