Remix hosted a cocktail tour in the sky
Last week Remix hosted an intimate evening of tastebud tantalising at Auckland's SkyCity. It was a Thursday night so we thought, why not sip on a cocktail with the best view in Auckland? With a small gathering of discerning tastemakers, the team and friends set about the city's one and only skyscraper, heading up the 328m tall building to kick off the night at The Sugar Club. It doesn't matter if it's your first time up the glass screened elevator or the 10th, it always thrills and delights and our ride was no different.
What so many foodie and fun-fare lovers don't realise is you can actually head up to The Sugar Club without a restaurant booking and simply enjoy some eclectic drinks and experiential nibbles while taking in the sights.
Stepping into the opulent marble entrance we were welcomed by the friendly and knowledgable team who seated us with what felt like the best bar seats in the house - the catch with The Sugar Club is, every seat is the best seat in the house.
On a clear day you can gaze out and see approximately 82 kilometres from the Sky Tower, looking as far north as Leigh Peninsula, as far east as Great Barrier Island, as far west as the Waitakere Ranges, and as far south as the Bombay Hills.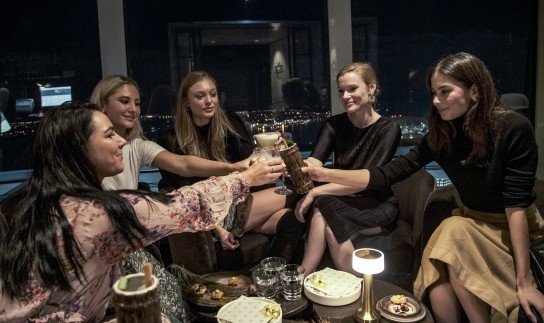 But at nighttime sometime magical happens... absorbing the exclusive and atmospheric mood with the twinkling lights of the city below, we couldn't help but feel like glossy ladies of importance sitting in the plush velvet armchairs and chaise lounge while we sipped our creative cocktails.
With a special 'Native' cocktail menu consisting of each passionate bar staff member's personal creations, we were spoilt for choice when selecting based on our palates. Based on their own personal take of a liquid portrayal of NZ, they each draw on our unique elements and natural surroundings that inspired them, built upon with ingredients that have delicious wow factors and tell a story.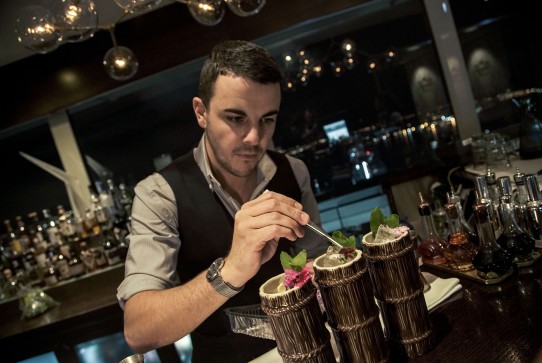 The pick of the night was the Kamote by Maria. The Kamote tells a tale of family and tradition, taking on the idea of the childhood favourite "Halo-halo" and transforming it into a unique pacific potion championing flavours like coconut & humble kumara. It features coconut rum, kumara coulis, creole bitters and lemon. With the team at The Sugar Club truly going above and beyond for our giddy gathering providing us with their sentimental 'Native' cocktails and delicate nibbles, we were ready to head back down the joyful elevator and be delighted once again through the red doors of Huami.
While not high in the sky, Huami sits as an essential player to the gastronomic delights of SkyCity's cuisine and entertainment. Behind the big red doors on Federal St, you'll find this divine Chinese restaurant boasting traditional flavours with a modern twist. A true taste of China, the menu showcases dishes from regional provinces including Canton, Sichuan, Huaiyang and Beijing.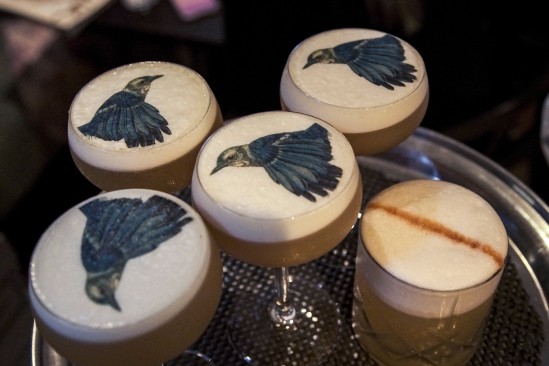 Heading through to the bar area we came across a hidden gem of the establishment. This beautiful bespoke area was a perfect spot to continue our night of intricate ingredient and palate exploration.
Without a doubt, the food is amazing - but what really had our jaws dropping onto our overflowing table of bamboo dumpling boxes was the Floxtail cocktail. When the drinks arrived to our table we could hardly contain our surprise and excitement at this delicately designed piece of art. SO much more than just a drink, this was a cocktail we'd be talking about for weeks to come. Celebrated local artist Flox worked on the artwork throughout Huami seen on the wall behind our table in the bar area and this native bird cocktail was inspired by her work.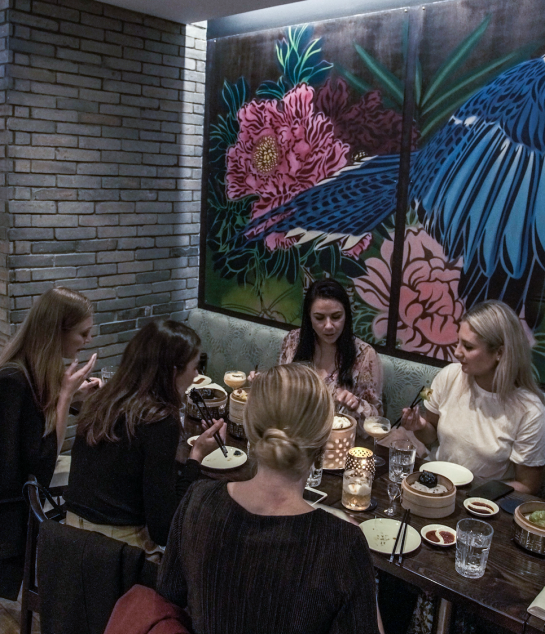 After carefully drinking our design-award worthy drinks and downing Huami's signature hoisin duck pancakes dish, our team were content and full. An evening of surprises and new flavours was had by all... SkyCity, we'll be back.