Remix Editor Amber takes a wine tour through the Marlborough region
This is the Marlborough winery guide you've been waiting for...
If you'd asked me 10 days ago what's in Marlborough, New Zealand, I would've ignorantly (and embarrassingly) said, "I'm not entirely sure." But go on, ask me again, because do you know what I'd say now?
WINE. Lots and lots of incredibly high-quality, New Zealand-made wine.In celebration of International Sauvignon Blanc Day (May 7th) I set out with the lovely Juliana Foster of New Zealand Wine to taste my way through the region's best wines. My itinerary was so jam-packed with vineyard-hopping, that I didn't quite believe there could be so many available wineries and cellar doors in one region.
This was my first underestimation of many to come...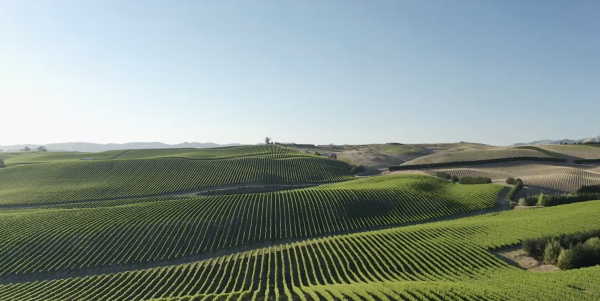 Descending into Blenheim, I was shocked to discover the plane was entirely surrounded by acres and acres of wineries. What used to be popular livestock farmland has since been replaced with row after row of grapevines after locals in the 80's caught on to the fact they were standing on superbly diverse soils and shepherding their cows around these meso-climates, that made for a perfect wine growing algorithm.
In fact, it was actually Marlborough that put our little nation on the international stage of wine back in the 1980's when people flocked to the area to grow Sauvignon Blanc. Now it boasts over 20,000 hectares of vines, contributing to around 2/3 of the national total, making it the country's largest wine region.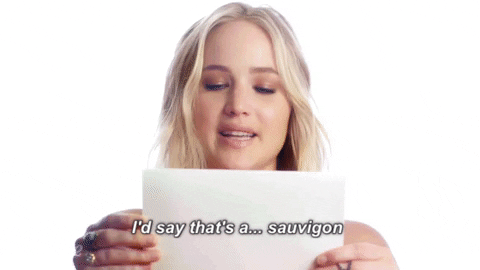 But don't worry, I didn't only drink Sav on this tour because Marlborough wineries offer a huge range of varieties. From exquisite Pinot Noir to intense Chardonnay, and vivacious aromatics, I tried em' all. Here's where I went in Marlborough, what I did and what I recommend...
WITHER HILLS
Highly Recommend: Wither Hills Single Vineyard Rarangi Sav (easy to drink, food friendly)
Standing at the top floor of the Wither Hills building (which is beautiful should you be looking for an event venue) you can see out over the vast valleys of the region, which isn't actually one region at all... but three sub regions. The Marlborough wine growing area is so diverse. From the Wairau Valley which follows a riverbed, which was hailed as one of New Zealand's most sunny and dry regions, to the Southern Valleys which provide drier conditions both visually and soil-wise (this is where you'll find the Wither Hills winery itself), and then the Awatere Valley beyond that which provides cooler, drier, windier and often elevated sites.Established in 1994 Wither Hills strategically placed vine sites or 'blocks' throughout all of these valleys, because they all offer different growing conditions which ultimately affect the wine's flavours and notes.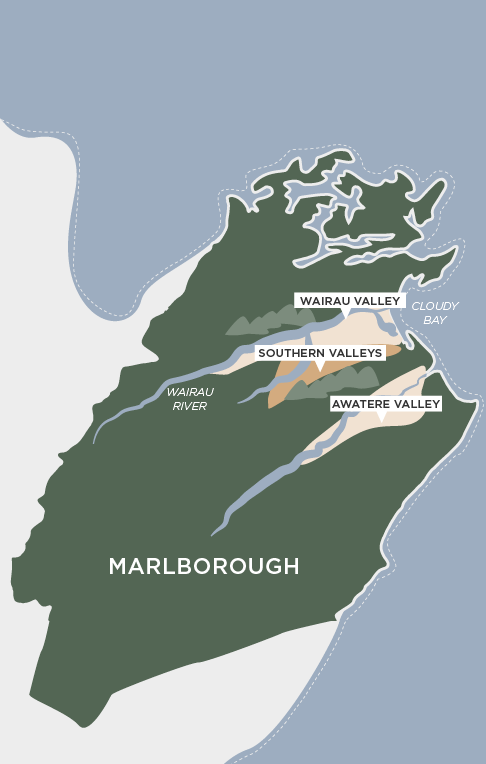 After a quick 'behind the scenes' tour around the winery, including many tastes of wine from the tank - still fermenting, which in my opinion is equally as nice as the final product - we were lucky enough to try a Sauvignon Blanc wine blending with one of the winery's winegrowers. It was here that I learnt I would quickly need to broaden my wine vocabulary if I was to fit in with the locals. In a matter of minutes I went from using basic bit*h descriptions of 'fruity', 'sweet' and 'dry', to the much more sophisticated flavour notes of 'crisp apple', 'zingy citrus', and even 'sweaty'...
Here's the New Zealand wine flavour wheel to equip you with endless words that will make you sound like a pro...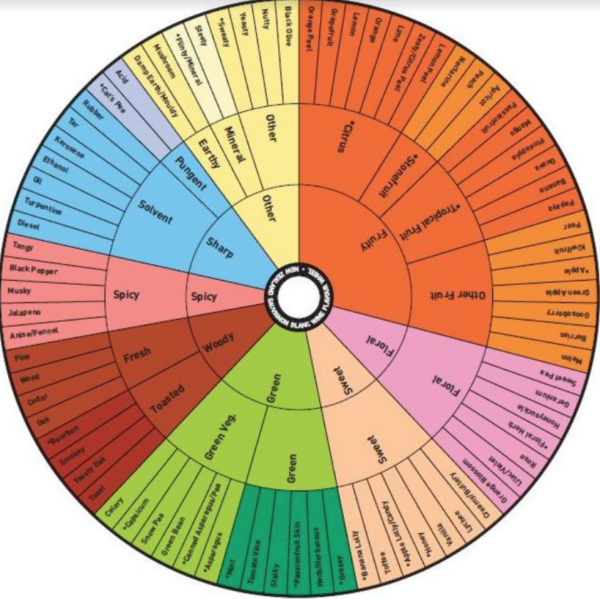 HOT TIP: Pop downstairs to the secret cellar. It's equal parts romantic and superhero lair.
ST CLAIR
Highly Recommend: 'Dawn' Méthode Traditionnelle (Dawn Ibbotson is the matriarch of Saint Clair, who accomplished 100 years in December 2014. This wine is named in Dawn's honour in a very limited release.)
St Clair is where I really started to understand the wine growing success of these sub-regions. After enjoying a glass of Dawn (almost at dawn, well 9:00am), we sat down for a food and wine pairing prepared by the amazing St Clair kitchen, and for the next hour, I was schooled in all things wine growing. As I mentioned earlier, different vineyards have different soils and climates, which ultimately affects the types and flavours of wine produced. Kyle Thompson, head wine grower from St Clair admitted that they have one particular site or 'block' which usually produces the best wine each harvest, and they're not being bias either - they blind taste test them! The reason for this specific block's success? Alluvial gravel. What is this? Just one of the many unique soil characteristics for the Marlborough region.
As winemakers, they do wine testings nearly everyday to test the progress of the fermentation. But when something becomes second nature, how does one switch it off? They don't. Kyle said," I'll pick up a glass of wine at a dinner party and immediately start running an inner monologue about whether they should've harvested the grapes a little later in the system. In fact Kyle is so good, he can pick up simply from the smell if it has fermented for too long, and of course "a taste confirms your smell suspicions."
It was St Clair who first met my challenge of making me like red wine. I'm a white wine lover but I want the sophistication and street cred that comes with drinking red. Sadly my tastebuds aren't as keen... What Kyle explained, is that with reds, the devil's in the detail, and you need to appreciate the complexity. My conclusion after listening to the extensive process involved in creating an NZ red? Pinot Noir is like the Olympics of winemaking. When I said this out loud, Kyle replied with. "Yes, but you want to win the olympics, not just compete." After tasting the St Clair Malbec - accompanied by a handmade chocolate made in the St Clair kitchen - I believe there's a gold medal swimming in there somewhere.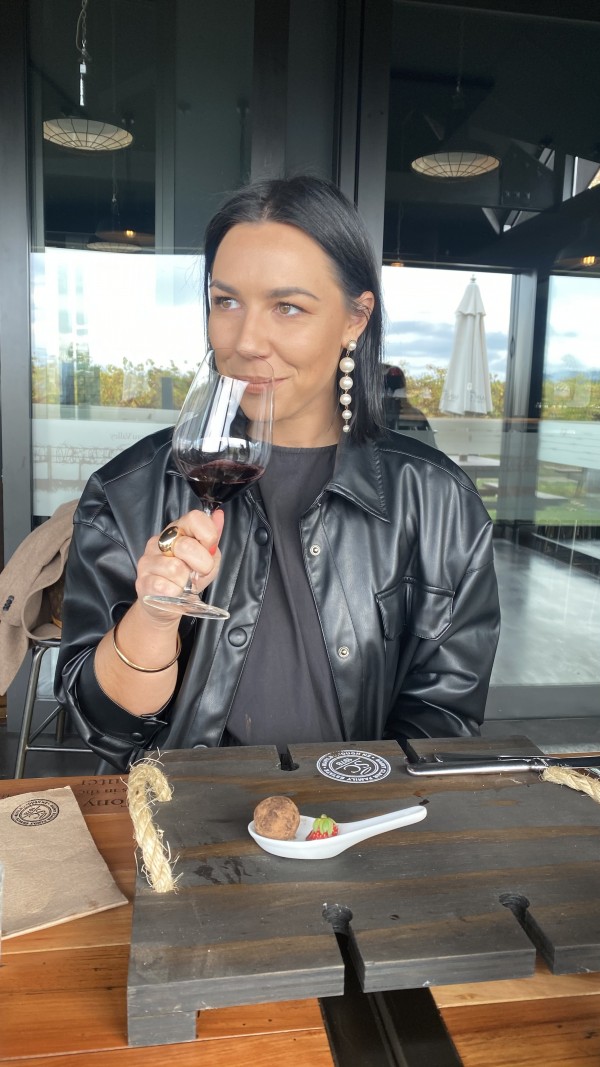 Here I am, sampling the Pinot Noir and not disliking it
BLADEN WINERY
Highly Recommend: Bladen Gewürztraminer 2020 (After trying this, I think it's my new favourite wine)
If dogs and wine are your thing, then put Bladen right at the top of your Marlborough hit list. From the minute we arrived we felt like we were home. Driving down the driveway to be greeted by dogs on either side of the car, we were welcomed by Blair's friendly face sitting inside a quaint wine tasting shed. Blair is the son of Dave & Christine Macdonald and makes up one half of Bladen (the two children's names Blair + Deni = Bladen). The name of the brand sets the tone for this very loving winemaking family. It all started for Christine and Dave when they were drinking $5 wines as a young couple, until they splurged one day and tried a bottle from Provence. This opened them up to love affair with wine and they eventually decided to make their own because they were spending so much on quality bottles!
Sitting there with Blair, his mother Christine and the resident winemakers, it felt like drinking with old friends. I can see why on a hot summer's day they have over 150 people visit their cellar door for tastings in the sun. Being away from my own dog, I was thrilled to drink wine and pat the pups. I also learnt the original dogs on the vineyards names were Pinot and Merlot (of course). As we enjoyed a number of varieties, I couldn't help but think Bladen wines taste so good because they're made with so much love.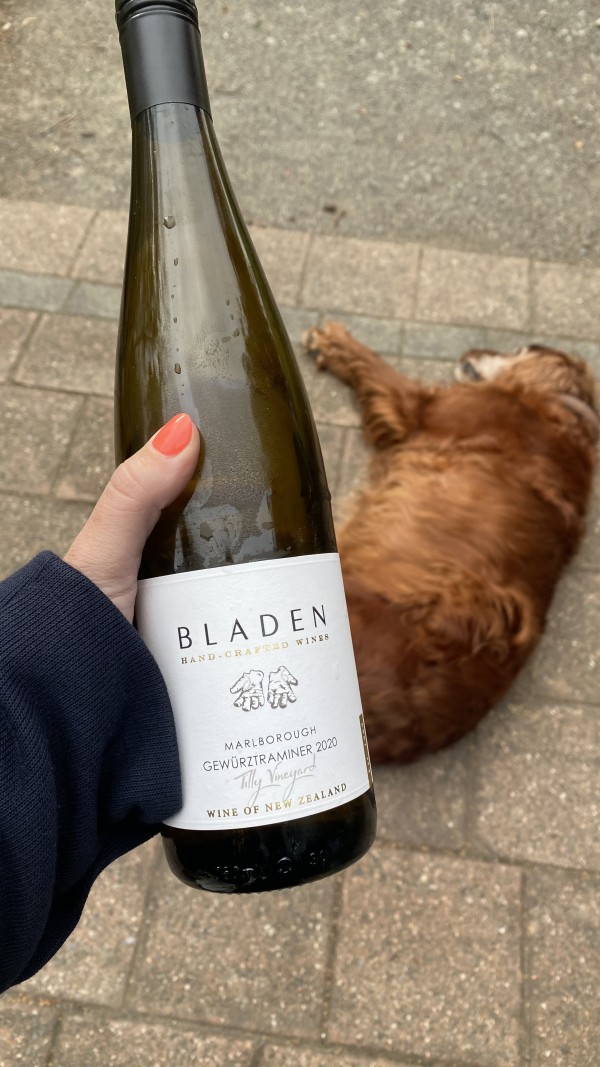 Notice how the Bladen logo is of two gloves, to signify the hard work that goes into handcrafting and handpicking the grapes - the 'hands on approach'... Bladen is also a sustainable winery.
HOT TIP: If you've ever wondered what the perfect wine is to drink with a Thai green curry, Blair assures me it's Gewürztraminer.
CLOUDY BAY
Highly Recommend: Te Koko 2016 Vintage (Cloudy Bay broke the winemaking rules to create a sophisticated style of New Zealand Sauvignon Blanc made through wild fermentation and aging in old French oak.)
It probably comes as no surprise that Cloudy Bay was on the itinerary. It's known around the world for its much-loved Sauvignon Blanc. Cloudy Bay only make seven wine varieties, but they do them VERY well. In fact, it was Cloudy bay that helped put Marlborough on the world map...
Not long after arriving at the iconic winery, we were shimmied into Dave, the winery's legendary white Land Rover named after the man who dreamt up the entire concept of Cloudy Bay over 20 years ago. Back in 1984, David Hohnen was so inspired by the quality of the Sauvignons brought to him at his Cape Mentelle winery in Margaret River by some New Zealand visitors he decided to go and see for himself. Many many wine tastings later he decided that all the best Sauvignons came from Marlborough. He then met Kevin Judd, who has run Cloudy Bay ever since and the rest is history.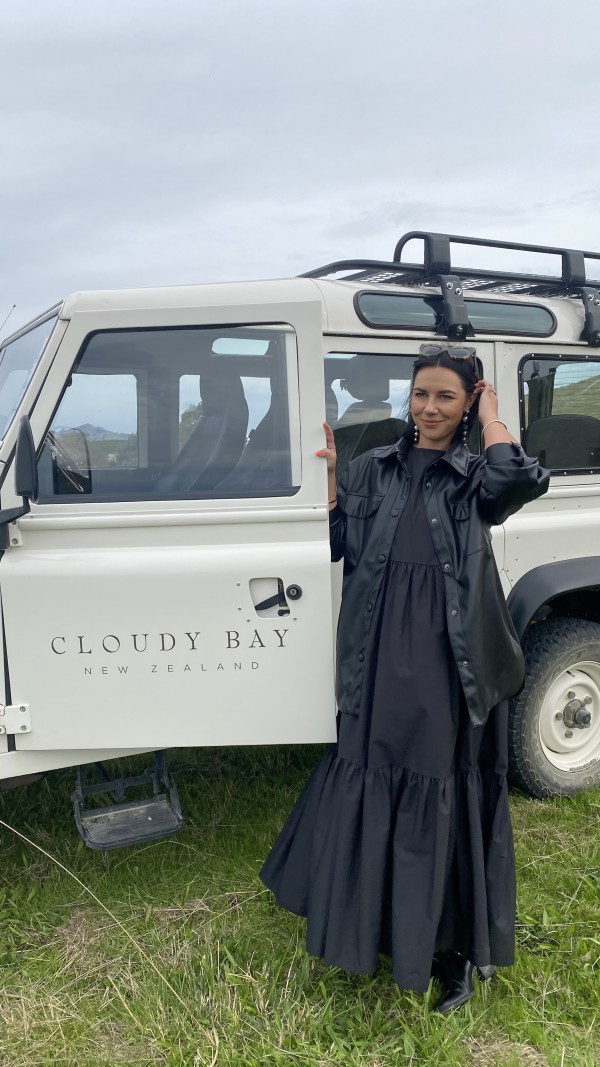 Dave scooted us around the rural back roads, so we could survey the different Cloudy Bay blocks. We could visibly identify the smooth river stones - some as large as coconuts - bursting out beneath the vine roots, which completely goes against what I thought you'd want in your soil for winemaking.
We drove out to a peak that looked out over the block's Autumnal vineyards. You could see the changes in colour on leaves, and we were told the leaf colour could distinguish the wine type - red leaves were the Pinot vines, white the Sav, and yellow Chardonnay. On the way back to the winery we stopped and had drive-through 'takeaways', Cloudy Bay style - leaning out the old school windows of Dave to pick grapes right from the vine - our driver explained what gets left over post-harvest is always very flavoursome. Nature's candy!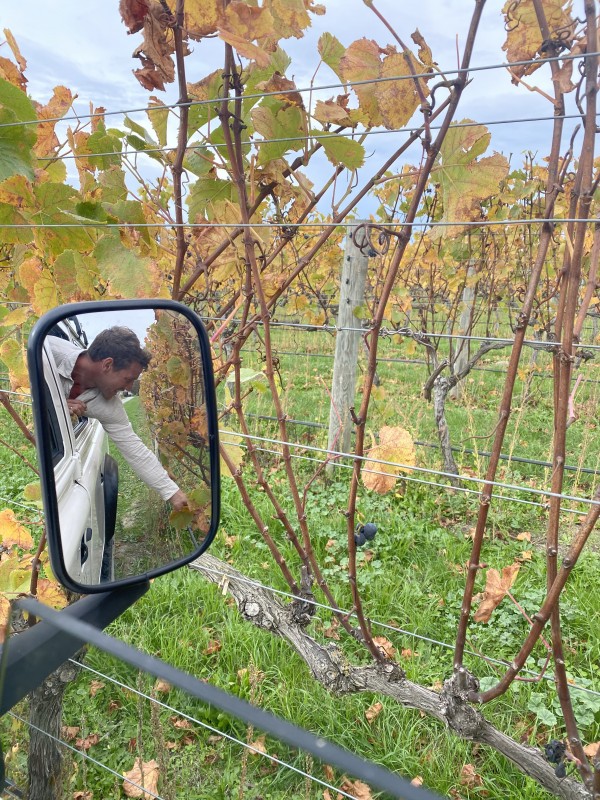 HOT TIP: If you're ever unsure what wine to take to a friend's lunch or dinner party, onsite Cloudy Bay winemaker Jim White told us, "Chardonnay and Pinot are the ultimate dinner wines. They're not going to overpower and they go with everything from seafood to roast pork." Cloudy Bay even put together a guide on setting a perfect lunch.
NO1 FAMILY ESTATE
Highly Recommend: No.1 Family Estate No.1 Rosé Méthode Traditionnelle (I'm not normally a Sparkling Rosé girl, but this one I fell in love with)
I've come a long way since my days of scanning Dunedin alcohol store fridges for the SPECIAL stickers as a student. I'd like to think this stop on the winery tour is a shining beacon of my progress. Specialising in Méthode Traditionelle, No1 Family Estate are the most glamorous of wine makers in Marlborough. Producing a range of vintages and blends handcrafted by well-known winemaker, Daniel Le Brun (aka the Grandfather of Méthode Traditionelle in New Zealand) in the time honoured traditions of his family in Champagne. I love bubbles so it take much convincing for me to try and finish full glasses of each variety.
After tasting the goods, we were lucky enough to meet with Daniel's son Remy Le Brun, Remy is finishing his bachelor's degree in Viticulture and Oenology and now following his father's footsteps, managing the vineyard in Marlborough.
As a 13th generation of winemaker of the Le Brun family, it's safe to say it's in his blood. For his 21st birthday he received no ordinary birthday gift. His father Daniel harvested and produced a special vintage just for Remy, called Cuvée Remy. Remy took us through the entire winemaking process, explaining the various machines, different barrels/tanks and even showing us some decades old machinery that the family brought over from Champagne. Not a cheap process as you can imagine…
Remy wasn't always set to take over the vineyard. After following his passions into film and personal training he spent some years overseas pursuing different goals. In his mid-twenties, Remy took a trip to Champagne, spending quality time exploring the centuries old heritage vineyards with his French grandfather. "He couldn't speak English, and I couldn't speak French, but we understood each other," he explained. "It was after that experience that I realised I couldn't deny my natural longing to continue the family practice."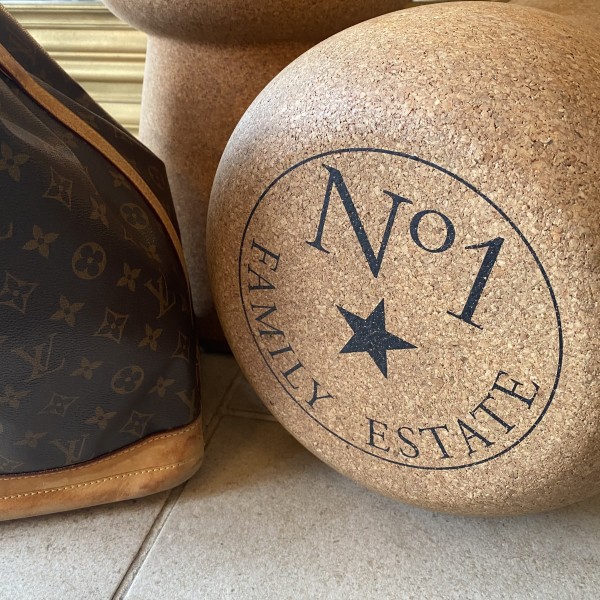 HANS HERZOG MARLBOROUGH ORGANIC WINERY
Highly Recommend: Sauvignon Blanc "Grand Duchesse" 2016
Did you know that much like a Jedi Master there are Wine Masters? And the very best Masters of Wine (aka trained and certified wine experts) are considered Master Sommeliers. We only have one of those in New Zealand. While I'm no Wine Master OR Sommelier, at Hans Herzog I certainly felt treated like one. This is no ordinary winery. They give a very unique and intimate hosted experience here. It wasn't long after stepping into a boutique villa-like property, lined with white roses and hedging, that I had a glass of Hans Herzog Méthode Traditionelle in hand. Listening to Therése Herzog explain the history of the winery, as well as the fine dining (with a Michelin Star chef) & boutique cottage experience they offer guests, I realised the quality of New Zealand wine is just so much further beyond what I thought it was.
After deciding to leave Switzerland and its restricting Swiss wine laws, Hans said he found the 'perfect climate at the end of the world' in Marlborough in 1994. Peeping into the winery work room, Hans was quietly working away. You could feel the passion in every action he made, as we walked through the very romantic and European feeling barrel room. Hans cheekily allowing us to steal some ferments via the 'wine thief' device I had so grown to love from some very special vintages. The Herzogs' are legendary Swiss winegrowers who have been in the game since the 16th Century. The Marlborough winery is known just as much for its 20 grape varieties as Hans' unique winemaking talents and persona.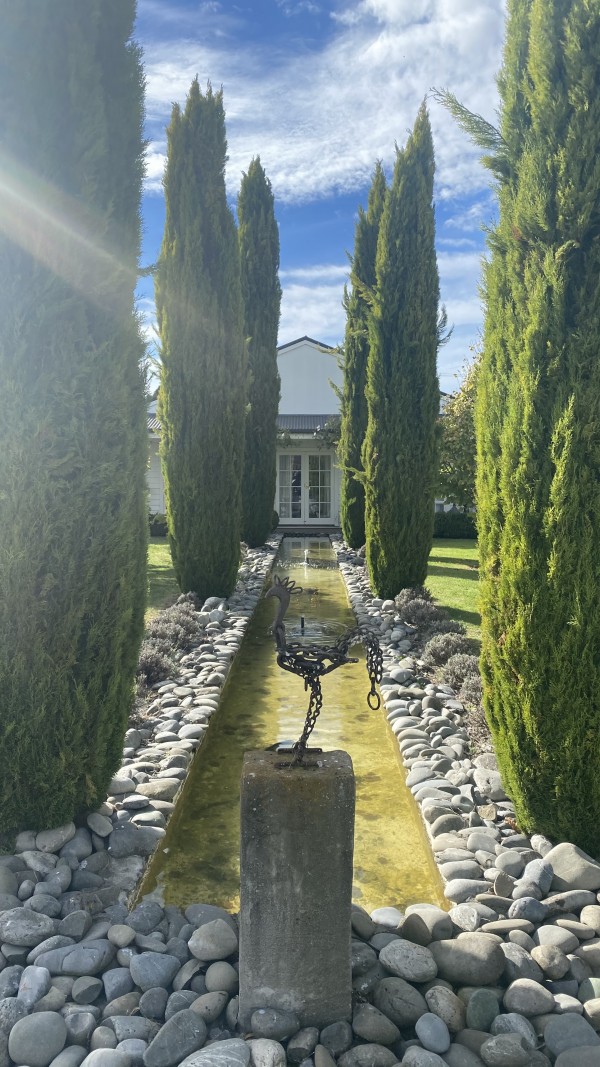 The reason I felt like I was receiving A-list treatment, is actually because I was. The most recent high profiler to visit Hans and Therése was none other than Anthony Malkin, the owner of the Empire State building, who Therése added "arrived very casually in flop flops." Malkin came for the unique experience, based on recommendations and the reputation the Hans Herzog winery carries globally. Staying in the quaint and character-filled cottage - a far cry from New York's biggest skyscraper - but I have no doubt it was a welcome Kiwi respite for the man who has everything. Fellow American Megan Markle has also previously enjoyed the hospitality of the Herzog family at the organic Marlborough winery.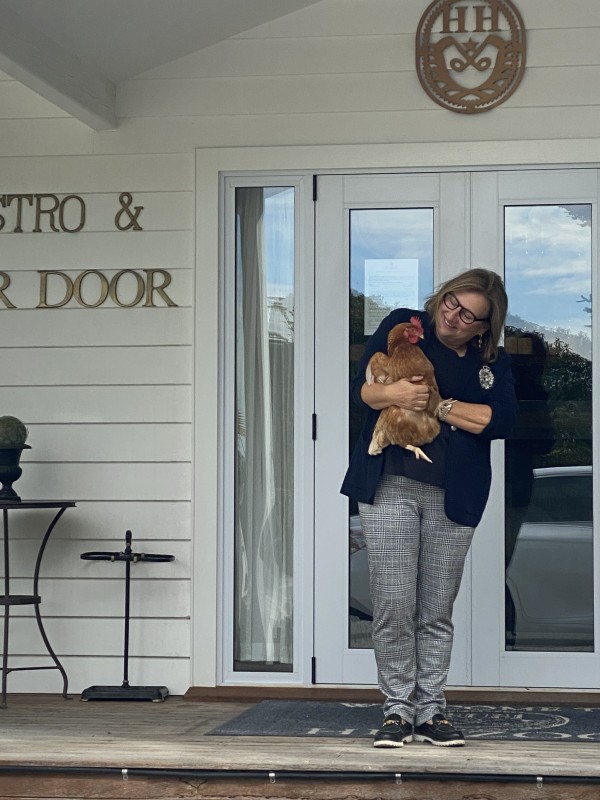 HOT TIP: I recommend booking an exclusive private wine and dining experience, but also keep an eye out for the resident chicken - a very friendly companion while walking through the charming gardens.
ALLAN SCOTT
Highly Recommend: Black Label Hazy Barrel Aged Sauvignon Blanc 2020 (it's their fresh take on everyone's favourite Marlborough wine).
Did you know there are over 700 wineries in NZ? And family winemakers Allan Scott were one of the first independent wineries in Marlborough, established in 1990. But Allan himself was in wine long before that, with over 40 years of experience since he first moved here in 1973. Allan and his wife Catherine still oversee every aspect of the business and have entrusted the key operational elements to their children, Josh (Winemaking) and Sara (Viticulturist).
After taking a look around the very Insta-worthy gardens and Bistro (which is only open over summer), the onsite Allan Scott winemaker was kind enough to take us out back to taste some fermenting wines from the recent harvest. One thing I couldn't get my head around not only at Allan Scott, but all Marlborough wineries, is the practice of 'spitting'. Winemakers and seasoned sippers know it's essential to 'expectorate' when tasting multiple wines. Apparently, if you swirl your glass, take a sniff, sip, swish, and then spit, you're still going to get a sense of the wine. The trouble is, you need to use a bit of force when spitting, or you'll end up with it down your face and clothes. I didn't partake for two reasons 1. I needed to keep my clothes looking tidy as had packed carry on only (rookie error) and 2. I just can't justify spitting out good quality wine when you can drink it in all its glory.
I also got to see a 'wine thief' in action. Which is essentially a reverse funnel/giant straw device that allows you to steal wine from barrels for tasting. The views from the top of the tanks weren't bad either.
HOT TIP: During the warmer months you can load up a custom Allan Scott swipe card to use on their wine tasting machines in the cellar door. It's like a wine vending machine that allows you to taste test as many different wines you want for as little as $1 per sip. You can choose taste, half glass or even full glass pours. And the auto-pours are rather generous...
NAUTILUS
Highly Recommend: Nautilus Chardonnay (the resident winemaker drinks a lot of this, so you know it's good stuff)
Named after the shell of beauty and mathematical precision, Nautilus wines are hard to beat. A family-owned winery that started in 1985 their aim is to craft delicious, food-friendly wines from the clean, cool and diverse valleys of Marlborough. The Nautilus Sauvignon Blanc is known for it's intense lifted aromas of passionfruit and lime zest and hints of elderflower.
If there's one man in wine to know of, it's Nautilus General Manager and Winemaker Clive Jones. A respected member of the local winemaking community, he also recently joined the board of Wine Marlborough and regularly represents the region on various panels and debates both locally and overseas. Clive walked us through the winery to taste the recent harvest ferments while telling us about the joys of being a winemaker. He explained that he works in a unique industry, saying "Longevity is quite common in the industry, I've been doing this job for 23 years. Winemaking now is very much on the radar, when I got into it, it barely was."
Interestingly though, it seems he was destined to work in this world. "When I was at school, I sat down with the careers coach, they put my interests into the computer, and out spat 'winemaker'," he said laughing. When I asked Clive what his favourite Nautilus blend was, he responded with, "That's like asking who your favourite child is! You can't afford to have favourites." But I eventually got out of him that he mostly drinks the Nautilus Chardonnay...
HOT TIP: The team recommend pairing the Nautilus Sauvignon Blanc with with crunchy fish tacos with a zesty yogurt sauce.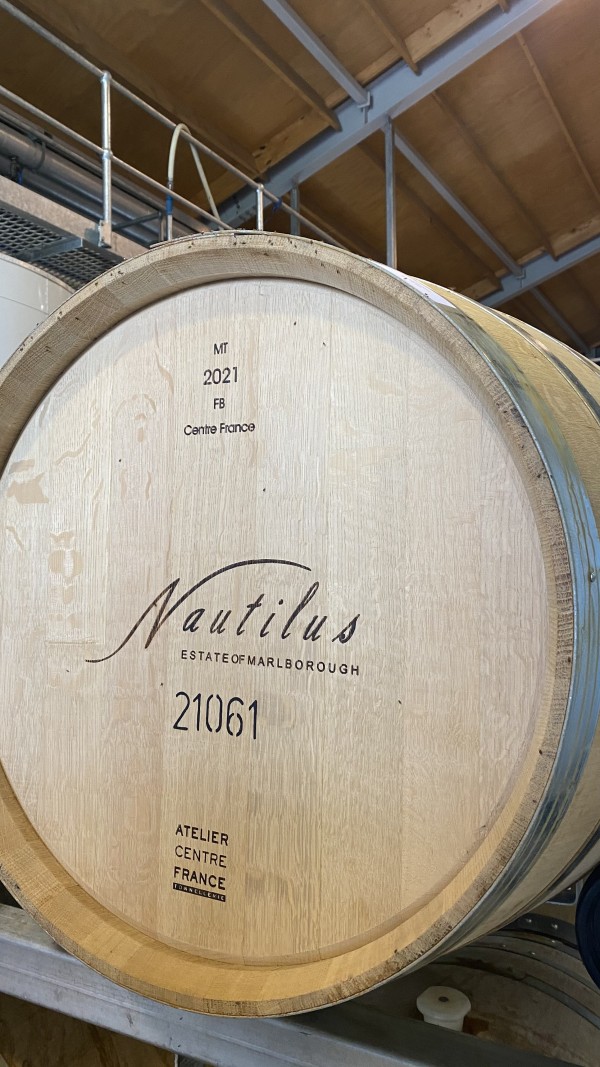 I've always known my Sauvignon Blancs from my Chardonnays and now, thanks to this trip, I can identify a Marlborough Sav, how? Because they're the best Savs in the world.
Find out more about Marlborough's wineries at nzwine.com