New Zealand's Quirkiest Air BnB's
There are so many hidden gems in New Zealand's backyard, including some rare and super quirky Air BnB's that you can find plotted all around the country. From a romantic bush chalet to a tent dangling from the trees, these are some of New Zealand's most interesting Air BnB's.
Greystone PurePod - $490 a night
Waipara
This PurePod is surrounded totally by glass, even the roof and the floor. It is set high amongst the award winning Greystone vineyard and is perfect for stargazing.
Raglan Tree House in the Woods - $155 a night
Raglan
Go back to your childhood and escape the hustle and bustle to this tiny off-the-grid tree house in Raglan, overlooking the water from within the woods.
Romantic Bush Chalet - $155 a night
Auckland
Escape Auckland City without really having to go far. This peaceful bush chalet is situated amongst Kauri tree's and is just 18km away from the CBD.
The Chocolate Yurt - $96 a night
Motueka Valley
The chocolate yurt is a private retreat overlooking the Motueka river valley. There's an outdoor bath and even a skylight to gaze at the stars at night.
Tree Tent - $159 a night
Kaihu
This one might not be for everyone but for those who seek nature what better way to become one with the woods then to sleep in a tent that is suspended from all the surrounding trees.
Miners Cabin - $120 a night
Paeroa
This rustic cabin is situated within an old historic refinery building that is close to Karangahake Gorge and Waihi Beach.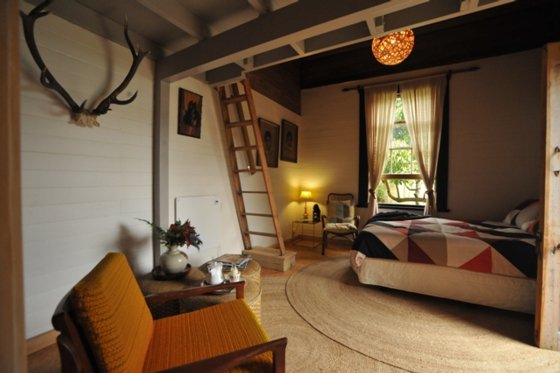 (Images: Air BnB, Glamping.com, PurePods)