Auckland artist Misery's 'New Balance'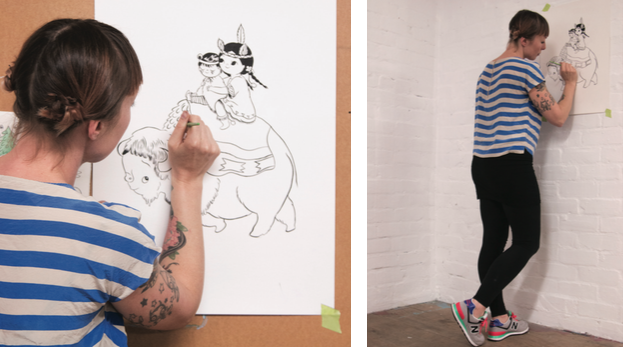 Tanja Jade McMillan
, or 'Misery' as she is more commonly known, is a bit of an Auckland legend; an inner-city street artist known for her magical murals dotted around the central CBD, most predominantly near her K Road studio. Originally from Queensland, Australia, and now a proud Aucklander, Misery's creative spirit recently caught the attention of New Balance footwear, who made her one of their Excellent Maker ambassadors.
Remix
writer Isabelle Truman caught up with Misery to talk about her footwear and her future.
What've you been up to lately?
I've been pretty much just focusing on my kid's range, which is called Misery Guts. I do that for two or three months and then I have a break and do all my other art projects. I'm just at the tail end now and then I'll be working on some commissions and an art show, which is in July in Sydney. I have a bunch of paintings and sculptures to make for that.
Did you always know you wanted to be an artist?
I always knew that I wanted to do something creative. I actually wanted to do photography. That's what I studied first but I always painted on the side and did illustration, which sort of took over and became more successful for me than photography, so I went with that.
Was street art where you started off?
I've created characters since I was a kid, and always painted. At high school heaps of my friends were into graffiti and street painting. I always thought the whole concept of street art was really weird – like, why would you stay up all night and risk getting arrested? But I went out with them a few times and it was so much fun, so I started painting the characters and I guess because the style I did was a little bit different to what people were doing at the time in street art. It was a little bit recognisable and that's where the 'Misery' name started.
How did you get involved with New Balance?
They actually approached me to be involved with a short film that they were putting together and from doing that we got talking. I ended up becoming an Excellent Maker, which is a sort of New Balance ambassador. I do what I do and I get to wear New Balance, which is really awesome.
Why did it fit with you to collaborate with them?
I'm not one of those sneaker-freak kinds of people, but I've always worn New Balance. I've always liked the style of their shoes and the colours - it's a really cool brand. I think they're sold out everywhere, but I really need to get my hands on those new metallic gold ones. I also really like the plain white and grey ones, but then I do have a lot of the fruity colourful ones... Check out the short clip on Misery below, then
here
to check out Misery's faves online. [video src="https://www.youtube.com/watch?v=wc8tAeFw4tg" size="auto"]