Is Dose & Co. the easiest way to improve your glow-up?
On the quest for that fresh-faced glow we all love? Dose & Co's collagen products might be just what your hot girl summer ordered.
For the past month-and-a-bit, I've been adding Dose & Co Collagen Creamer to my morning coffee. You may wonder why I've been doing this, and I have two answers, both of which are vastly interchangeable. Firstly; I want to be a hot person, and secondly; all the beautiful celebrities seem to be doing it. Introducing new daily rituals may seem like a daunting pursuit at first, but, I decided to trust the scientific process, and the scientific process in-turn rewarded me with noticeable shinier locks, stronger nails, and a lit-from-within glow.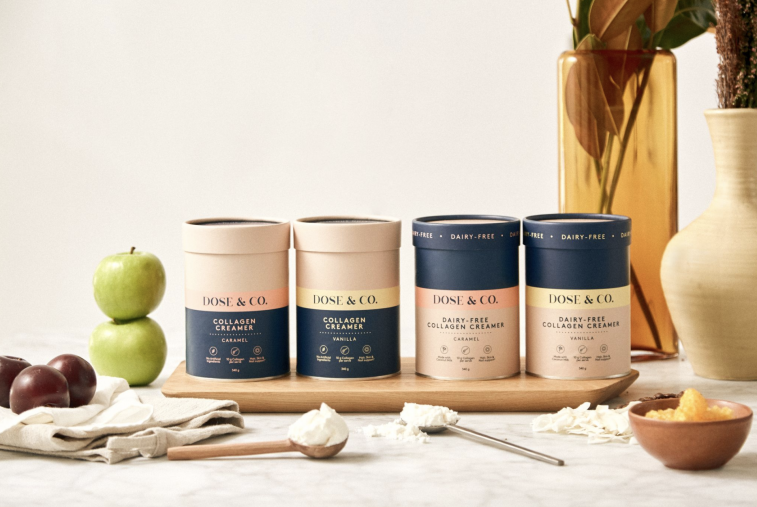 I've developed somewhat of a signature craft over the past few years, namely, swallowing solutions filled with suspended proteins and/or slathering them all over my face with ease and precision, in the hope of a better me. This craft has given me an unparalleled insight into what products are worth your precious time and money, and I am here to report, that Dose & Co is one of them.

You're likely familiar with the brand which made waves in the beauty and wellness industry after it's May 2019 launch. What started as the brainchild of Libby Matthews, a small e-commerce brand with a collection of only two products has quickly manifested into a household name, with the likes of Khloe Kardashian (and even myself) now enthusiastically consuming the product. "Our expectations have been completely blown away with how fast it has grown," says Dose & Co co-founder, nutritionist and certified naturopath Libby Matthews.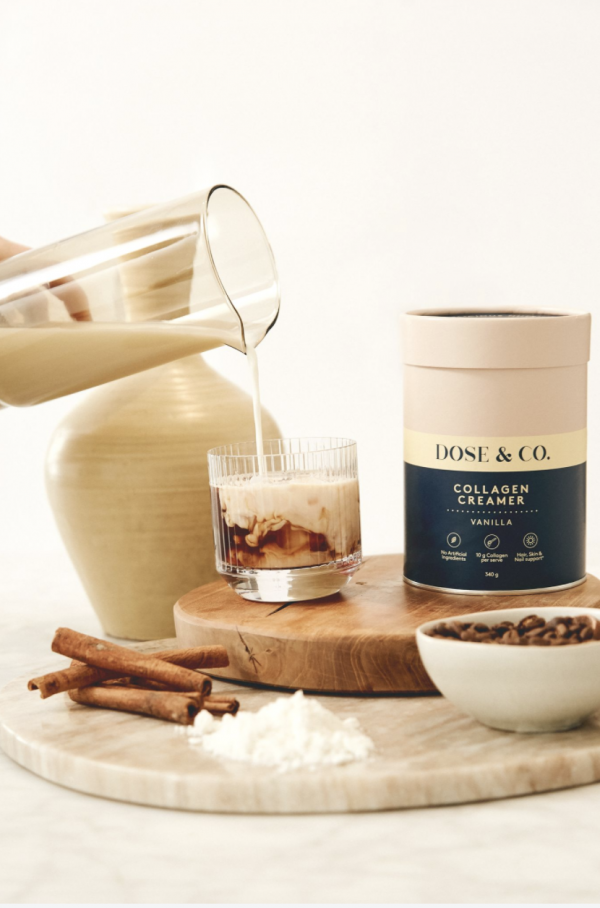 Sustainability is at the forefront of the business model, with a plastic-free policy extending from its deluxe cardboard canisters right through the packaging tape made from paper. "It didn't feel right to put these premium formulations in a plastic tub," says Libby. "Eliminating plastics was paramount."

Showing no signs of slowing down, the Dose & Co empire has now expanded into retail in Australasia, making it even more accessible than ever for those wanting their premium and eco-friendly dose of collagen. The U.S is next, with a retail launch planned for later in the year. They are also adding two new and exciting products to the line-up, with the introduction of their Collagen Protein Powder (a whey protein with added collagen) in Chocolate Fudge, Creamy Vanilla and unflavoured Pure Collagen.

The signature Collagen Creamers, available in Vanilla and Caramel, now also come in formulations containing dairy, illustrating the brand's dedication to customer feedback.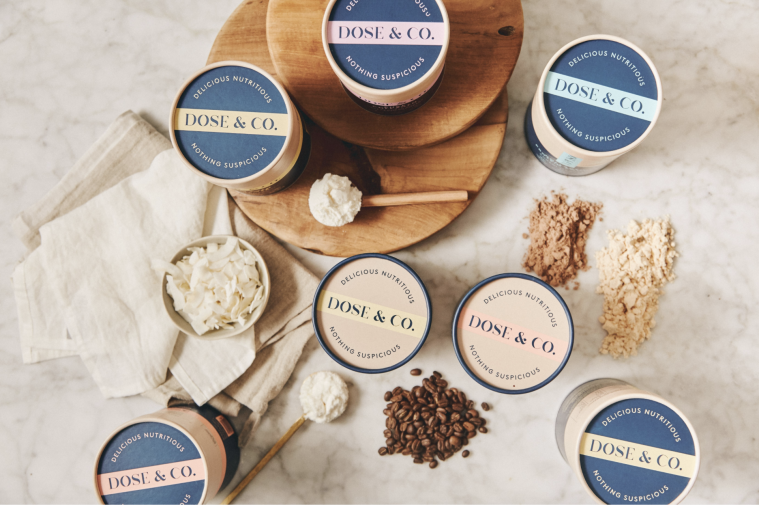 Basically, contrary to the cinematic makeover montages of the '80s and '90s, most humans cannot overhaul all their beauty desires in one go. I suggest, instead, making a few easy to implement and easy to stick to changes in the way of making positive for-me choices. Including Dose & Co in your morning bevvy is about the easiest daily practice there is, and, believe me, the results won't disappoint.

Dose & Co is available at New World, PAK'nSAVE and select Four Square stores nationwide across New Zealand.
doseandco.com
@doseandco