Get to know Kiwi artist Evie Kemp and the incredible Aussie distilling company hitting New Zealand shores
Spring is finally here! And there's no better way to celebrate than with a seasonal cocktail to kick-start the springtime festivities. We're choosing an Aussie staple to help us welcome in the warmer weather in style, why aren't you? Archie Rose Distilling Co. has finally graced New Zealand shores and to mark the moment, they've partnered up with Kiwi artist Evie Kemp for a spring zing like no other.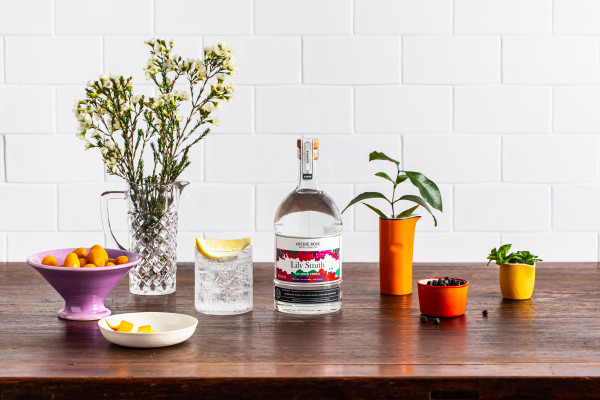 Archie Rose launched eight years ago as one of Sydney's first distilleries in 160 years, producing gin, vodka, whisky and rum! Finally making an appearance on shelves across New Zealand, Archie Rose not only offers a stunning selection of spirits but the opportunity to not only craft your own gin, vodka or whisky online as part of the Archie Rose Tailored Spirits range - but also to personalise your own label artwork. The cherry on top? A colourful, customised bottle label designed by Evie to emulate the botanicals that sit on the palate after a first sip of Archie Rose.
Remix chatted to the brain behind the brand's quirky bottle labels about her craft, her collaboration, and the incontestable nature of a good G&T.
You describe yourself as 'the creative version of a one-woman band'. Tell us about this interpretation of yourself.
While I can't play any instruments I do a lot of different things within my work - I do illustration, art, textile and graphic design, but I also do styling, interior design, writing and teaching. Where I can I love to combine the lot in the projects I do.
You have a very unique style when it comes to the art that you create. What fuels your artistic passion the most?
So many things fuel my artistic passion (TV, fashion, nature, art, weird colour combos) but the main thing that gets me going would be applying art to the everyday, whether that's a piece of clothing, or a toaster, or a bottle - I love when something functional has an artistic bent, it just creates so much joy and is so accessible in a way that traditional art may not be.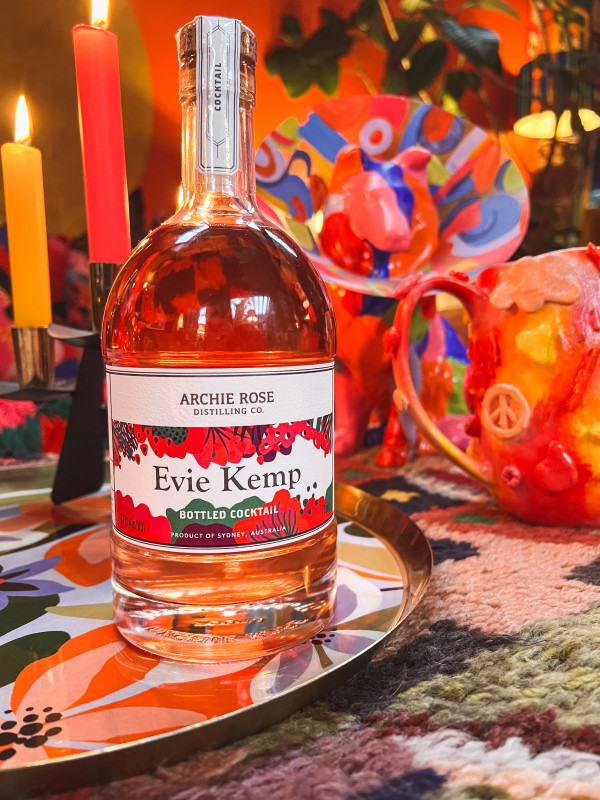 You're not afraid to use bold and vibrant colours in your pieces. What do you love about using colour confidently?
My most favourite thing about colour is how it is the most powerful tool to create and affect a mood, it's a very personal thing to find colours that impact you but I think it feels almost like having a crush - you're a bit obsessed, excited about the possibilities, you see it everywhere, and then eventually you move on to the next one and it's all fresh and new again!
You've just teamed up with Archie Rose in celebration of their launch in New Zealand. What do you love most about one of Australia's most highly awarded distilleries?
I just love the flavour blends available through Archie Rose, and that they're just so good. It feels incredibly decadent to be able to have a custom spirit and they make such a cool and thoughtful gift.
You've customised Archie Rose's bottle labels with your signature flair. What was your inspiration behind the Archie Rose designs?
I was really inspired by the ability to create your own botanical blends with Archie Rose so in that spirit (no pun intended) I created my own botanicals to reflect what might be in the bottle!
How do you want people to feel when they see their personalised Archie Rose design?
I want them to feel inspired to enjoy the good things in life. Light a candle, use the good glasses, share a drink with someone you love and take the time to really be in the moment. I love the sense of occasion that instantly comes from having your own personalised bottle.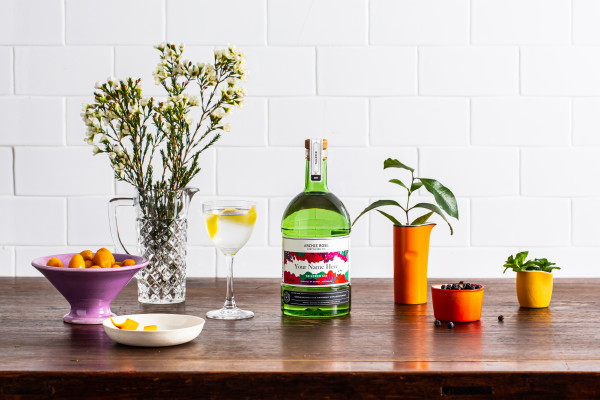 When it comes to Archie Rose spirits, do you have a go-to spirit? What is your cocktail of choice?
It's definitely gin for me, and a good gin & tonic - I'm a huge fan of aromatics. For a summer drink I'll be mixing the Archie Rose Bushfood Blend (lemon myrtle, river mint and strawberry gum) with elderflower tonic and a slice of lemon from the garden.
What did you love most about designing the customised bottle labels for Archie Rose? Did you have fun with it?
I loved the personalised aspect of designing this label - knowing that different people would be choosing it and customising it. I had a lot of fun thinking about the kind of bottle people might like to have on their shelves and how to interpret my style for a very different medium!
What advice would you give to young, aspiring artists?
Show and tell! It's hard to put yourself out there but if you're not sharing your work, no one will see it. With that, don't get hung up on trying to create what you think people will love, trust your gut and remain true to yourself and your vision. Share consistently, show up and engage with your creative community.