Five exotic islands less than five hours from New Zealand
Desperate for a tropical getaway but understandably want to avoid a tiring 10+ hour flight? We get you! How about a week of white sand beaches, crystal clear waters and relaxation at an arm's length? We have put together a list of five exotic islands less than five hours away from New Zealand that will have you booking your flights tonight.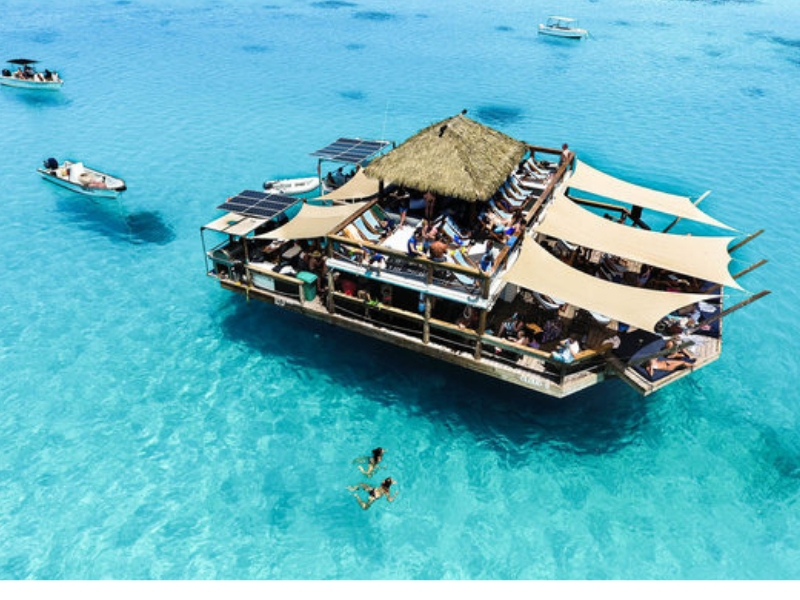 Viti Levu - Fiji
Viti Levu is the largest island of Fiji and promises everything you would expect from an exotic holiday. If you're an adventure seeker or prefer lounging on the beach with a coconut cocktail in hand (as most of us do), this island will cater to everyone. The island offers a wide range of scenery and can, in fact, be explored within two days if you are willing! From coral coasts to sand dunes to the verdant blanket of rainforest spread over the eastern half of the island, there is a lot of natural beauty to capture. C'mon think about your Instagram! Ideal for travellers who love to swim and snorkel, Viti Levu provides activities such as the authentic Fijian day cruise where holiday goers can visit the Mamanuca islands and indulge in a delicious Fijian buffet. For the partygoers, your best bet is visiting Cloud 9, Fiji's two-level floating bar that definitely lives up to its name! What could be better than music, day drinking and woodfired pizzas in the middle of the Pacific ocean? Nothing, if you ask me. As the evening draws in, there is no better place to mingle with locals and experience the renowned friendly culture of Fiji than the capital, Suva. The most popular bars and clubs can be found on Victoria Parade and will guarantee a perfect end to a perfect day. Sitting on a plane for a small journey of only three hours is well worth visiting Viti Levu.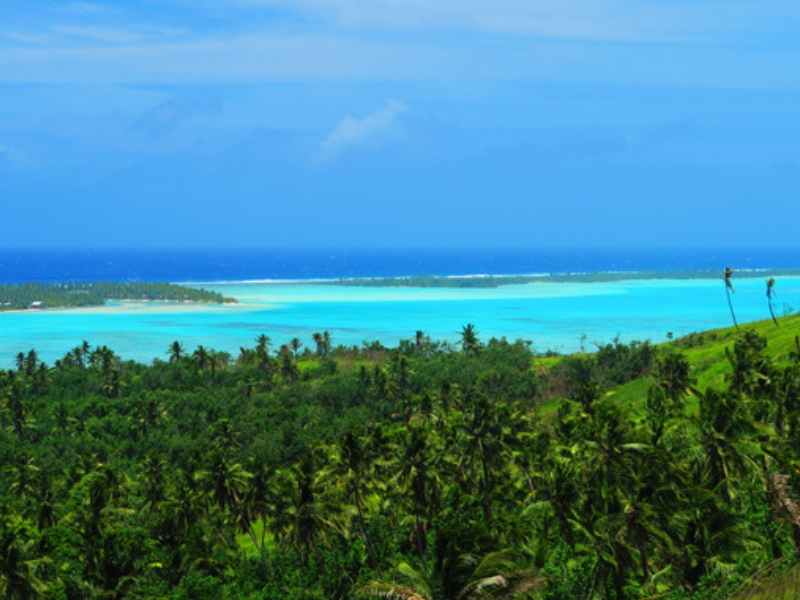 Aitutaki - Cook Islands
If you're planning on visiting the Cook Islands as your next holiday destination, we highly recommend the mesmerising island of Aitutaki just 45 minutes north of Rarotonga. Boasting what we would unarguably consider the world's most beautiful lagoon, the island is the pinnacle of what you're provided with as your desktop wallpaper. The classic way to discover the surrounding lagoon of Aitutaki, other than diving in headfirst, is to take a trip on the traditional Polynesian designed Vaka-Tiki-ai-Tonga, a 21-metre flat bottomed boat with a captain who sings to you while strumming on the ukulele. The tour also includes a stop for a chance to snorkel in turquoise waters with colourful fish and turtles. Once on land, we recommend visiting Mount Maungapu, the stunning panoramic views make a 15-20 minute walk more than satisfying. The best part of Aitutaki? It is less than four hours away!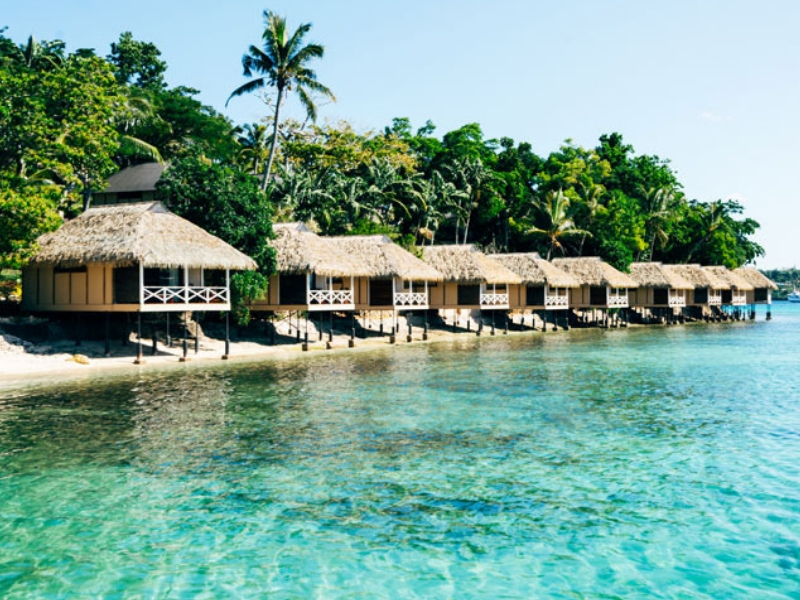 Vanuatu
Around three hours travel from Auckland and made up of roughly 80 islands, Vanuatu, a little gem of the Pacific, has rightfully earned its place in our top five list. Far beyond any notions of cruise-ship ports and extravagant resorts, the island consists of deserted beaches, volcanoes and world-class diving, perfect for travellers with a healthy sense of adventure. For the braver souls, looking down into a magma-filled active volcano is an experience Vanuatu offers with a 45-minute hike up Mount Yasur. That's one for the bucket list! However, for those who prefer a more relaxing option, we suggest visiting Port Vila, a small energetic town set around a series of lagoons, beaches and offshore islands. If you're looking at spending some extra Vatus on a few trinkets and souvenirs, it is essential to visit Mama's market at Port Vila's waterfront. Open from Monday morning to noon on Saturday, the vibrant market is perfect for experiencing the food and culture Vanuatu has to offer.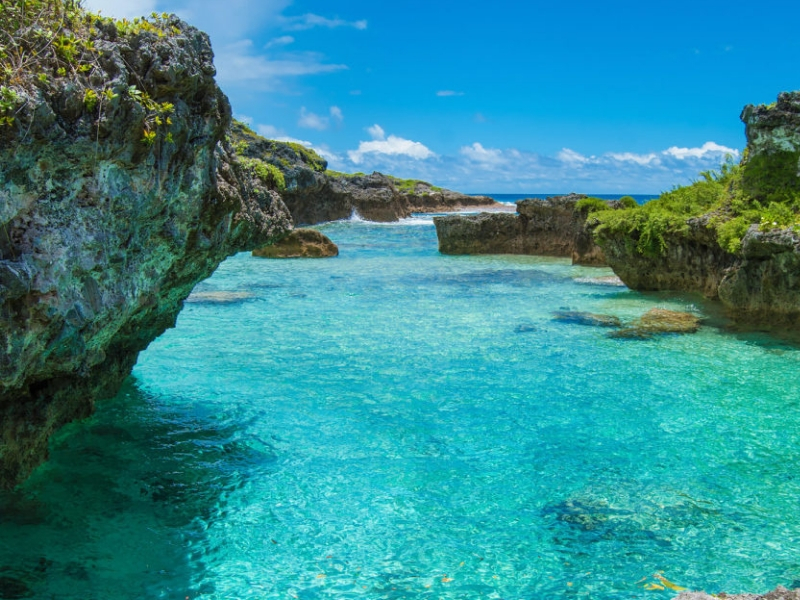 Niue
Niue, meaning 'behold the coconut' (how fitting), is known as the 'Rock of Polynesia' and is packed with plenty of surprises for the bold traveller. For this island pick, we recommend ditching your lounge chair and packing some hiking boots and a sense of adventure. Hire yourself a car or motorcycle and prepare to walk, climb and sometimes swim to witness the attractions surrounding Niue's extensively scenic perimeter. The island offers numerous caves, snorkelling spots and deep natural pools to be explored. Niue's capital Alofi stretches across the west coast and has a selective range of guesthouses, motels, restaurants and a resort. For 3 hours and 45 minutes of air travel, we suggest you get yourself to this awesome little island.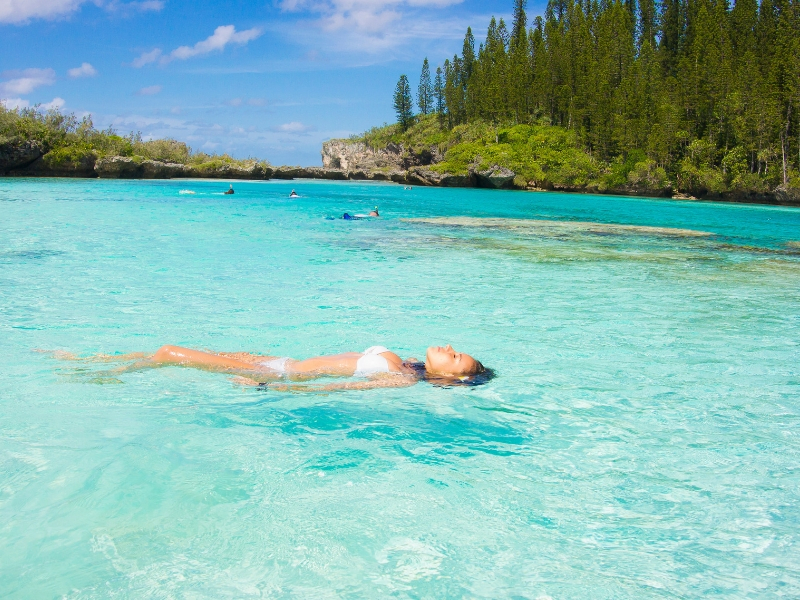 Isle of Pines
Known as the 'jewel of the Pacific', the Isle of Pines is an exotic island in the archipelago of New Caledonia just three hours north of New Zealand. The island consists of such raw beauty, that in our opinion, photos just can't do it justice. While visiting the Isle of Pines we highly encourage travellers to swim in Oro's natural swimming pool, an enclosed lagoon where time literally stops. The centre of the island is occupied by a slightly raised plateau, with the highest point at N'ga Peak offering breathtaking views at 262 metres. If you're after picturesque white sand beaches and remarkable marine flora and fauna that you believe you can only see on postcards, we suggest grabbing a partner and visiting the Isle of Pines asap.