The five best spots to dine alfresco this summer
The sun has finally come out to play and the weather is warming up, giving us every excuse to break out from the confines of our houses and dine alfresco.
Lucky for us, Auckland has plenty of places where you can soak up the sun while indulging in the freshest fare this great city has on offer. From urban eateries to sprawling vineyards and everything in between, there is an alfresco dining situation to satiate any appetite.
Ortolana, Britomart
Britomart's contemporary bistro, Ortolana, boasts the most beautiful outdoor courtyard to relax in while you navigate your way through their seasonal and European inspired menu. The Crayfish ravioli, served bisque butter, preserved lemon, and shaved fennel is a must-try, as is the Market fish crudo, with cucumber, dill, apple, and lashings of yoghurt.
Mr Toms, Ponsonby
Located on the sunny side of Ponsonby Road, Mr Toms quickly became a crowd favourite and a go-to spot for outdoor dining. Enjoy their elegantly crafted cocktails and mouthwatering fare, all while soaking up some rays and listening to some live music.
Dr Rudi's Rooftop Brewing Co. Viaduct Harbour
This list wouldn't be complete without a rooftop venue, which brings us to Dr Rudi's. Overlooking Auckland's Viaduct Harbour makes this spot a perfect place for drinking, eating and socialising by the water. While you're there you can even try your hand at their indoor bowling alley!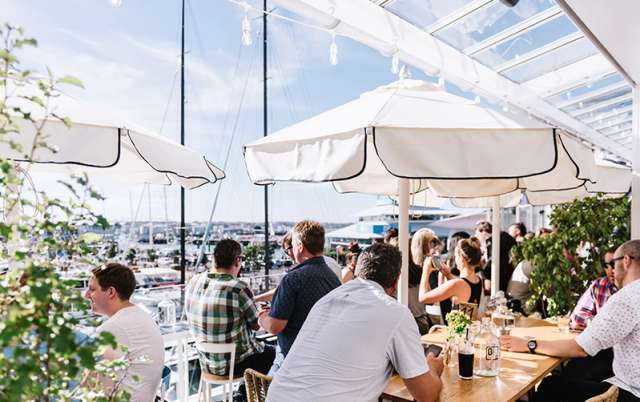 Gypsy Caravan, Ponsonby
Gypsy Caravan is one of our favourite hidden gems, tucked in behind shopfronts fringing Ponsonby Road. The cozy courtyard features a caravan fitted out as its bar, and is surrounded by lush greenery - making it one of the most stunning alfresco dining situations in Auckland.
Casita Miro, Waiheke Island
Escape the hustle and bustle of the City and head over to Waiheke Island with your friends to enjoy a glass of Rose and tapas at the Spanish-inspired restaurant, Casita Miro.
Image credits: Noted, Fresh.co.nz, Viaduct.co.nz, Auckland NZ.