Meet the creator of the UE Boom
Doug Ebert from Ultimate Ears is the talented and charismatic creator of the 360 Sound Boom, found in one in three Kiwi households.
Doug was in the land down under for the launch of the HYPERBOOM; the latest and loudest UE speaker yet.
Remix was lucky enough to sit down for a chat with him.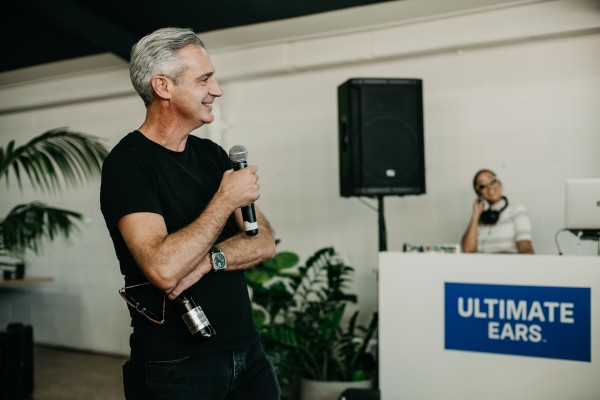 Doug, tell us about your career path? How did you end up at Ultimate Ears?
Way back I got to work on the first MP3 player, before iPod, so that got me into digital audio and then when iPod came out, that company didn't do so well. It's a very small community and there are lots of people around, so I got invited by an old friend into Logitech, and because I had done mp3 players, I started doing iPod docs way back in the day. So, the thing about docs is everybody wanted to take them with them, but they were shaky. We had an opportunity after apple got rid of that connecter to do wireless speakers, Bluetooth. At that point everybody was making black plastic with silver accents, that's what everybody did, and so we were like, let's be different, let's make something cool looking and purposeful.
Was it an instant success or did it take a while?
We had barely any brand, one product and I remember when the first sales came in we were like hmm do we have a home run or not and then right afterwards, it just shot up and we couldn't keep up with demand. It was crazy.
What was the lightbulb moment when you created the 360 sound boom - where were you and what were you doing?
I was the project manager on the first one and the second one. It was a team effort, there were around 150 people and it took two years to figure out before it launched in 2013. New Zealand, from day one, was the best selling. We are number one here and nowhere else in the world.
How did you make the speakers cool? What went into the design of them? Tell us a bit about the special features that make the UE Boom unique?
The cool thing about this is, all the speakers we make, we try to solve problems. So, we went back to our users and asked what they love about the speakers and what don't you like. Unanimously everybody said we use your speakers at parties, we connect them up for parties, but at a certain level it just isn't loud enough. That level is literally expressed in getting people up off the couch and dancing, not in the background.
They wanted more sound, they wanted bass. So we did some serious research on how people use speakers in a party situation and one of the big problems we were trying to solve was that they always wanted someone to connect to the speaker during the party and then everybody stopped trying to do it because the music would stop.
With HYPERBOOM, we added where you can have 4 sources and you can be playing Bluetooth on one and you can connect in the background on two and play. So I'm still streaming on one and then you connect to two and you hit play, then all you have to do is switch the button on two and it fades in and fades out. Music never has to stop. You can connect your Xbox to it, aux in. Lots of people have iPads at parties and they connect to an aux and plugin, then everyone is just DJ -ing off the iPad. You can connect to other Hyperbooms and old mega booms.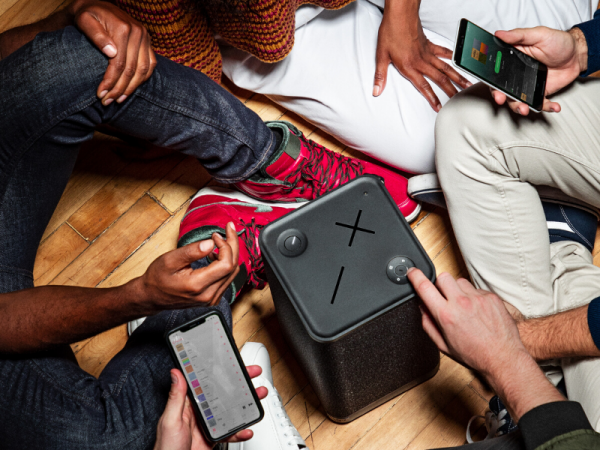 UE Boom is such a widely loved brand in NZ... why do you think that is?
I think they get us, they get what we are trying to do and it's not about trying to be cool. They get good sound in an important way that's real-life proof because I think New Zealanders are very much sports fans, hiking, skiing and at the beach, sailing, so you're outdoors a lot. I think New Zealanders are not afraid to take risks. The colours sell really well down here.
Waterproof is almost a safety thing, that's worked really well for us. We put these speakers to a torture test and that's why they hold up and we've been rewarded for that because we make good solid, amazing sound speakers. Sound is always first, no matter what. How hard is it right? You want to create musical experiences for people. I don't make a speaker to be cool. The most fulfilling thing for me is when I'll go in at Christmas time and I'll watch somebody pick my speaker, choose my speaker off the shelf. Or someone will tell me a story about how they use it.
How does it feel to know you created the device listened to by some of the biggest musicians in the world?
To be perfectly honest, I get a bigger kick out of seeing that there are people on the beach listening to music and hanging out, having a good time, than from seeing a famous person. Years ago, I think it was Dave Grohl, somebody took a hotel spy shot of him and he had this mega boom out the front. It just blew up, which was super cool. He's a great human and it was epic that he did that, but I have better reactions to everyday people.
I was in Hawaii over Christmas and I was walking by the beach and there was this group of kids that were sitting there and they had a boom 2. It was like four years old and it was wrecked. It had been dropped off the top of a building, it had been run over by cars, but it was still playing in the sand. I was like dude, can I take a picture of that. That is amazing for me. Famous, eh that's cool.
What has been your favourite UE Boom moment?
I had something happen to me in China two years ago. It was really hard, I had been in China for like 2 months and I was tired, there were problems, and I was getting kind of down and everything. We went back to the hotel and I was outside and I saw this Chinese father with their son who was super special needs and he couldn't communicate. The father was amazing with him.
I went back inside to get my jacket and I ran into the mother with the son in the elevator. I happened to have a UE t-shirt on and I looked over and she was in the corner of the elevator and her son was there with her. She wasn't making eye contact, I wasn't sure if it was a culture thing. But she had one of my products in his chair; the UE roll. I didn't know she spoke English or anything so I pointed to the roll and then my logo. She then dropped, she started crying. She told me that the UE roll was her son's most prized possession and that he listens to music all the time; it calms him down. I was invigorated for the next 2 years.
That's so special!
(Referring to the boy he met in China) It's usually always just about music, but for some reason this one really really hit me. We rode the elevator to the top and back down. She's like "Can I take a picture of you," and so when I got back down to my crew, I was pissed (grumpy) before I left and I came back down thinking like, everything is going to be great, we are doing amazing things.
Another special moment was the first time I walked into an Apple store with my sons at Christmas when the first release boom had just hit the shelves, and I watched someone buying my boom over some of the other big brands.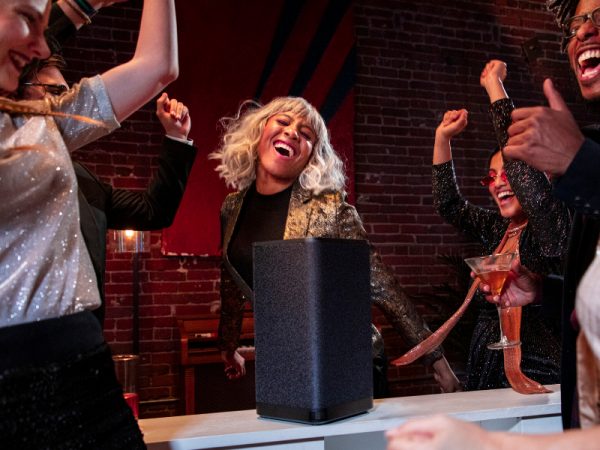 Who's your favourite artist?
I kind of jump around. Old school, house. I listen to a lot of Lane 8, 16BIT, Luttrell.
What's your ultimate party destination?
Probably the latest one I've been to... last summer I went to group therapy 350 with above and beyond. Above and beyond is very EDM. We did a three-day festival outside in a gorge in south-west Washington. The vibe of that, it doesn't matter how old you are, gay, straight; it's so cool and the music just goes all day long and all night long. EDC, Tomorrowland; those are fun too.
Music is such a big part of people's lives… Why do you think that is?
I think music is part of everyone's lives. I would rather go blind than deaf, honestly. I listen to a lot of music and I would not be the same person. I think it has to do with memories, like almost every great memory I have, I associate with a song. Those are freaking magic, that's why people love music. Frankly, it's a tool, I want it to be a cool tool, a simple and easy to use tool, but I really want this to be representing the same kind of sound that the artist intended. So if I can be part of that process in bringing great, musical joyful experiences to people, then I've done a great job.
Photos from the HYPERBOOM New Zealand Launch are below.