Smack-bang in the middle of a scorching hot summer, we often find ourselves spending the day at the beach, on and off the road exploring, or lounging around in our second set of skin (read: bikinis) to make the most of this glorious weather. But as the mercury continues to rise, who wants to spend an afternoon inside cooking up a storm when you could be basking in the sunshine?
That's where the genius invention we know and love, the barbecue, comes into play. Cooking outdoors while socialising with friends is as easy as well, chucking it on the barbie. So for all the keen BBQ-er's out there, Remix have got you sorted with some quick, easy and delicious recipes perfect for BBQ cooking.
Lamb skewers
Lamb skewers an incredibly easy and tasty meal that are a match made in heaven on the BBQ and also are perfect for next day leftover lunching. Barbecue skewers on a high heat for 1 minute each side and your sorted. For the base of the skewers you'll need to mix together the following ingredients, then place them into a zip-lock bag and pour the marinade over them and set for at least an hour to lock in the flavour of the meat.
1 packet of Silver Fern Farms lamb rump
2 garlic cloves
1 tbsp honey
1 cup of beer
Drizzle of olive oil
Sea salt
Black pepper
To make a delicious dipping sauce, place the following ingredients in a food processor and blend together.
1 cup of flat leaf parsley
3 garlic cloves
2 tbsp. of oregano
parsley
½ cup of olive oil
2 tbsp. of red wine vinegar
1/3 tsp of red chilli flakes
Pinch of salt and pepper
Ricotta stuffed zucchini flowers
Barbecuing healthy style doesn't have to lack excitement or flavour, as there are plenty options for a veggie based barbie snack, such as these. All you need to do is mix the
following ingredients and carefully place them in the flower of the zucchini, twist and close then brush over with olive oil.
1 cup of ricotta
Zest of 1 lemon and salt and pepper
Zucchini flowers
BBQ'd oysters
Most kiwis love seafood and even more so when it's cooked on the barbecue. We've got a recipe for some mouth-watering barbecued oysters that require minimal effort with outstanding taste. All you need to do is place the oysters on the BBQ and after 3-5 they'll pop open within 3-5 minutes, just drizzle them with pancetta and chilli sauce when they're ready.
Pancetta strips
1tsp palm sugar (dissolved in the juice of two limes)
1 finely chopped red chilli
Salt and pepper
Oysters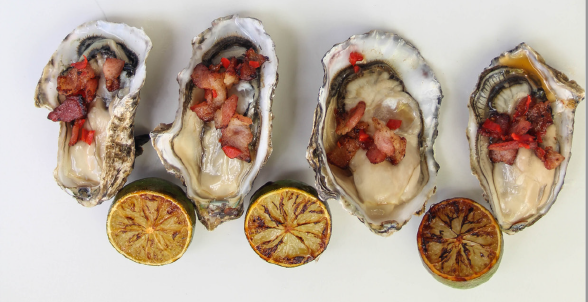 See more on page 309 of the Remix ICON edition, on sale now.
Recipes by Lauren Matilda Matthews
Photography by Kendall Mustard