Elegant embarkment with Cathay Pacific & Remix founder, Tim Phin
The feeling of jet-setting is always an adventure in itself, and boarding your plane marks the beginning of many adventures ahead. London-bound Remix founder Tim Phin escaped New Zealand's cold winter weather and secured a seat in Cathay Pacific's world-renowned business class venture for his journey abroad, settling down in luxurious, comfortable seating and experiencing the best in the business when it comes to luxury flying.
"Kiwis love heading to the UK, and Europe seems like a rite of passage or a Kiwi bucket list moment. We left Europe from Paris - one of the many cities Cathay Pacific flies to. Cathay Pacific's Business Class experience overall showed the importance of travelling well and prioritising rest and relaxation during your travels. I woke up feeling refreshed and ready to take on London Town as soon as I stepped off the plane, making it the only way to travel around the world!" - Tim Phin.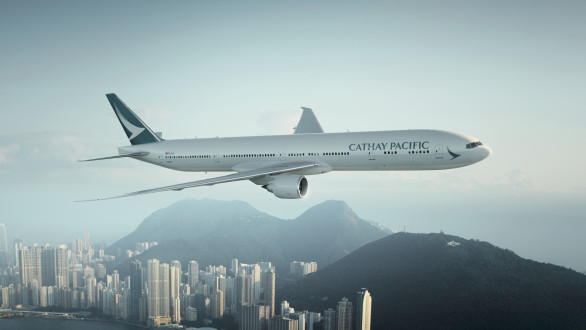 The In-Flight Experience
Travelling usually takes it out of you, but Cathay Pacific made sure that stepping on the plane was quick, easy and efficient, especially after already kickstarting the wind down in the lounge beforehand - when we were guided to our business class seats, I was already deep in relaxation mode. The privacy partitions made me feel like I was in the comforts of my own space, and the glass of bubbles on arrival set the tone for the rest of my trip. As someone who's constantly on the go and with an extensive to-do list at all times, working where I can is essential, and the expansive tables and supplied Wi-Fi services allowed me to stay caught up on my tasks (and catch up on some essential Instagram uploading) whilst in the air. Meals onboard were timed perfectly to set me up for my upcoming new timezone, and the menu was a perfect mix of Western and Chinese cuisine with restaurant-style dining and fresh ingredients. A curated cocktail service was always available, and Cathay Pacific provided a nice slice of home with New Zealand wines on offer throughout the journey. When it came time to rest, the seat was easily adjustable to create a lie-flat bed with just a flick of a switch, and as soon as my head hit the pillow I was out until the next meal. Waking up after a deep sleep, I used the provided amenities from Bamford Skincare which helped me feel fresh as a daisy.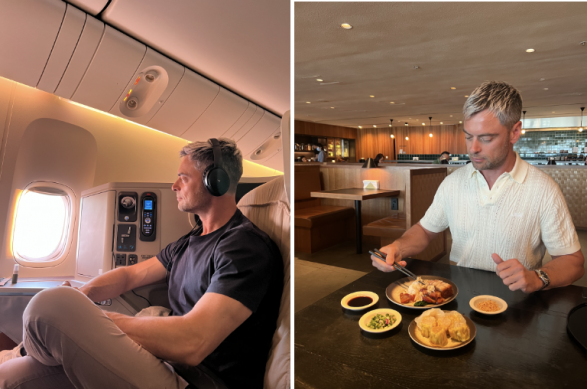 The Transit Lounge
Cathay Pacific's award-winning lounge in Hong Kong 'The Pier' was the perfect way to refresh my journey, and the warm welcome from lounge staff made it that much better. Split into six different zones, the lounge is designed to reflect the busy city of Hong Kong. There's everything you need to wind down before undertaking the long haul, from a Food Hall to a yoga room, to the most relaxing shower amenities you could ask for. Up first was dinner - The Pier offers an extensive range of food from traditional dim sum to tapas to the famous noodle bar which I opted for and was not left disappointed. My personal favourite part of the experience was the shower suites - completely private and with a walk-in rain shower and Aesop amenities, there's no better way to wind down and prepare before stepping on the plane.