Time With Nick Von K: Our Chat With The Kiwi Jewellery Designer About His First Ever Watch Collection
It's been a while since we caught up with our mate
Nick Von K
. The Kiwi jewellery designer has been pretty busy releasing a
watch collection
, jetsetting to New York, organising a pop-up store, filming down at New Zealand Fashion Week and... attending
Bam Margera
's wedding? Since he released his first ever watch collection today, we thought now was the perfect time to catch up with designer
Nick Von Klarwill
. Check out the interview with Nick below, as well as the teaser video and some images on the
Nick Von K watch range
!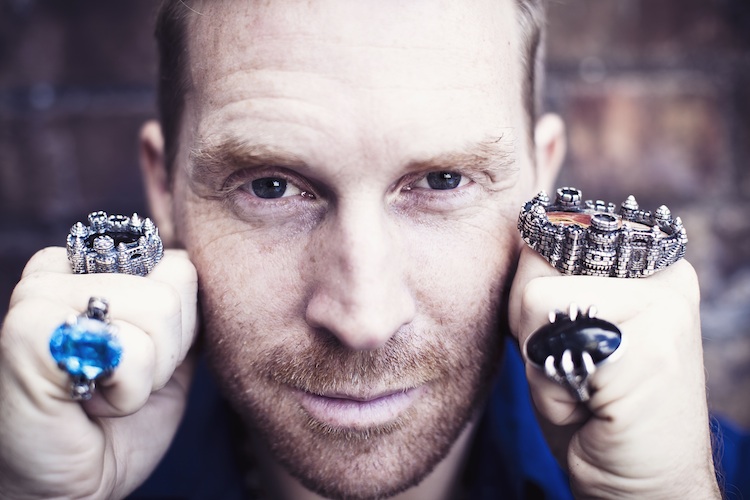 You just got back from a big business trip to New York! Tell us about your time in the big apple and what's going on with Nick Von K over there?
I went to New York to launch my new collection Midnight Carnival. I recently released the collection in New Zealand but wanted to introduce it to the American market with a bang and New York is the perfect place for that. I really love that city, the place is buzzing with so much energy and life, the people are so funky and the shops, bars and restaurants are amazing – I would love to live there at some point. I sell through Nicole Miller's boutiques in the States so we did the launch in her Soho store. We then went out to a big New York restaurant called Balthasar with some famous guests such as Gloria Reubens and Heather Graham. We even ran into Clive Owen who now has his own piece of NVK. It was a really great night. Having said that, and as much fun as it is to hobnob with the rich and famous, the main aim of the game was to nail down some real opportunities, and I managed to find a few good leads in that direction so overall the trip was a great success.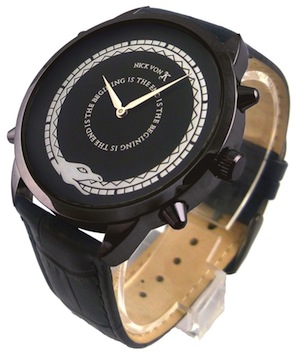 You were also in Iceland. What on earth were you doing there?
I actually went to Iceland for Bam Margera's wedding. I made a couple of snake pendants for him and his bride so he invited my girlfriend Lucy and I along. We were going to be in New York anyway so we thought we'd pop over to Iceland as it's the next stop before you hit Europe. Sadly we missed the actual wedding as Bam changed the date last minute so we just hung out with him in Iceland the weekend before his wedding instead, which turned out to be heaps of fun.
The last time we saw you was at the launch of your Midnight Carnival collection here in August and you had burlesque dancers! Tell us a bit about the collection in general and how fire-dancers made their way into your new collection launch event?
When I was creating Midnight Carnival I imagined the most flamboyant party my brain could conjure up, with all sorts of crazy characters, then I turned each character into a piece of jewellery in the collection. Two of the main pieces are the Swan Queen and the Dragon Queen, so when planning the launch event I realised that I knew a couple of beautiful burlesque dancers who could personify those two pieces perfectly. So we got together and came up with the idea of the burlesque/fire performance to really set the night on fire.
Items from your new collection are everywhere and on everyone! I noticed Rachel Hunter wearing some Nick Von K-esque looking rings recently. Were they yours? Is she a fan of yours?
[Laughs] Everywhere and on everyone! That is actually our master plan right there… Yes Rachel came to my pop-up shop in Ponsonby last December and bought a few pieces for herself and her friends, she really loves that loud and proud rock n' roll style and she carries it off well.
Who's your dream to get Nick Von K onto the necks, wrists and fingers of?
Good question. I'm going to be daring and say Johnny Depp, Russell Brand and Jack White for the guys. Then Angelina Jolie, Scarlett Johannsen, Natalie Portman and Beyonce for the ladies. That is quite a list I know, but hey you may as well dream big.
You were also on the ground again throughout New Zealand Fashion Week this year. What did you have going on down there?
We exhibited in the foyer of New Zealand Fashion Week this year, and it was great to be involved with New Zealand's premier fashion event. I'd just released the new collection onto the New Zealand market a couple of weeks before so it was a perfect time and place to showcase it out. We had a lot of interest from fashionistas and the general public alike. Fashion One TV were so impressed they did a separate interview on me and the brand – that was a great compliment.
Exciting week for you – you've launched a watch! Why did you decide to do this?
I really wanted to do something different and I thought, 'What's the last thing people would expect me to do right now?' Answer – 'Make something that's not jewellery!' I like to be a chameleon and keep everyone (and myself) guessing as to what I'm up to next, so the watches were a perfect project to keep the Nick Von K brand alive and kicking.
They're quite different for you. I'd say a little more street even. Would you agree? What's the inspiration and theme behind them?
I guess you could say they are more street, but maybe that is because they are not as elaborately detailed and filled with story as my jewellery typically is - they are more of a streamlined style. The inspiration was taking iconic images from my collections and making badass rock n' roll watches, hence they are all black, with black studs, and silver images on the faces. There is a snake, a skull, a lion and a pair of wings. These four images have been integral in my design style over the last few years, and are at the heart of the Nick Von K brand so it made sense to use them for the watch project.
You're launching them in collaboration with Kickstarter. For people who don't know what Kickstarter is can you give them a rundown? Where can they get more information on purchasing your watches?
Kickstarter is a crowd-funding website. The philosophy is that instead of being controlled by a bank loan or private investment to fund your business idea, you get a crowd of people to fund it by each pre-ordering the product. This means you can afford to make a new product without going into debt, and you retain all control. It's a great platform to get creative business ideas up and running. You can check out the website for the watch project at
www.nvkwatch.com
, and you can also find it on the
Kickstarter website
.
As a jewellery designer, Christmas must be a big time of the year for you? What do you have in the pipeline for the summer season? Another pop-up store?
We are looking into that for sure, it's just a matter of finding a cool space to do it in. I will keep you posted! Last year's pop-up was a great success so we'd love to do it again this year. And yes summer is a big time for us, people want to get out and party – therefore they need some Nick Von K bling!
You're good mates with Mr Colin Mathura-Jeffree. What'd you think of his recent shoot in Remix? Do you tell him he did a great job or is it better not to let those compliments go to his head?
Colin loves the odd compliment for sure. He is like a cat – give him some attention and he purrs. At least he is actually a talented model and has a great aesthetic so complimenting him is the truth and not a lie! He loves his new Nick Von K watch…
Want your own Nick Von K watch? Visit Kickstarter to get one now. Get in fast though, because as well as being one of the first to have one of these babies around your wrist, you'll also pick it up for half the retail price!