There is no harmony without chaos
It's only fitting that two words of such power are the combined pillars of sartorial shoewear label, Chaos & Harmony. A lovechild of Mount Maunganui local, Rebecca Anderson, the brand was born from a dramatic life lived abroad learning from some of Italy's finest designers. Remix Ed Amber Baker spoke with Rebecca and discovered how her student life in Rome was paramount to opening up her own store doors in New Zealand.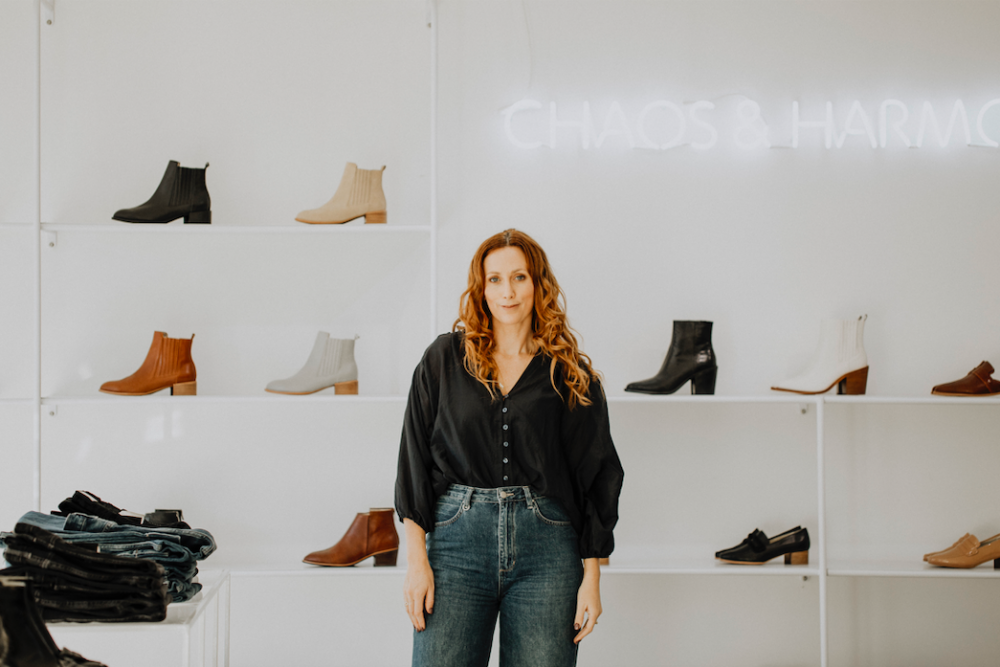 You made some huge sacrifices and changes to pursue your dream with Chaos & Harmony, even moving to Europe! Tell us about that…
I always imagined I would do something significant in my career. I often wondered "what would happen if we tried this…" or what would it look like to create…" When I started exploring the idea of shoe design, I definitely knew it would require time overseas. In fact, initially I thought my husband and I would start the company offshore. We sold our house and left for Rome on a Friday and began school on the Monday. It was full immersion, with some of the course in Italian and the rest in English (as a second language) it was exciting and intense, living and studying abroad.
What was your 'student' life like in Rome?
It had been 10 years since I had finished school so I actually struggled to get in the mode of learning when I began my studies in Rome. Everyday, we had so much homework and they pushed us to our limits. Because I had worked in high pressure work environments prior to studying I found this pace ok but it definitely had challenges. My classmates were from all over the world, which brought a wealth of knowledge and understanding.


What was it like learning from tutors who'd worked at Valentino and Fendi?
The Italians are very concerned with creating the future. We weren't allowed to walk into class with any current magazines as not to be influenced by what was 'now'. They wanted us to create and tell a story when we designed, which has resonated with how I design Chaos & Harmony collections. The tutors were always looking for more than just creating pretty shoes, they wanted depth and understanding. They had great vision of what could be, and an inspiring way of juxtaposing both historical and futuristic elements.


At what point did you realise you were ready to come home and open up shop?
We left Italy broke and burnt out. The year and been very intensive with study and I needed a rest. We returned home with nothing but this insane experience. It took time to digest what we had learnt and figure out the next steps but we were certain that Chaos & Harmony could become a market leader in New Zealand. We opened the Blakchaos collaborative store in Mt Maunganui in 2013 after having a greater desire to connect with our customer base and be more responsive in our designs and service.


How many styles have you since designed for your brand?
It would be thousands that I have designed. We create many shoes to get to the ones we truly love and reflect the core of our brand and values. Over the last decade we have produced over 500 styles!

What makes your styles stand out from other shoe lines?
Our use of luxurious leathers and beautiful textures makes Chaos & Harmony stand out, giving the wearer a timeless and distinct look. Design details are at the forefront of our minds when creating our shoes - we love that women can not only look good but feel a sense of confidence when they are in a comfortable and stunning pair of C&H shoes.
What's next for Chaos & Harmony?
We are pursuing the 'Chaos & Harmony Bridal Boutique', which was released in New York last year. It has been picked up by bridal boutiques across the USA and Europe and notably large online retailer BHDLN (The bridal department of Anthropologie). It has also been extremely popular in our New Zealand market, where we meet customers at our Bridal Trunk shows in order to create a great experience for them to find their perfect pair of wedding shoes!